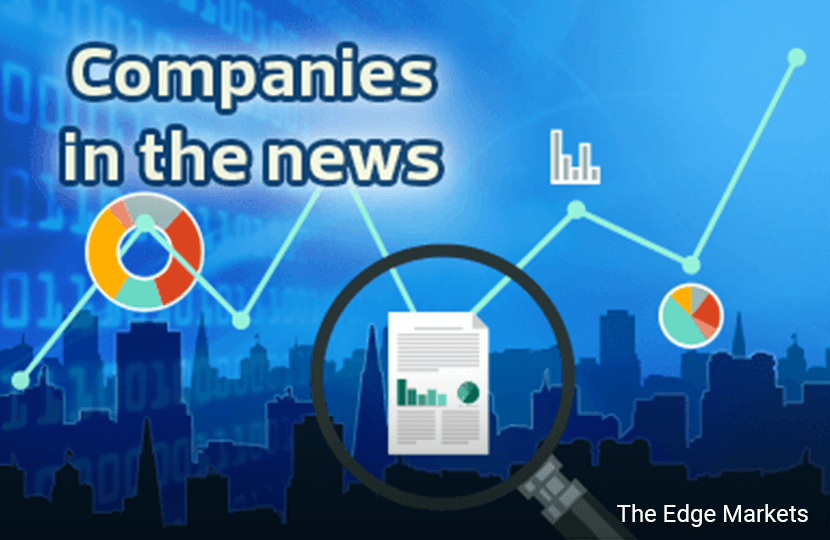 KUALA LUMPUR (March 25): Based on corporate announcements and news flow today, companies that may be in focus on Monday (March 28) could include the following: Elsoft, Turiya, Trive Property, EG Industries, CCM, Destini, SapuraKencana, Talam Transform, RGB International and Sunsuria.
Elsoft Research Bhd is injecting its supply chain management solutions unit, Lesoshoppe Sdn Bhd, into Leso Holdings Bhd (LHB), in a RM14.5 million share-swap deal to facilitate the latter's listing onto the ACE Market of Bursa Malaysia.
Lesoshoppe is currently parked under Elsoft's 30%-owned unit, Leso Corp Sdn Bhd. Elsoft, Leso Corp and Leso Corp's shareholders entered into a conditional share sale agreement with LHB to facilitate the deal today.
Under the agreement, Leso Corp will dispose of its entire equity interest in Lesoshoppe to LHB for RM14.5 million, to be wholly satisfied via the issuance of 145.4 million new LHB shares.
Upon completion of the exercise, LHB will be a 30% associated company of Elsoft, while Lesoshoppe, which is principally involved in the sale of test and measurement equipment, will cease to be a subsidiary of Leso Corp.
Turiya Bhd and civil engineering firm Chase Perdana Sdn Bhd are suing Johns Hopkins University and Johns Hopkins Medicine International LLC (defendants) for allegedly breaching a contract to set up a medical university, research centre and teaching hospital here.
In a filing with Bursa Malaysia today, Turiya said the breach of contract and/or misrepresentation arose from a collaboration between Turiya and Chase Perdana with the defendants towards the establishment of a newly developed medical university, research centre and teaching hospital in Kuala Lumpur and the management of a Johns Hopkins affiliated graduate programme thereat.
"Turiya and Chase Perdana Sdn Bhd are claiming for general damages, aggravated damages, interests, costs, and any other relief the court deems fit and appropriate," said the group.
The matter has been fixed for case management at the KL High Court on March 28.
Trive Property Group Bhd sank deeper into the red with a net loss of RM18.52 million in the three months ended Jan 31, 2016 (3MFY16) compared to the same period a year ago, on impairment on other receivables and depreciation of property, plant and equipment.
In comparison, it posted a net loss of RM5.99 million in the three months ended Jan 31, 2015, according to its unaudited financial statement posted on Bursa Malaysia today.
However, in 3MFY16, its revenue more than doubled to RM1.51 million from RM667,000 a year ago, underpinned by increased contribution from its construction and property development division.
For the cumulative 18-month period, the property developer's net loss almost doubled to RM34.92 million or 3.74 sen per share, from RM17.63 million or 2.36 sen per share a year ago. Revenue, though, jumped 125.7% to RM36.59 million from RM16.21 million in FY15.
EG Industries Bhd, a Kedah-based electronic manufacturing services (EMS) provider, has proposed to list its Thai unit, SMT Industries Co Ltd, on the Market for Alternative Investment of the Stock Exchange of Thailand to raise capital for working capital to support expansion plans in Thailand.
The number of shares to be offered, issue price and targeted proceeds to be raised have yet to be determined.
In a statement today, EG Industries group chief executive officer and executive director Alex Kang said it believes there is much potential to be tapped in light of Thailand's position as a key manufacturing hub, especially for the high-tech electronics and automatic sector.
"The proposed initial public offering would not only unlock a certain portion of value for shareholders, but more importantly raise the working capital necessary to propel SMT Industries into realising its true potential in the regional EMS sector," he said.
Chemical Company of Malaysia Bhd (CCM) has appointed Pasir Gudang MP Normala Abdul Samad as its new chairman.
She replaces Datuk Seri Azalina Othman who resigned as the company's chairman last July following her appointment as a minister in the Prime Minister's Department.
Normala has been the MP for Pasir Gudang since 2013, and is also a committee member of the International Bureau of Wanita Umno, a member of the Wanita Umno for Johor state, and also the chief of Umno's Women's Wing for Pasir Gudang.
Destini Bhd's Singapore-based subsidiary Vanguard Composite Engineering Pte Ltd has won a RM16 million contract to supply eight units of its newly developed self-propelled hyperbaric lifeboat.
In a statement today, the group said the lifeboat, which was developed in partnership with UK-based JFD Ltd, sets a world-class standard in safety for the commercial diving market.
Under the contract, Vanguard will supply the vessels to Singapore-based Ultra Deep Solutions Pte Ltd and Flash Tekk Engineering Pte Ltd, a builder and operator of ultra-deep heavy construction vessels and diving systems for the offshore industry.
The first units are expected to be delivered by early 2017, with the balance of the units to be released in phases.
SapuraKencana Petroleum Bhd recorded a net loss of RM1.29 billion in its fourth quarter ended Jan 31, 2016 (4QFY16), compared to a net profit of RM129.13 million a year ago, due to a provision of impairment amounting to RM1.14 billion on its property, plant and equipment (PPE), as well as oil and gas (O&G) properties.
The 4QFY16 results were also brought down by a RM172.5 million deposit write-off in relation to the termination of its plans to acquire three petroleum assets in Vietnam from Petroliam Nasional Bhd in Jan 2016, said the company in a results filing today.
Meanwhile, its 4QFY16 revenue was down 6.8% at RM2.23 billion from RM2.39 billion a year ago, in tandem with the low oil prices, it said.
For the full year ended Jan 31 (FY16), the O&G services and solutions provider also slipped into the red, with a net loss of RM791.56 million, as opposed to a net profit of RM1.43 billion in FY15, as a result of the group recognising a full year's impairment provision of RM2 billion on its PPE and O&G properties.
Talam Transform Bhd plans to dispose of 739 lots of vacant freehold land in Ulu Selangor for a cumulative sum of RM21.7 million to repay its debts and for working capital purposes.
In a filing with Bursa Malaysia today, Talam said two sale and purchase agreements (SPAs) were entered into yesterday with property developer Setiatiwi Development Sdn Bhd (SDSD), the first for the disposal of 249 lots of land measuring 3.16ha with separate issue title documents for RM7.3 million.
The second SPA was for the disposal of 490 lots of land, measuring 6.18ha, for RM14.37 million.
RGB International Bhd said its unit RGB (Macau) Ltd, along with consortium members Datuk Chuah Kim Seah and Ung Chi Fong, has submitted an expression of interest to participate in the bidding to purchase and operate the Savan Vegas Hotel and Entertainment Complex in Laos.
In a filing with Bursa Malaysia today, RGB International said the consortium has been shortlisted as qualified participants to participate in the sales process where bids to purchase and operate the complex are to be submitted at a later date.
"Further announcement to Bursa on any material development on the (matter) will be made in due course," it added.
Sunsuria Bhd is now a majority shareholder of The Forum @ Sunsuria Seventh Avenue, an ongoing integrated mixed development with a gross development value of RM1.07 billion located at Setia Alam, Selangor.
This follows the completion of its acquisition of a 32% stake in Sunsuria Forum Sdn Bhd (SFSB) from Sunsuria Development Sdn Bhd (SDSB) for RM4.5 million cash today.
Sunsuria had earlier acquired a 19% equity interest in SFSB from Carefeel Cotton Industries (M) Sdn Bhd and Peekay Global Sdn Bhd for RM2.81 million.
Subsequent to the acquisitions, Sunsuria now owns a 51% stake in SFSB, while the remaining 49% is held by SDSB.