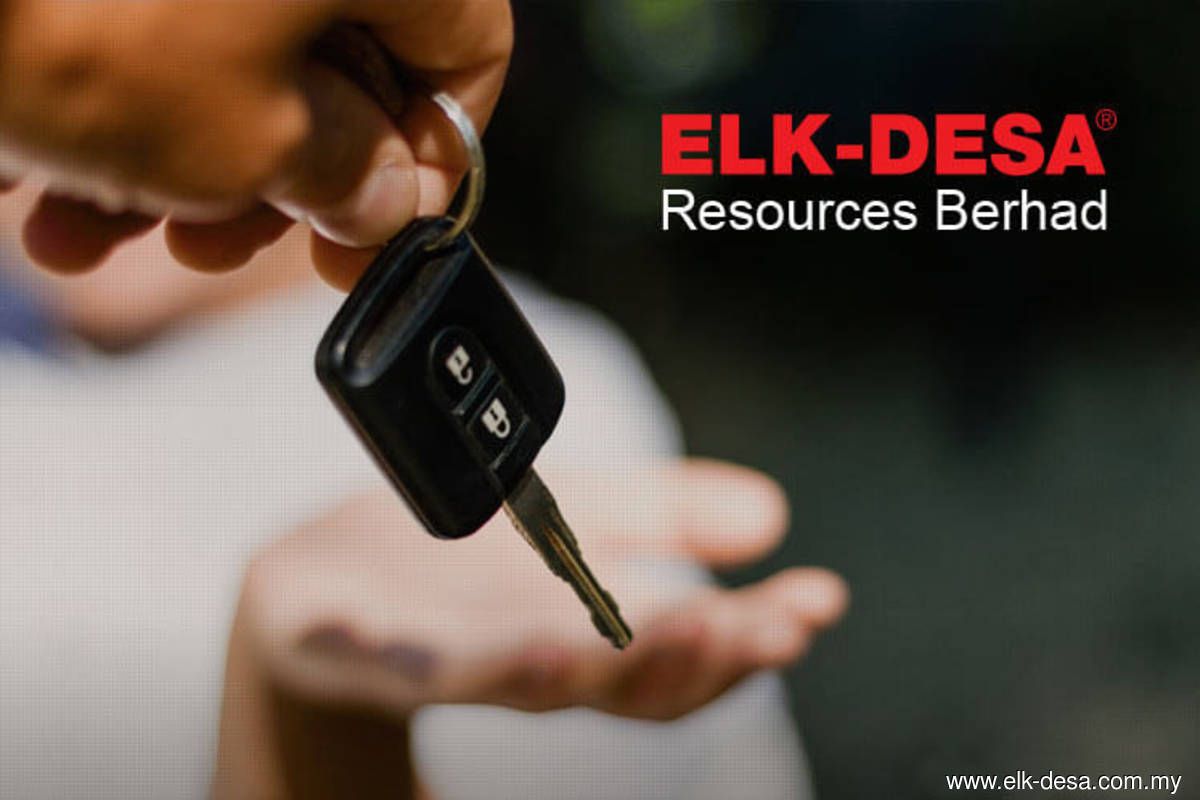 KUALA LUMPUR (May 20): ELK-Desa Resources Bhd's net profit for the fourth quarter ended March 31, 2022 dropped 60.9% to RM5.54 million or 1.86 sen, from RM14.16 million or 4.77 sen a year earlier, due to lower contribution from its hire purchase segment.
In a bourse filing on Friday (May 20), the company said revenue for the quarter declined by 7.2% to RM35.96 million from RM38.75 million in the year-ago period.
Despite the lower net profit during the quarter, the board of directors has declared a second single-tier interim dividend of 3.25 sen per ordinary share. 
"The board is committed to delivering its dividend policy of distributing not less than 60% of the group's annual net profits after tax to shareholders in the current financial year," it said.
The dividend will be paid on June 16, 2022 to shareholders whose names appear in the record of depositors of the company as at June 3, 2022.  
However, ELK-Desa said with the declaration of the second interim dividend, the board of directors will not recommend any final dividend for the financial year ended March 31, 2022. 
With the 3.25 sen second interim dividend and the previous 2 sen first interim dividend, total dividend for FY2022 comes up to 5.25 sen per share, representing dividend payout of about 61% of net profit.
ELK-Desa said the Covid-19 outbreak and the reintroduction of the movement control order (MCO) by the government from June to September 2021 had disrupted the group's business and operations.
Meanwhile, for the full year ended March 31, 2022 (FY2022), revenue was down 10% to RM128.89 million from RM143.75 million a year ago.
FY2022 net profit slipped 27% to RM25.77 million from RM35.29 million previously. The group said the decline was attributable to its core business activity and primary income contributor — its hire purchase segment.
 
As at March 31, hire purchase receivables of ELK-Desa stood at RM468 million, 10% lower than the previous year. It is in line with the group's stance to preserve asset quality, instead of driving receivables growth.
Notably, FY2022 revenue for its hire purchase financing segment was down 9% to RM85.30 million from RM93.31 million in the previous year, as the group had a smaller hire purchase portfolio. It also saw lower profit before tax (PBT) for the segment, falling 22% to RM32.72 million from RM41.78 million, as revenue fell and on recognition of higher impairment allowances that was partly offset by lower finance cost.
As for the group's furniture segment, revenue also declined for FY2022, slipping RM43.59 million from RM50.44 million previously on account of business and operational disruptions caused by the MCO. PBT for the segment halved to RM2.17 million for FY2022, from RM4.2 million a year ago.
In terms of prospects, ELK-Desa believes overall demand for used-car hire purchase financing will be stronger as the economy normalises.  
"Moving forward, ELK-Desa aims to gradually bring its hire purchase receivables portfolio towards pre-pandemic levels, while taking a cautious approach to protect our asset quality.
"Additionally, the growth of online trading platforms for used cars may contribute towards a slower price reduction rate for older used cars and the introduction of a higher minimum wage rate of RM1,500 may be positive for the industry," it said. 
For its furniture segment, ELK-Desa plans to sustain revenue growth by working closely with furniture dealers and manufacturers to identify the right furniture products that appeal to Malaysian consumers. 
ELK-Desa said it is still mindful of uncertainties within the operating landscape in the next 12 months, which include the rising cost of living and the expiry of bank loan moratoriums.
At 4.09pm on Friday, ELK-Desa slid one sen or 0.78% at RM1.28, valuing the group at RM388 million.