This article first appeared in The Edge Financial Daily, on March 30, 2018.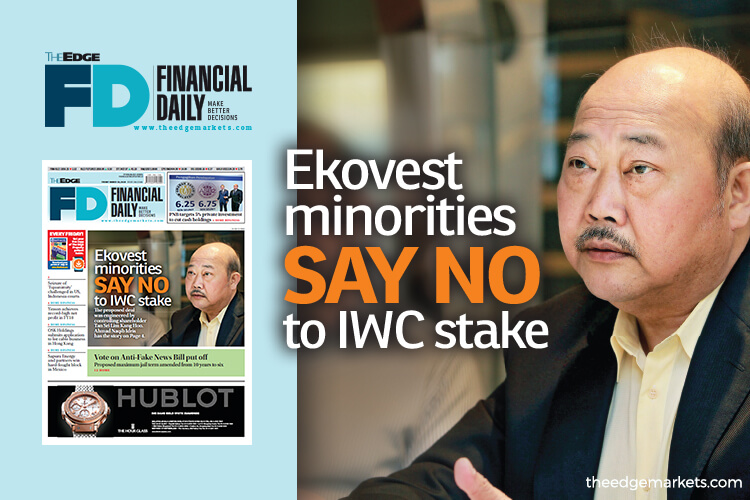 KUALA LUMPUR: Investors rejoiced after shareholders rejected Ekovest Bhd's proposal to acquire Iskandar Waterfront City Bhd (IWC), judging by the rebound in the former's share price yesterday.
But that's probably not the case for IWC shareholders, including its controlling shareholder Tan Sri Lim Kang Hoo, who saw within a year his third venture that failed to come to fruition.
In yesterday's extraordinary general meeting (EGM), about 69.2% of votes were against the proposed takeover exercise, which involved the acquisition of a 62% stake in IWC through the exchange for either RM1.50 cash per share or a one-for-one swap of Ekovest shares for IWC shares.
Ekovest's share price gained four sen or 4.12% to close at RM1.01, translating into a market capitalisation of RM2.16 billion yesterday. Some 49.1 million shares were traded, making it the fourth most actively traded counter on Bursa.
IWC shares, however, were battered, declining 17 sen or 13.2% to a 13-month low of RM1.12. It touched an intraday low of RM1.08. In comparison, its trading volume was smaller at about 8.3 million shares.
The rejection came as a surprise to many. Some analysts had already priced in the effect of the acquisition on the assumption that the deal would be approved.
Ekovest declined to reveal which shareholders voted against the proposed exercise, citing that it is confidential information.
According to Bloomberg, the top three largest shareholders of Ekovest are its chairman Lim (20.19%), Ekovest Holdings Sdn Bhd (12.19%) and Lim Seong Hai Holdings Sdn Bhd (6.62%). Lim and Lim Seong Hai are parties acting in concert.
Other substantial shareholders include the Employees Provident Fund (4.48%), Public Smallcap Fund (4.13%), AIA Bhd (3.54%) and Retirement Fund Inc (2.07%).
Ekovest said it respects its shareholders' decision and will proceed with its existing construction business, although Lim said the management still views the proposal as a good opportunity for the group to diversify into property, considering the low purchase price.
"We recommended it because the valuation or the purchase was cheap. Unfortunately, the decision lies with the minority shareholders as it is a related, party transaction.
"If it wasn't a related, party transaction, the deal would have been done already. It would have been a totally different story," said Lim, who is also the executive vice chairman and a major shareholder of IWC.
AmInvestment Bank cut its earnings forecast for Ekovest for the financial year ending Dec 31, 2019 (FY19) and FY20, but raised its fair value (FV) on the stock to RM1.70 from RM1.35 following the latest development.
"Our previous forecasts consolidated earnings contributions from IWC as we assumed Ekovest to successfully acquire 62% of IWC, turning it into a subsidiary. We now exclude earnings from IWC," said the research house.
It added that the higher FV is supported by lower net debt amid the absence of borrowings raised to fund the takeover and consolidation of IWC's debt, as well as a 25% discount to reflect the risk premium on valuations arising from the acquisition, which it said was negatively perceived by the market.
AmBank said Ekovest's fundamentals remain solid without IWC, highlighting the group's RM13 billion construction order book, stable recurring income from toll concessions and its RM6 billion land bank in the vicinity of the River of Life project.
The takeover plan was met with criticism when it was first announced, with the counter tumbling as much as 22% on Nov 1, 2017, over concerns IWC would weigh down Ekovest's balance sheet and profitability.
Some quarters perceived the proposed exercise as a bailout for IWC, which was vehemently denied by Lim, who pointed out that he still holds a big stake in IWC and Ekovest, and therefore had the best interests of the companies in mind.
The proposal came after Lim aborted the merger plan between IWC and its sister company Iskandar Waterfront Holdings Sdn Bhd (IWH) in late October last year — five months after TRX City Sdn Bhd terminated the contract to sell its 60% equity interest in the Bandar Malaysia project to IWH CREC Sdn Bhd for RM7.41 billion.
IWH CREC is a 60:40 joint venture between IWH and state-owned China Railway Engineering Corp (M) Sdn Bhd. Lim holds a 63% stake in IWH, while Kumpulan Prasarana Rakyat Johor Sdn Bhd owns the remaining 37%.