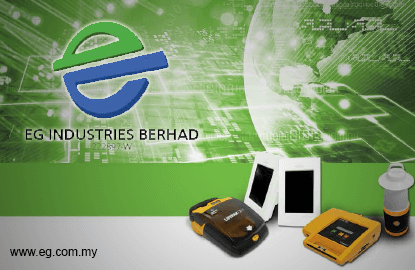 KUALA LUMPUR (March 25): EG Industries Bhd, a Kedah-based electronic manufacturing services (EMS) provider, has proposed to list its Thai unit, SMT Industries Co Ltd, on the Market for Alternative Investment of the Stock Exchange of Thailand to raise capital for working capital to support expansion plans in Thailand.
The number of shares to be offered, issue price and targeted proceeds to be raised have yet to be determined.
In a statement today, EG Industries group chief executive officer and executive director Alex Kang said it believes there is much potential to be tapped in light of Thailand's position as a key manufacturing hub, especially for the high-tech electronics and automatic sector.
"The proposed initial public offering (IPO) would not only unlock a certain portion of value for shareholders, but more importantly raise the working capital necessary to propel SMT Industries into realising its true potential in the regional EMS sector," he said.
SMT Industries has appointed AIRA Securities PCL as its Thailand principal adviser for the proposed IPO.
EG Industries said the exercise is subject to regulatory approvals from Malaysia and Thailand, as well as its shareholders at an extraordinary general meeting.
"Barring unforeseen circumstances, SMT Industries is targeted to list in 2018," it added.
SMT Industries was set up in 2006, supporting global clientele in the group's EMS for computer peripherals, consumer electronics and automotive industrial products.
EG Industries said SMT Industries' production facility, located in Prachinburi, Thailand, sits on a 171,716 sq ft piece of land with a current built-up area of 65,560 sq ft, granting sufficient room for future expansion.
In total, the group has a workforce of more than 2,000 employees in its manufacturing plants in Kedah and Prachinburi.
EG Industries shares closed down 0.59% to 84.5 sen today, giving it a market capitalisation of RM178.5 million.