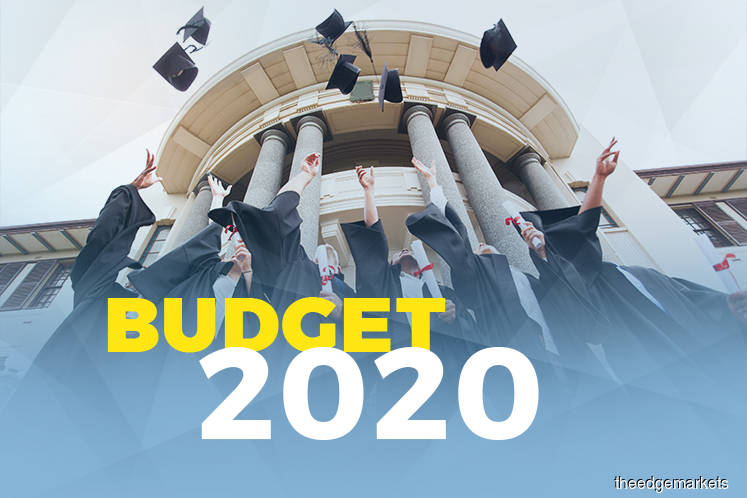 KUALA LUMPUR (Oct 11): The government's Budget 2020 continues to allocate the largest amount to the Ministry of Education — increasing its allocation by 6.5% to RM64.1 billlion from RM60.2 billion this year.
Of this, the portion for school maintenance and upgrading works is also higher at RM735 million, from RM652 million last year.
Meanwhile, RM783 million will go towards repairing delapidated schools, particularly those in Sabah and Sarawak. New schools will also be built in Langkawi, Kulai, Hulu Langat, Putrajaya, Pasir Gudang, Tumpat, Marang and Johor Baru.
A significant portion of the ministry's budget will go towards the Technical & Vocational Education & Training (TVET) programme, which will be receiving a higher allocation of RM5.9 billion.
It will also expand pathways for TVET graduates to pursue further studies and secure jobs.
In his Budget speech at Parliament, finance minister Lim Guan Eng said the Human Resource Development Fund (HRDF) will collaborate with the industry to provide TVET training linked to employment opportunities.
"For this purpose, the Government will provide RM30 million to train more than 3,000 youths from low income households," he said.
Similarly, a new "[email protected]" programme will be set up by the government aimed at encouraging more youth to enter TVET courses, in the form of additional RM100 per month on existing allowance for trainees on apprenticeships.
"The Government will also extend double tax deduction on expenses incurred by companies participating in Skim Latihan Dual Nasional (SLDN) for another two years.
"In addition, the double tax deduction currently given to companies undertaking Structured Internship Programme (SIP) approved by Talent Corporation Malaysia Berhad (TalentCorp) will be expanded to include students from all academic fields, rather than just engineering and technology," Lim said.
Meanwhile, RM1.3 billion will be allocated to education institutions under MARA, with a further RM2 billion allocated for student loans benefitting 50,000 students.
RM192 million will also be allocated for professional certification programmes under Yayasan Peneraju Pendidikan Bumiputera.