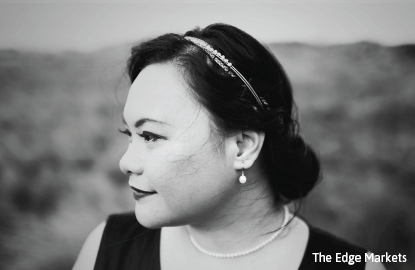 This article first appeared in The Edge Financial Daily, on October 29, 2015.
Mia Palencia says she's still into giving famous pop songs an interesting spin these days, but that's just a fun past-time for the Sabah-born singer and songwriter.  Back in Kuala Lumpur for her once-a-year visit, Palencia is set to perform a few gigs while she's here, starting with a show at Alexis Bistro Ampang in Kuala Lumpur this weekend. 
And while it would include a few reinterpreted pop covers, Palencia will be showcasing some of her new work from an upcoming jazz album, her second with Australian quartet In Good Company. Sitting down for a chat with live it!, the Tasmania-based artiste talks about her academic journey and how songwriting has taken precedence for her. 
"I'm on a break now, but I'm going to start my PhD next year," says Palencia, "This is going to sound boring, but I'm looking at developing methodologies for teaching and songwriting at university level." Having been awarded a University Medal for her outstanding work at honours level last year, the music scholar says it's always been a game plan for her to teach at tertiary level, and if all goes well, she'll be getting there within the next two years. 
Acknowledging self-deprecatingly that she started as a mature student — Palencia was 26 when she was offered a scholarship to study songwriting — the singer says she has loved the six years of academic studies she's done in Australia. 
While she started writing songs at the age of 13, it was her distinctive husky voice that drew attention and launched her career as part of jazz duo Double Take with finger-style guitarist Roger Wang. Palencia says that songwriting has nevertheless been a natural process to her, as clichéd as it may be. 
But to have people scrutinise and tear her music apart was another thing altogether. "I've spent a lot of time writing songs for myself, recording it, then producing it myself, and suddenly you're going to uni and you have to play it to people who will critique your song … I'm like 'whoa, whoa, whoa guys!'" she laughs. 
These days, the singer identifies more as a songwriter in many ways, and with merit too. "I wrote a lot of songs on just four chords," she recounts, "But I had to move away from that, and expand my musicianship." Her first album in 2013 with In Good Company, a quartet she put together with her lecturer, was the report card. Having two to three of her own songs in that album was a big moment for her, "being at once a singer, songwriter and musician", she says. 
On her own, Palencia's solo work is still very much folk-driven and more personal. She says it's been a while since she recorded her second solo album in 2009, and she wants to put her honours project, which featured traditional Sabahan music, to recording. "I guess you only start to look at your home country when you're not there … and Sabah has so much music. I've been looking at family stories, to try and write songs about my great grandparents, stuff like that." Her recent work with Mud The Musical has also been a gateway into composing for different genres.
Having firmly established herself in Hobart's music scene now, Palencia expresses that the grass it not always greener on the other side. For one, it took a while to get a foot in. "But once you're in, you're in," she points out. She says that when it comes to support and camaraderie, it's quite a bit better here in Kuala Lumpur. "There is not that much work there as well, so when you get it, you hang on to it," she adds. 
Palencia plays regularly at festivals around Australia, but observes that it's increasingly tough to get in due to rising in competition. She says that also, organisers nowadays seek out crowd-drawers such as YouTube stars.
With the shift to digital and online content, Palencia says that there is more hesitation when it comes to putting out records. Crowdfunding is something that Palencia is exploring. "It's an effective way to see how many people actually want to buy your album. I'm thinking it might be better," she shrugs. 
Ultimately, she hopes to bring together her music career with her academic goals. "How many working musicians are there here? When I first started, I didn't want to be in class either. But I want to do what I love to do all the time," her steely determination coming through her strong, lilting voice. "I'm hoping the way that I've chosen is the way that will work. I guess the ultimate is playing and touring in 20 years' time, but also to be invited for the work that I do at uni," says Palencia, on her wish to travel to lecture or teach. 
For now, she's happy to be playing with old friends at the upcoming show in Alexis Bistro, and Palencia would have been busy drilling in the new repertoire with a five-piece band she's put together. "It'll be fun, there will also be the normal jazz standards and all the crowd-pleasers," she promises, along with a few surprises. 
---
Mia Palencia will be performing on Oct 30 and 31 at Alexis Bistro Ampang, Great Eastern Mall, Kuala Lumpur at 10pm. There will be a cover charge of RM15. For bookings and more information, call (03) 4260 2288.