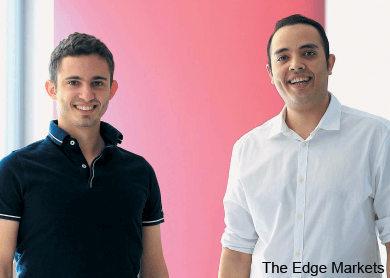 MOST of us have unknowingly opened ourselves to cybersecurity threats.
Think about the time, on a fine Saturday afternoon, when you were having a solitary cup of coffee in a neighbourhood café. You parked yourself on a cosy couch, turned on your laptop or smartphone, and signed in to the café's public WiFi.
Everyone loves free WiFi but few remember that cyber traps lurk around the corner as they wait for you to fall on the internet's slippery slope.
It's a no-brainer. As you leave crumbs of information on the web by signing in to different accounts and programs, hackers can sniff out such information through the use of readily available software tools that can easily decrypt passwords.
All this can happen within seconds and before you know it, hackers would be accessing your emails, social media accounts and worst of all, your credit card information.
Granted, buying things online with a credit card now has the added layer of a two-step authentication using SMS. But Hide.me co-founder Sebastian Schaub thinks such measures aren't enough.
To him, the world of online security remains an untapped avenue that calls for necessary attention from internet users.
This was why Schaub kickstarted Hide.me in 2012 to curb internet privacy issues. Essentially, Hide.me is a virtual private network (VPN) service provider that allows users to secure their identity online or circumvent censorship for websites that may be restricted in certain locations.
Despite operating from Malaysia, Hide.me addresses a very global problem and has found fans around the world — most of its customers are in the US, Germany and Austria.
Prevention is better than cure
It is the same story all over the world — the internet's vastness has brought with it certain dangers.
"If I have a mobile phone and I leave it somewhere on a table, I know that somebody is going to take it. But as far as internet privacy is concerned, people don't seem to take that seriously," Hide.me head of marketing Mohsin A Khan observes.
Many of Hide.me's current users are aged 18 to 35, with 70% of them being male users. Accustomed to the age of social platforms, they are the ones who are more concerned with protecting their ubiquitously scattered data on the web.
However, Mohsin notes that this makes up only 0.001% of the entire online population and there is much more ground to cover.
"I think it's an issue of usability and simplifying things. We are trying to simplify our platform, so that it is easy to use and doesn't require any technical knowledge," says Schaub.
The main hurdle standing between Hide.me and the entire online population is awareness of the inherent dangers lurking online. Furthermore, a common misconception that VPN services slow down internet connections remains a persistent challenge that Schaub and Mohsin aim to overcome.
"There are very few people who know about [VPN], and those who do have a perception that it slows down your connection.
"And that's one of the reasons why we came up with a VPN to fight this perception. The crux of it is that we are faster than any other VPN in the market at this point," explains Mohsin.
Hide.me's VPN also works across different platforms, such as Android and Apple devices, which is not a common feature in a lot of other VPNs.
"We offer a broad range of protocols, so people can connect via the different options we have available. We become relevant to them in every situation they're in," says Mohsin.
The rabbit hole
Apart from staying hidden, VPNs also allow users to access websites that are otherwise restricted in the country they are in.
One of the major uses of VPNs, in fact, is to stream live broadcasts of sport events. For instance, some might wish to watch the Barclays Premier League but are unfortunately in a country where they can't access such content.
Hide.me works by connecting users to their VPN server in a particular location. This is done simply with a drop-down menu in the application and users can select the location they want to connect to.
Having been operating for three years now, marketing initiatives remain Hide.me's largest cost component.
"One of the biggest challenges for the VPN industry is that the acquisition cost is too high because you really have to educate users," says Mohsin.
In order to educate users on the benefits of VPNs, Hide.me offers a free service to ensure users get a taste of how the system works. This free service provides users with a 2GB data transfer limit, which is more than enough for minimal internet usage.
If users wish to increase their bandwidth, a premium price of US$11.67 is charged for unlimited data transfer and full protocols, supporting up to five simultaneous connections.
Going global from Malaysia
Hide.me's website is in both English and German — Schaub is German and the company has a number of customers in Germany and the US. Despite that, he believes Malaysia is one of the most conducive countries to start up a VPN service provider.
"In the US, it's probably not that good because there are a lot of laws in place that can circumvent every user's rights. In Europe, it is expensive. And globally, we are in a better position in Malaysia because accessing a lot of markets is quite difficult from other places in the world," says Schaub.
"In Germany, there are a lot of regulations. From the beginning, you need a lot of manpower to overcome these regulations, and most startups don't have it. So, that's limiting the whole ecosystem there."
It took US$100,000 for Schaub to get the business up and running. To date, there are 15 people on the team.
Being a business that works entirely online, Hide.me has a massive network of servers and locations around the world. Because of this, the VPN service provider is not particularly affected by geographical constraints and localisations.
"Once we get into that phase where there are different competitors competing for a certain space, then probably differentiation in terms of location could matter," says Mohsin.
But Schaub and Mohsin explain that it is still a long way to go before the VPN market will reach saturation point. As the market grows, they hope Hide.me will be one of the top five or six players that will eventually serve 70% of the internet world.
This article first appeared in #edGY, The Edge Malaysia Weekly, on May 11 - 17, 2015.