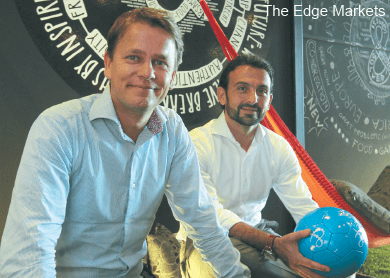 WHILE the salary offered undeniably drives our decision on where to work, it is not everything. We also want a great workplace.
We covet the infamous Google office and its culture, thanks to the movie The Internship — an un-funny and mawkish plug for the internet search engine. We dream about working for a company that has million-ringgit furnishings and everything we want for our home but cannot afford to buy them.
But idealism aside, what exactly is a great workplace?
While companies with the cosiest and most activity-filled office space might be deemed the best workplace ever, Robert Levering, co-founder of global consulting and research firm, Great Place to Work, has a slightly different idea. "A great place to work is one in which you trust the people you work for, have pride in what you do and enjoy the people you work with."
He works with more than 5,500 organisations around the world with the goal of identifying and creating celebrated workplaces by developing high-trust cultures.
The outfit that is named The Best Company by Great Place to Work not only gains a trophy but also widespread recognition after a meticulous process of quantifying and measuring positive values.
Dutch company &Samhoud (pronounced And-Some-Hawt) is this year's champion. The 26-year-old organisation recently opened shop in Malaysia, adding to its branches in Switzerland and Germany. With more than 200 employees globally, the company has a team of 15 here that focuses on consultation, food and media.
While &Samhoud Asia has remained under the radar in Malaysia, its philosophy and practices might very well shine the spotlight on it in the near future. Here is why.
What does a great workplace look like?
If you didn't know you were visiting an office space, the &Samhoud establishment in the heart of Kuala Lumpur looks like a quirky embellishment of a playhouse or a bachelor's pad for celebrities.
Upon entering it, you are greeted by swings, an island kitchen table and a fridge stocked with beer and supplies for dinner. Mahogany tables and benches form work sections in a cosy nook that is furnished with dim amber lighting that is perfect for a group study.
That's not all. The office also boasts game consoles, a really large television set and a drum set if anybody is up for a jamming session.
But peeling away the exterior, &Samhoud is entrenched in a longstanding structure of processes that is integral to its philosophy. Therein lies its value. "Together we build a brighter future" is believed to be achieved by three core merits — authenticity, intensity and friendship.
For &Samhoud Asia partners Nur Hamurcu and Wouter Vanderweijden, the key to creating a great workplace is not a prescriptive set of employee benefits, programmes and practices but building high-quality relationships in the workplace — relationships characterised by trust, pride and camaraderie.
"We don't want people to come to &Samhoud because of employee benefits. If a job candidate asks, 'What are the employee benefits?' in the first 15 minutes of the interview, we stop it. We say, 'Sorry but you won't be happy at &Samhoud'," says Hamurcu.
There are more important elements to gaining employee loyalty than physical and monetary benefits. This is by instilling flexible work hours, openness in communication between colleagues, democratisation of meetings and so forth.
"We really believe that if we create happy people, they create happy customers. And happy customers are more than happy to stay with you. And when they pay you more, you can invest in your people and the society. This becomes a never-ending cycle," Hamurcu adds.
Going beyond just a couple of messages on a poster or a company handbook, Hamurcu and Vanderweijden reveal a more practical way to instil company goals and ethics without being a nagging parent.
Measuring the un-measurable
"Everything starts with happy people and you've got to know objectively if what you are doing is really what your people like, whether they need it and whether we help," says Hamurcu.
This begins with a simple step of listening. As with Great Place to Work, Hamurcu and Vanderweijden agree that values, such as trust, should be easily and effectively measured and accounted for.
This is done by tying the company's trust index metrics of each employee to its key performance indicators (KPIs) so that he can understand the relationship between the organisation's business goals and his workplace experiences.
Each employee is evaluated based on a 365° feedback system, a dashboard known as a "personal contract" crafted individually with his superiors, from which he can get feedback on a daily basis based on core values.
The dashboard also measures each employee's value and his contribution to the bottom line, giving him a sense of self-governance rather than constantly being told what to do.
"If people score low on the values, they are out. That's how we do things," says Vanderweijden.
Evaluations are conducted quarterly whereby employees will sit with their bosses to talk about their KPIs and their overall performances based on set metrics.
"We start with the philosophy [of &Samhoud] and trim down to our strategy and year plans. And year plans are trimmed down to personal contracts," Vanderweijden explains.
Relying heavily on feedback and qualitative responses, &Samhoud also applies this strategy to its clients, ensuring the happiness of the entire company's ecosystem.
On an even deeper level, &Samhoud's employees are accountable for their personal goals, may it be losing weight, saving money or learning a new language.
"We don't grow our people only for their technical skills. We don't only invest in people to be the best consultant in the world. I mean, we ask questions such as, 'What is your mission in life?'" says Hamurcu.
To him and Vanderweijden, the essence comes from discerning the needs of the people and translating that into actionable solutions, like how anyone would if they cared about something dearly.
"We did not think about becoming No 1. We just felt that we were doing the right thing," Hamurcu sums up.
This article first appeared in #edGY, The Edge Malaysia Weekly, on May 18 - 24, 2015. Read more here