This article first appeared in Enterprise, The Edge Malaysia Weekly, on July 16, 2018 - July 22, 2018.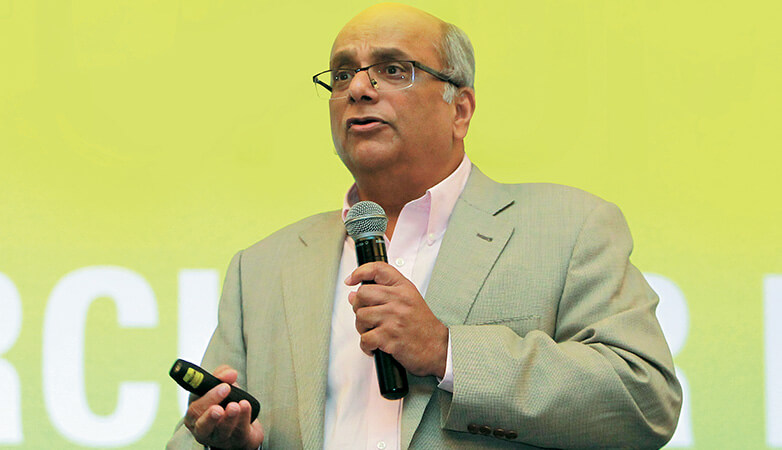 The supply chains of the future will be circular. As precious resources become scarcer, industry players will need to radically alter the way they manufacture, deliver and even discard their products. But this so-called "circular economy" is far from just a socially responsible novelty. It turns out that there is a strong business case for returning used goods to the very supply chain that produced them.
The circular economy refers to a production and consumption model predicated on using resources that had been considered waste so as to minimise the consumption of finite "virgin" resources such as timber, petroleum and rare earth materials.
Dr David Gonsalvez, CEO of the Malaysia Institute for Supply Chain Innovation (MISI), says there are two golden rules in this new model. "There is value in waste [products]. Also, you will need innovation if you want to make the supply chain circular."
He was speaking to a full house at the recent The Edge SME Forum 2018 on "Supply Chain Reverse Logistics — An Important Element of the Circular Economy".
But innovation here does not necessarily refer to complex technologies and millions of ringgit in R&D. "Being creative is what it is all about," says Gonsalvez.
He cites the example of Spanish giant Saica Group — a plastics and packaging manufacturer that has a reputation for retooling almost all of its waste and packaging products. "It makes paper and plastic packaging for everything from cereal to auto spare parts. It is one of the largest packaging manufacturers in Europe and has paper mills all over the continent. Last year, it produced more than 2.5 million tonnes of packaging products using only recycled materials. Not a single tree was harmed."
According to Gonsalvez, it was a matter of the company rethinking its approach to delivering used packaging. "Grocery stores have so much cardboard and packaging material in their backrooms. That is because all our produce and food items come pre-packaged," he says.
Now, simply looking at their packaging as a resource, grocery store and supermarket backrooms become resource collection points. Saica committed manpower to unpacking the wares and picking up the leftover packaging. This means retail stores saved on labour costs while Saica's saved costs on new packaging. "Last year, Saica collected 2.7 million tonnes of waste and made 2.5 million tonnes of new paper in the process," says Gonsalvez.
As for the rest? "The company incinerated it to create energy, which it then sold. This is the real circular economy in action. You are not cutting down trees, you have all the paper and packaging material that you need and, on top of all that, you are even able to produce energy," he says.
Saica's goal is for none of its products to end up in landfills, Gonsalvez points out.
He speaks from direct experience. A veteran of US automotive giant General Motors, he says the company collaborated with steel manufacturer Nucor Corp to use recycled steel in its vehicles.
"Nucor was in danger of going bankrupt in the 1960s, but the company recovered, thanks to various measures.  Fundamental to its survival was its mini steel mills. The technology allowed Nucor to use recycled steel in the production of fresh steel. It no longer needed to rely on iron ore. Today, Nucor is one of the biggest and most profitable producers of steel in the US," says Gonsalvez.
On average, he said, it would take about US$500 worth of steel to manufacture a car. To get this much steel, auto manufacturers typically would have to purchase US$800 worth of the metal, which would create about US$300 worth of scrap after the excess is cut from the mould. And this perfectly serviceable steel would go to waste.
Recognising this problem, GM partnered Nucor and sold the leftover steel to the company. In return, GM could purchase fresh steel at a discount, depending on the amount of recycled steel available in that particular shipment.
Gonsalvez acknowledges that currently, it is the bigger companies that are better positioned to adopt production principles based on the circular economy. Even so, there have been test cases for small businesses.
Gonsalvez reiterates the need to be creative, particularly if a company does not have millions of dollars for R&D. With just a little bit of innovation, the circular economy could be adapted to all kinds of industries, he points out.
Take Patagonia, a mid-sized North American clothing line that specialises in outdoor and cold climate fashionwear. "They make clothing out of recycled plastic. But more impressively, the company has introduced an e-commerce website that allows customers to trade in their Patagonia clothing, buy used apparel or even send their clothing in for repair. Very few clothing companies do this, but isn't it a great opportunity to improve loyalty and build your customer base?" says Gonsalvez.
MISI is a joint initiative between the Massachusetts Institute of Technology and the Malaysian government. The organisation is an independent degree-granting academic institution that also conducts research and corporate outreach for local and international firms operating in Southeast Asia.