This article first appeared in City & Country, The Edge Malaysia Weekly, on October 17, 2022 - October 23, 2022.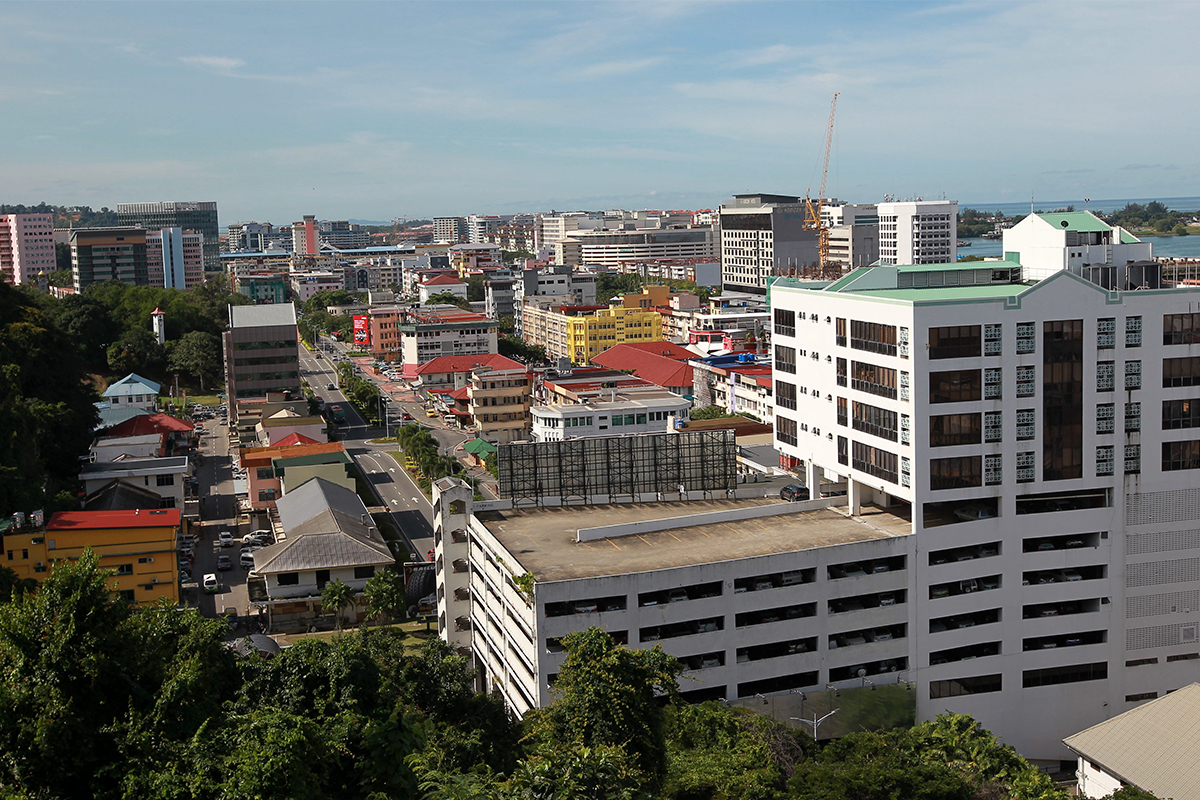 The last two years were tough for Malaysia's property sector. However, during the quarter under review, the market in Sabah — particularly in Kota Kinabalu — saw an ­improvement.
"The Sabah residential property market improved in 2Q2022, as indicated by the higher volume and value of transactions compared to 2Q2021," says Rahim & Co regional manager (Sabah) Max Sylver Sintia in presenting The Edge/Rahim & Co Kota Kinabalu Housing Property Monitor 2Q2022.
The state recorded 1,431 residential transactions worth RM554.66 million in 2Q2022 — a growth of 39.2% in volume and 37.21% in value compared to a year ago, he adds.
Of the 1,431 residential transactions, the majority (51.78%) were for properties priced below RM300,000, with 741 transactions worth RM147.59 million. This was followed by properties priced from RM300,001 to RM500,000 (28.86%, or 413 transactions worth RM163.09 million), RM500,001 to RM1 million (15.37%, or 220 transactions worth RM153.44 million) and above RM1 million (3.98%, or 57 transactions worth RM90.54 million).
The most transacted property type was the terraced house, with 558 transactions worth RM197.18 million. This was followed by high-rises with 392 transactions (RM127 million) and semi-
detached houses with 166 transactions (RM97.31 million).
Kota Kinabalu, along with parts of neighbouring districts Penampang and Putatan, contributed the most to the state's total transaction figure with 782 deals worth RM369.57 million, making up 54.65% of volume and 66.63% of value respectively.
"Compared to 2Q2021, the number and value of residential property transactions in Kota Kinabalu, Penampang and Putatan increased by 39.15% and 35.23% respectively," says Max.
"The types of residential properties with the most transactions in Kota Kinabalu, Penampang and Putatan in 2Q2022 were condominiums and apartments, with 307 transactions worth RM106.47 million. This was followed by terraced houses with 220 transactions worth RM101.47 million, and semidees with 90 transactions worth RM67.02 million."
Notable transactions and activities
In the second quarter of the year, estate land measuring 787.8ha in Telupid was purchased by Felcra Bhd for RM62.288 million.
"A 4.37-acre parcel in Jalan Tuaran zoned for residential purposes was acquired by Pioneer Acres Sdn Bhd for RM8.72 million, or RM45.80 psf. It is adjacent to The Factory @ Inanam development," says Max.
In Sikuati, Kudat, a 401.1ha beachfront tract — comprising three adjacent sites — was purchased by SBH Kibing Silicon Materials (M) Sdn Bhd for RM144.6 million.
"In March 2022, it was announced that the state government had sealed a RM2 billion silica and sand processing, and solar panel manufacturing project from SBH Kibing. The company's solar manufacturing plant — through SBH Kibing Solar New Materials (M) Sdn Bhd — will be located on a 52.77ha piece of land at Phase 2, Industrial Zone 7 of the Kota Kinabalu Industrial Park," says Max.
In April, a joint-venture agreement was signed between landowner Sabah Ports Authority (LPPS) and Deevin Development Sdn Bhd for the development of a mixed-use project, The Cove.
"The development, which will include the new 29-storey LPPS headquarters called Menara LPPS, comprises office towers, a shopping mall, two blocks of five-star hotels, two blocks of commercial suites and one condominium block. Menara LPPS will have a total built-up area of 183,390 sq ft. The whole development has a total gross development value of RM1.013 billion and will be built on 6.28 acres of prime land at Tanjung Lipat," Max explains.
In Kinarut, Zalam Development (Sabah) Sdn Bhd launched the 24-storey Damar Residence. With built-ups of 780 to 840 sq ft, the 360 units are priced from RM352,000 to RM455,000.
"Damar Residence will form part of the whole Tropika Park City, KK South master plan development. Tropika Park City is to be developed on a 30-acre tract in Kinarut," says Max.
Steady price growth for landed properties
In the quarter under review, 2-storey terraced houses saw an average price growth of 2% year on year, up 0.53 percentage point from 1.47% in 2Q2021.
"The highest y-o-y price growth was recorded at Ujana Kingfisher, with an increase of 3.33% to RM620,000. This was followed by Taman Sri Borneo (3.03% to RM680,000), Taman Jindo (2.99% to RM690,000), Golden Hill Garden (2.35% to RM870,000), Millenium Height (1.61% to RM630,000) and Luyang Perdana (0.66% to RM765,000). No y-o-y price growth was recorded in Taman Indah Permai," says Max.
Rent at Luyang Perdana saw the most improvement in percentage terms — by 4.55% y-o-y to RM2,300 per month. This was followed by Ujana Kingfisher (2.86% to RM1,800), Taman Sri Borneo (2.63% to RM1,950), Taman Jindo (2.38% to RM2,150) and Golden Hill Garden (1.92% to RM2,650). No rental growth was noted in Taman Indah Permai and Millenium Height, with rent remaining at RM1,500 and RM2,000 per month respectively.
For 2-storey terraced houses, the average gross yield remained at 3.66%. "Comparing the gross yield in 2Q2022 and 1Q2022, there was a slight improvement of 0.03 percentage point," says Max.
The highest yield was registered at Taman Indah Permai (3.87%), followed by Millenium Height (3.81%), Taman Jindo (3.74%), Golden Hill Garden (3.66%), Luyang Perdana (3.61%), Ujana Kingfisher (3.48%) and Taman Sri Borneo (3.44%).
For 1-storey terraced houses, Max highlights that the average y-o-y price growth was 4.16%, up from 2.9% in 2Q2021 — an increase of 1.26 percentage points.
The highest y-o-y price growth was recorded at Taman Tuan Huat, which saw an increase of 4.35% to RM480,000. It was followed by Taman Sri Kepayan (4.08% to RM510,000) and Taman Nelly Ph 9 (4.04% to RM515,000).
Rent at Taman Tuan Huat and Taman Nelly Ph 9 improved by 3.33% (to RM1,550 per month) and 3.13% (to RM1,650 per month) y-o-y respectively. That at Taman Sri Kepayan remained at RM1,750 per month.
Average gross yield achieved for 1-storey terraced houses was 3.95%, down 0.08 percentage point from 2Q2021. The highest yield was registered at Taman Sri Kepayan with 4.12%, followed by Taman Tuan Huat (3.88%) and Taman Nelly Ph 9 (3.84%), Max points out.
Uptick for high-rise property prices
Condominiums in the monitor recorded an average price growth of 1.61% y-o-y in 2Q2022, translating into an increase of 5.75 percentage points from 2Q2021.
Likas Square registered the highest price growth y-o-y (3.8% to RM405 psf), followed by 
1 Borneo Condominium (2.7% to RM380 psf), Jesselton Condominium (2.6% to RM595 psf), Alam Damai (1.8% to RM580 psf), Radiant Tower (1% to RM495 psf) and Bayshore Condominium (0.9% to RM540 psf). The average price for Marina Court and The Peak Condominium stood at RM600 and RM650 psf respectively.
"Overall, the average price of our condominium samples stood at RM531 psf," says Max.
Rent at Alam Damai improved by 11.11% y-o-y to RM1.82 psf per month. That at Jesselton Condominium increased by 3.45% y-o-y to RM2 psf per month.
"Other condos held steady with Marina Court at RM2 psf per month, Bayshore Condominium at RM1.61 psf per month, 1 Borneo Condominium at RM1.62 psf per month, Likas Square at RM1.48 psf per month, Radiant Tower at RM1.77 psf per month and The Peak Condominium at RM2 psf per month," he adds.
The average condo yield was 4.11% — the same as the gross yield recorded in 2Q2021 and 1Q2022. The highest yield was recorded at 1 Borneo Condominium with 5.1%, followed by Likas Square (4.39%), Radiant Tower (4.29%), Jesselton Condo (4.03%), Marina Court (4%), Alam Damai (3.76%), The Peak Condominium (3.69%) and Bayshore Condominium (3.58%).
These notable transactions and developments as well as the improving property market performance have bolstered sentiment, albeit cautiously.
"Overall, the positive growth in Sabah's real estate performance, which was also evident by the growth performance of our secondary market samples, indicates an optimistic mood for the state's property market.
"Mega projects will continue to be among the catalysts to move the market. We foresee the property market continuing to regain its momentum in 2H2022 — despite the challenges in securing bank loans. Even so, the affordability factor will continue to be the top priority in homebuyers' minds," Max observes.