This article first appeared in City & Country, The Edge Malaysia Weekly, on April 5, 2021 - April 11, 2021.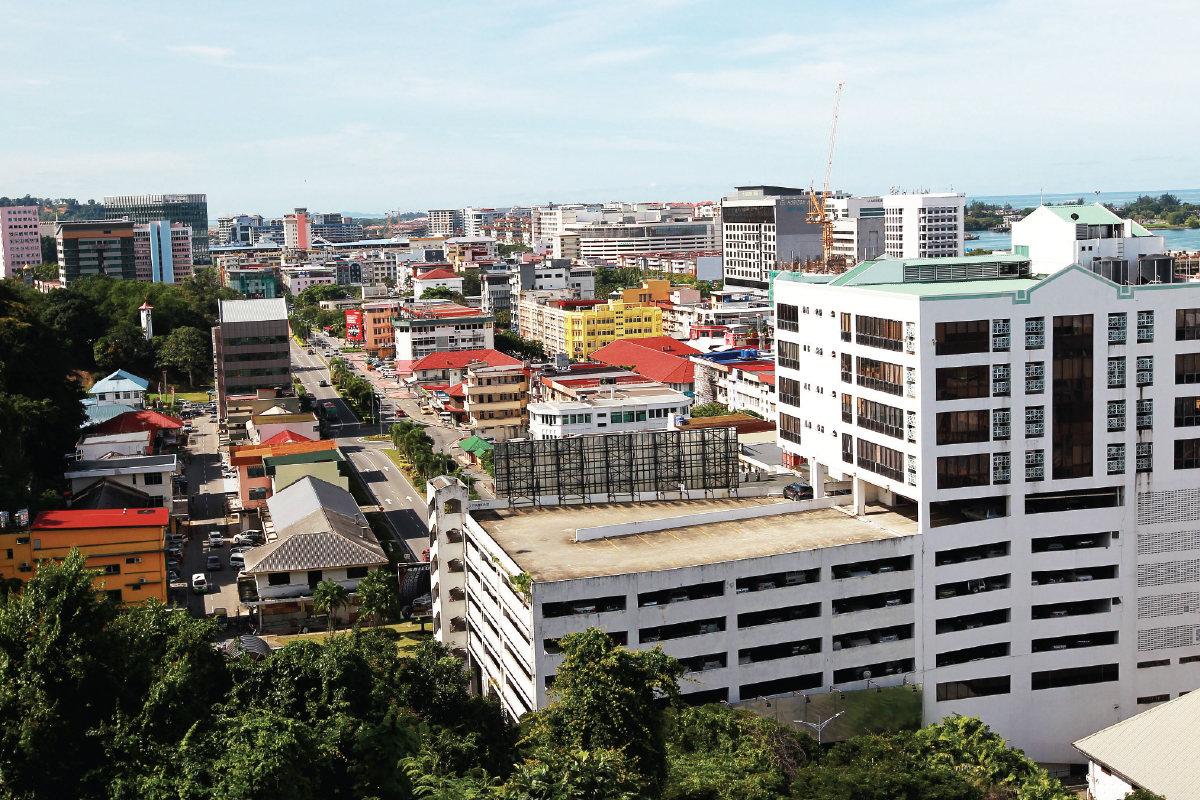 The Covid-19 pandemic put a halt to many property market activities last year as the nation took steps to control the spread of the virus. Says Rahim & Co regional manager (Sabah) Max Sylver Sintia, "While 2019 showed promising signs for Sabah's residential property market, hopes of a further recovery in 2020 were significantly dashed by the ­Covid-19 pandemic."
In his presentation of the Kota Kinabalu Housing Property Monitor 4Q2020, Max highlighted that Sabah's residential property market transactions for 2020 as at 3Q2020 fell 21.52% in volume to 3,176 units and 23.93% in value to RM1.099 billion from a year ago.
For the Kota Kinabalu area, which includes the neighbouring Penampang and Putatan, the year-on-year residential property transaction volume and value as at 3Q2020 declined 29.14% and 25.6% respectively with 1,520 transacted units worth RM705.38 million. "For sub-sale transaction activities, residential property transactions in terms of volume declined about 30% y-o-y," says Max.
However, he notes that the rollout of the Covid-19 vaccines could lead to borders reopening and international trade and travel resuming, and this could lift consumers' confidence and sentiment, "which are key to economic growth".
Nevertheless, the property market in Kota Kinabalu has not been stagnant. "While the goal of purchasing a home may have been put aside because of other expenditures with higher priorities, demand for housing in Kota Kinabalu is still there — for the right product at the right place and right price," says Max.
"Post-crisis — especially with the expiry of loan moratoriums —  would be the time for bargain hunters to look out for the best deals, as there will be more bargains and a wider selection in the market," he says. "Low interest rates, coupled with a string of homeownership incentives, will lower the barriers to residential purchase and accelerate the buying plans of prospective buyers."
Secondary market performance
Data gleaned from the 4Q2020 monitor reveals that the prices and rents of landed properties have remained mostly resilient, while condominiums saw a drop in ­values. The standout was the 1-storey terraced house, which registered steady price growth in the quarter in review.
"The main reason is the limited supply of landed properties within the Kota Kinabalu area. It's very hard to get new landed properties as developers are not launching new projects within Kota Kinabalu. For new launches of 2½-storey units, they can sell for more than RM900,000 each," says Max.
As to why the 1-storey terraced houses are doing so well, it is because people prefer landed properties and they do not mind if the property is one level. Moreover, the properties sampled in the monitor are within mature neighbourhoods with good amenities such as schools and are strategically located. Max points to Taman Tuan Huat, which is only 2km from the city centre, making it a sought-after location.
He also highlights that another plus point for the 1-storey houses is their older design, which means they have a larger land area of about 1,900 sq ft and measure 20ft by 80ft. Even the 2-storey houses cannot compare with the 1-storey ones, as they only have land areas of between 1,200 and 1,400 sq ft and measure about 20ft by 70ft.
The condos in the monitor saw a dip in values, which Max attributes to the downward pressure on rents. "Condo prices went down because of rental pressure. Some of these condos prior to the pandemic had been utilised as Airbnb units or for short-term rentals. The pandemic affected business and the condo rents were pressured [downwards]. This was one of the factors that contributed to the decrease in the asking price."
He highlights how some units at Marina Court, which is located near the city centre, were used as Airbnb or short-term rental units. Before the pandemic, the asking prices were above RM600 psf, with some units asking for as high as RM700 psf. Due to the pandemic, there were no tenants, and some owners were unable to pay their monthly mortgages. As a result, they were willing to sell their units below the previous asking prices.
In the short term, Max says, there are some strategies that buyers and sellers can consider as they navigate these uncertain times.
For those looking to buy a home for their own use, Max says this is the best time to buy, as there are discounts in the sub-sale market and interest rates are attractive.
On the other hand, those buying a property for investment must have strong holding power. "It is not easy to rent out the property now and there are many options in the market. Even if you can rent out the unit, it may not be attractive in terms of yield," he says.
He adds that buyers may want to consider looking at leftover units in the primary market, as they can negotiate with the developer for further discounts.
Meanwhile, Max believes owners should try to hang on to their property if they can. "For unit owners, it is not the best time to sell. Perhaps they can take advantage of the lower interest rates and refinance their properties, and use the refinanced money to invest in other investments."
The property market's recovery will be slow for the time being but Max believes it will gradually happen.
"With the vaccine still yet to be widely available to nations across the globe, it will take time for our market to get back on the recovery path, as seen in 2019. Market confidence is expected to return gradually in the latter part of 2021 and into 2022, as right now, buyers, financiers and developers are all in a cautious mood," he says.
Property sample breakdown
The 2-storey terraced houses in the monitor recorded an average growth of 1.74% y-o-y in 4Q2020 compared with the same period a year ago, which saw a 5.38% y-o-y growth — a drop of 3.64 percentage points.
The highest y-o-y price growth was recorded at Ujana Kingfisher, with an increase of 2.61% to RM590,000. This was followed by Golden Hill Garden (2.44% to RM840,000), Taman Sri Borneo (2.33% to RM660,000), Taman Jindo (1.54% to RM660,000), Taman Indah Permai (1.1% to RM460,000) and Millenium Height (0.82% to RM615,000).
Quarter on quarter, there was marginal growth for houses in Taman Indah Permai, up 1.1%, followed by Ujana Kingfisher (0.85%), Taman Sri Borneo (0.76%) and Golden Hill (0.6%), while the others developments showed no price growth.
For the 1-storey terraced houses, the average growth for the quarter in review was 3.32%, down from 8.75% in 4Q2019; a drop of 5.43 percentage points.
The highest y-o-y price growth was at Taman Tuan Huat, with an increase of 4.65% to RM450,000, followed by Taman Nelly Ph 9 (3.19% to RM485,000) and Taman Sri Kepayan (2.11% to RM485,000).
Q-o-q results show Taman Tuan Huat registering 1.12% growth, followed by Taman Nelly Ph 9 with 1.04% growth. Taman Sri Kepayan remained unchanged.
All landed properties in the monitor showed no change in rents from the previous year and previous quarter.
Condo values, on the other hand, registered an average price decline of 5.55% y-o-y to RM524 psf from RM543 psf a year ago. Only Bayshore Condominium showed a 0.9% increase to RM535 psf while Radiant Tower remained unchanged.
The biggest dip was experienced at 1 Borneo Condominium, which dropped 7.3% to RM380 psf. This was followed by Likas Square (-6% to RM390 psf), Jesselton Condo (-4.9% to RM580 psf), Marina Court (-4% to RM600 psf), Alam Damai (-3.4% to RM570 psf) and The Peak Condominium (-3% to RM650 psf).
There were no changes in the q-o-q results for the condos.
Rents for the high-rise units on average declined 12.34% y-o-y. Rents at Bayshore Condominium and Radiant Tower held steady, while those at other condos fell.
The highest decline was recorded at Alam Damai, with rents falling 25% to RM1.64 psf/month. This was followed by Marina Court (-23.53% to RM2 psf/month), The Peak Condominium (-14.29% to RM2.31 psf/month), Likas Square (-13.04% to RM1.48 psf/month), Jesselton Condo (-12.33% to RM2.13 psf/month) and 1 Borneo Condominium (-10.53% to RM1.72 psf/month).