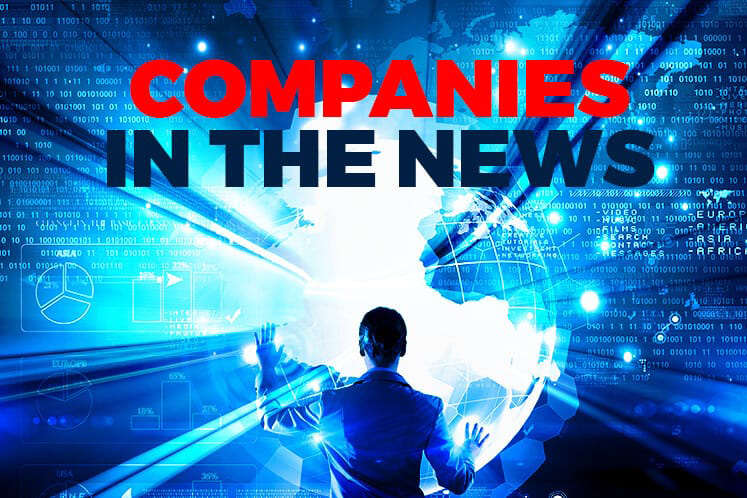 KUALA LUMPUR (June 28): Based on corporate announcements and news flow today, stocks in focus on Friday (June 29) may include the following: Eco World Development Group Bhd, Eco World International Bhd, KUB Malaysia Bhd, Aeon Credit Service (M) Bhd, Felda Global Ventures Holdings Bhd, Icon Offshore Bhd, Tenaga Nasional Bhd, Mah Sing Group Bhd, United Malacca Bhd and Berjaya Corp Bhd.
Eco World Development Group Bhd's (EcoWorld) net profit rose 2.3% to RM34.45 million in the second financial quarter ended April 30, 2018 (2QFY18) from RM33.68 million a year ago, on contribution from its projects in the Klang Valley, Iskandar Malaysia in Johor, and Penang.
The group achieved sales of RM923 million as at April 30, 2018 on its Malaysian projects. Quarterly revenue, however, fell 2.6% to RM498.69 million in 2QFY18 from RM670.02 million a year ago.
Its overseas arm, Eco World International Bhd, saw its net loss widening to RM29.08 million in 2QFY18 from RM24.82 million a year ago, due to a foreign exchange (forex) loss which arose in the quarter under review compared with forex gain recorded in 2QFY17.
EWI recorded RM698 million sales in the first seven months of its financial year ending Oct 31, 2018 (FY18).
Having obtained a development order, KUB Malaysia Bhd expects to kick-start development of its flagship commercial building – KUB Tower – in Petaling Jaya next year on a plot of land where the landmark A&W Restaurant is sited.
KUB president and chief executive officer Datuk Abdul Rahim Mohd Zin said the company will be partnering with a property developer to jointly develop the project. He is optimistic construction will start in 2019.
As for the proposed sale of Restoran Kualiti Sdn Bhd which owns A&W Malaysia Sdn Bhd — the sole franchisor of A&W restaurants in Peninsular Malaysia, Abdul Rahim said KUB hopes to finally complete the disposal within the year.
Aeon Credit Service (M) Bhd's net profit jumped 30.9% to RM99.24 million for the first financial quarter ended May 31, 2018 (1QFY19) from RM75.81 million a year ago, mainly due to an increase in financing receivables. Quarterly revenue grew 7.8% to RM325.72 million from RM302.28 million a year ago.
Aeon Credit said financing receivables was RM6.92 billion as at May 31, 2018, up 3.8% from RM6.67 billion as at May 31, 2017.
Felda Global Ventures Holdings Bhd (FGV) — soon to be known as FGV Holdings Bhd — said at least two more months are needed to conduct its forensic investigation into several investments undertaken by the group previously, including its investment in Asian Plantations Ltd.
Azhar said the group has appointed a legal firm in London to look into the matter, and not just from an accounting perspective. "Certainly, we are looking for a civil case, at least," he said.
FGV has also initiated legal actions against a subsidiary's client, Dubai-based Safitex Trading LLC, to claim back some US$11 million owed, Azhar said.
Meanwhile, a representative from Federal Land Development Authority (FELDA) has failed to be re-elected as a director at FGV's annual general meeting today.
According to FGV's bourse filing, the director who failed to be re-elected was non-independent non-executive director Datuk Sri Abu Bakar Harun, who is also chairman of Pahang State FELDA Affairs Committee. Abu Bakar is also the deputy chief of the Pekan UMNO division, where former Prime Minister Datuk Seri Najib Razak is the Member of Parliament.
Icon Offshore Bhd has bagged contracts valued at RM275 million from oil and gas (O&G) companies to provide offshore support vessels (OSVs) for their production operations in Malaysian waters.
Icon said the contracts were clinched via its wholly-owned subsidiary Icon Offshore Group Sdn Bhd (IOGSB). The long-term contracts are for a primary period of three years, with an extension option of up to two years of one year each, it added.
In a separate filing, Icon said IOGSB has also received a conditional RM106 million award to provide two platform supply vessels to ExxonMobil Exploration and Production Malaysia Inc for its production operations.
Turkish conglomerate Gama Holding are in talks with Tenaga Nasional Bhd (TNB) and other potential buyers about a sale of its 50.5% stake in Gama Enerji energy unit as part of a US$1 billion debt restructuring, Reuters reported, citing sources.
TNB, which acquired 30% of Gama Enerji in 2015 for US$243 million, had shown interest in the stake, according to Reuters.
Mah Sing Group Bhd, which plans to roll out projects carrying a combined gross development value (GDV) of RM2.2 billion this year, has deferred most of their launches until later in the year, says its group managing director Tan Sri Leong Hoy Kum.
Last year, the property developer launched projects with a total GDV of RM1.86 billion.
Leong said the new projects will be launched across the three property hotspots namely the Klang Valley, Johor and Penang, comprising landed homes, high rise condominium units, and commercial and industrial properties.
The group is maintaining its sales target of RM1.8 billion for 2018, matching last year's sales level.
United Malacca Bhd, which revealed that its net profit shrank 43% in its financial year ended April 30, 2018 (FY18), has warned that its FY19's earnings will be "significantly lower" due to adoption of the new accounting standards, the Malaysian Financial Reporting Standards, which will require the value of bearer plants to be amortised.
In its fourth quarter ended April 30 for FY18, the group's net profit sank 71% to RM8.52 million from RM29 million previously, on lower revenue, higher cost of sales and lower investment income incurred.
The group proposed a second interim dividend of 6 sen per share — down from 15 sen in 4QFY17 — with ex- and entitlement date scheduled on July 26 and July 30 respectively.
Berjaya Corp Bhd (BCorp) fell into the red with a net loss of RM95.19 million in the fourth quarter ended April 30, 2018 (4QFY18), from a net profit of RM3.24 million a year ago, following a significant drop in profit from operations.
BCorp also provided for an impairment of various assets and unfavourable foreign exchange difference of about RM101 million — without which it would have recorded a pre-tax profit of about RM57.95 million, as opposed to a pre-tax loss of RM43.05 million, the filing said.
Quarterly revenue fell 6% year-on-year to RM2.11 billion from RM2.23 billion, dragged mainly by its marketing of consumer products and services segment, as well as its property investment and development segment.