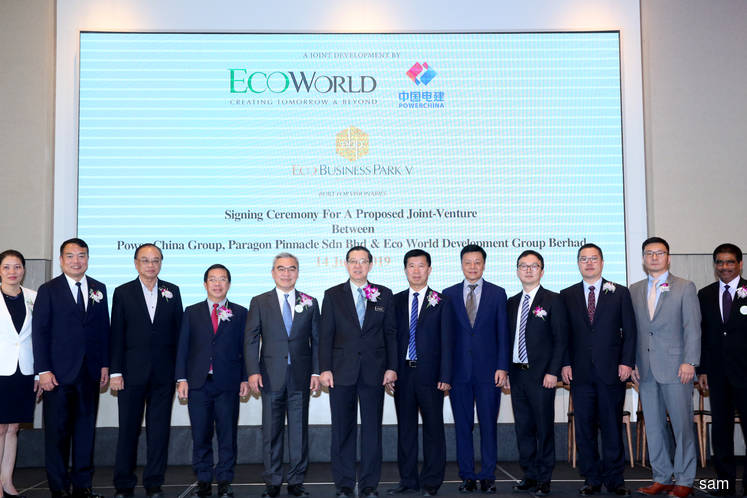 KUALA LUMPUR (June 14): Eco World Development Group Bhd is set to team up with state-owned construction player PowerChina Group to jointly bid for infrastructure projects in Malaysia.
EcoWorld today inked a Memorandum of Understanding (MoU) with the infrastructure arm of PowerChina to jointly bid for unspecified infrastructure projects in Malaysia.
EcoWorld president and chief executive officer Datuk Chang Khim Wah said the two companies have yet to decide on the infrastructure projects they may want to bid for.
But he gave an assurance that the group will utilise PowerChina's expertise to construct state-of-the-art infrastructure for Malaysians.
"We are (still) studying what is available at the moment. We have just started exploring with each other. PowerChina is actually very well known throughout China as well as in Malaysia. They have a long track record of building dams, hydroelectric power plants, solar power; they are very good in green energy," he told a press briefing today.
"We are going through what is available and what we can contribute. With their expertise, we don't want to do just the normal infrastructure, we want to see the high value that we can add into Malaysian infrastructure with PowerChina's expertise and technology," Chang said, adding that there will be a lot of technology transfer between the two companies as well.  
Primarily known as a property developer, the collaboration would see EcoWorld's first direct involvement in infrastructure projects bidding.
"We actually have a long history of construction as well by ourselves; we just have not put this into use in EcoWorld Development. But with PowerChina, we see that it's not just about construction but also about how to add value into the construction industry in Malaysia, especially infrastructure. So we see this as an opportunity," Chang said.   
The proposed conditional joint-venture envisages the formation of a joint-venture company to be known as Eco World PowerChina Business Park Sdn Bhd.
Listed 182nd in the Fortune's Global 500 companies in 2018, PowerChina is an integrated construction group offering engineering and construction solutions to the entire chain of the global energy and power, water resource and environment, infrastructure, and real estate industries.
PowerChina has announced its move to build its headquarters for Asia Pacific in Kuala Lumpur to serve its operations in the entire region.