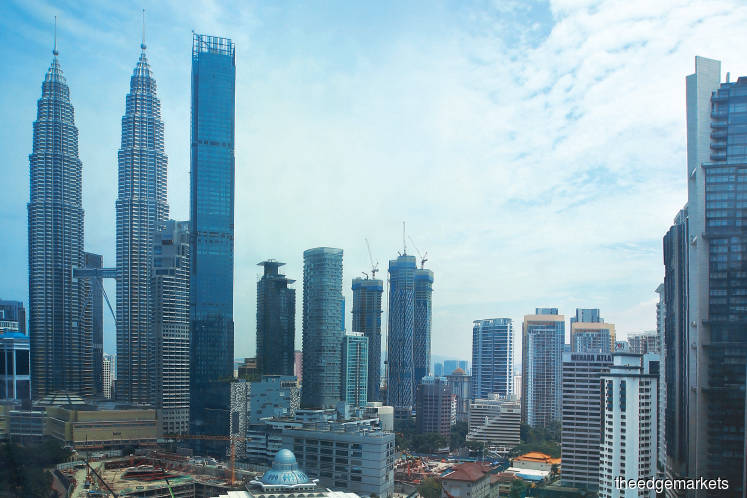 KUALA LUMPUR (Dec 5): Despite expectations of a slower growth in 2020, it is not all doom and gloom on the economic front, as there is room for Malaysia's gross domestic product (GDP) growth to accelerate past the 4.4% forecast if government spending recovers and investor confidence improves, said United Overseas Bank (Malaysia) Bhd (UOB Malaysia).
UOB Malaysia senior economist Julia Goh told a press briefing here today that one of the factors that will drive and attract new investment flows into Malaysia is a positive review from the FTSE Russell World Government Bond Index, which she said is expected to retain Malaysia in the index, although the country's weightage in the index could be lowered from 0.4% to 0.3%.
Additionally, Goh said there has been positive signals of late coming from the bottoming out of the global indicators and as several central banks, Malaysia included, have taken preemptive measures to secure growth in the region. 
"Global manufacturing purchasing managers index (PMI) numbers have actually bottomed out, signalling that the worst may be behind us, and semiconductor sales, despite the contraction, have also turned a corner. 
"Another reason why it is not all doom and gloom next year is that although we are seeing a lot of protectionism happening in the global landscape between selected countries, [countries in] this region have growth resilience and are still embarking on economic and financial integration such as the Regional Comprehensive Economic Partnership (RCEP) and other bilateral or multilateral initiatives to ensure the region remains open and continues to adopt free trade," she said.
Goh is projecting Malaysia's economic growth to ease to 4.4% next year, lower compared with its 4.6% estimated for 2019 but better relative to other parts of the world such as the advanced economies, non-Asia emerging markets and developing economies.
The growth will largely be supported by the country's steady private consumption levels and the economy's underlying strengths including its diversified economic structure, improved fiscal position, resilient institutions and significant natural resources. Ongoing policy reforms to stimulate growth through higher value-added labour, capital and technology, will also further support the domestic economy in 2020, she explained.
Additionally, the economist highlighted several other growth catalysts that may lead to an upward revision of 20- to 30 basis points (bps) to UOB Malaysia's 4.4% GDP forecast for 2020, to the range of between 4.6% and 4.8%, Goh said.
These catalysts include private consumption remaining robust, the materialisation of approved manufacturing investments, a continuation of major civil engineering projects such as the Mass Rapid Transit 2 (MRT2), Light Rail Transit Line 3 (LRT3), Pan Borneo Highway, Central Spine Road, East Coast Rail Link, TRX and Bandar Malaysia.
The continued recovery from supply side shocks, mainly agriculture and mining, diversification of the country's economic structure, and the hosting of international events and Visit Malaysia 2020 initiatives may also lend some support, she added.
"If all the catalysts can materialise, there is some room for an upward revision.
"But the risks are tilted towards the downside, hence we are more cautious and still see the remain quite challenging at least for the first half of 2020," Goh said after considering external trade developments.
Goh said although markets are hopeful of a Phase 1 deal signed between the US and China by the middle of this month, tensions between the two largest economies could linger on and move towards non-tariffs areas such as technology and investments, or the tariffs broadened to other countries.
On currency, Goh said the ringgit is seen trading at 4.25 against the greenback by end-2020. At the time of writing, the domestic currency is 4.1743 versus the US dollar.
"If things maintain status quo and we don't see a deterioration in the global landscape, then there is a possibility that levels may still stay at the 4.10-4.20 range," she added.
Markets are now closely watching trade developments as the clock ticks nearer to Dec 15, the date when the 15% tariffs on about US$160 billion of Chinese products including cellphones, laptops, toys and clothing, is said to take effect.
Read more:
Here's what happens to markets if US tariffs on China kick in Dec 15
Malaysia's overall growth to ease to 4.4% in 2020 — UOB
OPR cut seen likely with mild October inflation