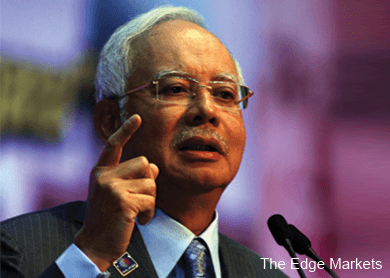 (Sept 7): Prime Minister Datuk Seri Najib Razak continued his attack on the Bersih 4 rally, saying there is no reason for any street demonstrations in the country, calling the recent protests an act of "demo-crazy", instead of democracy.
Comparing the state of the country's economy currently to what it was during the Asian economic crisis of 1997 and 1998, Najib said even with the ringgit falling to as low as RM4.88 to the US dollar then, there was no effort to topple the government nor requests for then prime minister Tun Dr Mahathir Mohamad to resign.
Dr Mahathir is now his fiercest critic, openly asking for Najib to step down.
"We had it worse during the Asian economic crisis before. How many companies collapsed then? The value of ringgit dropped to RM4.88 (against the US dollar) at that time, the economic growth was minus-7%, our reserves were only RM20 billion, but we did not try to topple the government," he was quoted as saying by Bernama.
Claiming that all that was wrong with the country's economy today was due to external factors and not because of his administration, Najib said in time, all the issues can be resolved.
"If we give our full support to the government, then even the biggest problems can be tackled given time," he added.
The prime minister also reiterated that street demonstrations are not part of Malaysian culture.
"It may not be against the law but in effect, any demonstration taken to the streets to try and topple the sitting government is against the Federal Constitution," he said when launching the Yayasan Pewaris Batu Building in Kuala Lumpur tonight.
"We leave our fate to be decided by the people every five years. That is also why Umno cannot allow for the government voted by the people to be overthrown through street demonstrations," Najib said.
"Our mandate is for five years and we will show what we can do to the people in that time."
According to Bernama, Najib stressed that the Barisan Nasional (BN) government was not an arrogant government, but instead a government that is always willing to acknowledge its weaknesses and work to improve them.
"We are not arrogant. We know our strengths and our weaknesses, and we are receptive to criticism and advice," he said.
The 34-hour Bersih 4 rally held two weekends ago, drew hundreds of thousands of people, with the organiser electoral reform group Bersih 2.0 estimating half a million people in total.
The rally had called for institutional and political reforms, the freedom to protest, measures to save the economy, as well as for Najib, who is also Umno president, to step down over alleged corruption involving state-owned investment fund 1Malaysia Development Bhd (1MDB) and a RM2.6 billion transfer of funds into his personal account. – The Malaysian Insider