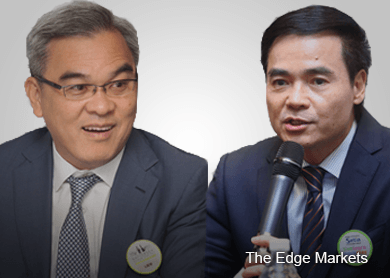 KUALA LUMPUR (Jan 12): Eco World Investment Co Ltd (EW Investment), a private vehicle controlled by Tan Sri Liew Kee Sin and Datuk Voon Tin Yow, will develop three large scale residential projects in London together with the Ballymore Group, with a total gross development value (GDV) of £2.2 billion.
The projects are likely to be injected into Eco World International Bhd (EWI-SPAC), a Special Purpose Acquisition Company (SPAC) that Liew plans to list on Bursa Malaysia.
In a press statement issued this evening, EW Investment said it has entered into an agreement with Ballymore Group on Jan 11, 2015 to acquire a 75% stake in Eco World Ballymore Holding Company Ltd (EcoWorld-Ballymore).
The remaining 25% stake will be taken up by Ballymore Group, a property investment and development firm with over 30 years of experience in the property markets in United Kingdom and Ireland.
EcoWorld-Ballymore was formed to acquire and develop three large-scale residential schemes in the central London area, namely: Arrowhead Quay in Canary Wharf; London City Island – Phase 2 on the Leamouth Peninsula located at the north east of Canary Wharf; and Embassy Gardens – Phase 2 in Nine-Elms.
According to the statement, the joint venture company will be acquiring all three sites from Ballymore Group for a total consideration sum of £428.7 million.
"Of the three sites, Embassy Gardens has secured planning permission while London City Island has Outline Planning consent. Meanwhile, a resolution to grant planning consent was passed on Nov 6, 2014 for Arrowhead Quay. Accordingly, all three projects are expected to be ready for launch in 2015," said EW Investment.
EW Investment is a private company incorporated in Jersey, Channel Islands on Nov 18, 2014 with a 70:30 shareholding held by Liew and Voon.
Liew was formerly the president and chief executive officer (CEO) of SP Setia Bhd, and currently a non-executive director of Bursa-listed Eco World Development Group Bhd.
Voon was the chief operating officer of SP Setia during Liew's tenure as president and CEO. He took on the role of acting president and CEO of SP Setia from May 1, 2014 until Jan 1, 2015.
"In view of the proposed listing of (EWI-SPAC) as a SPAC on Bursa, EW Investment is prepared to offer EWI-SPAC a right of first refusal to acquire its 75% stake in EcoWorld-Ballymore," said Liew in the statement.
"These three projects which are situated in geographically diversified growth areas offering differentiated pricing points present an unrivalled opportunity for EcoWorld to introduce its brand name to the Greater London market.
"With our combined and complementary strengths, we believe that the partnership with Ballymore Group can become a strong platform to grow our presence in the UK property market," Liew added.