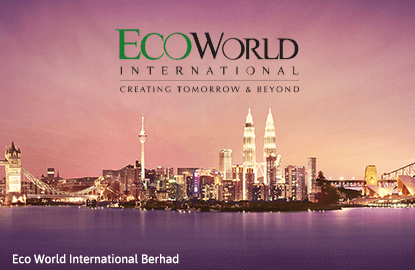 KUALA LUMPUR (April 7): Eco World International Bhd (EWI) has obtained the approval of the Securities Commission Malaysia (SC) for its proposed initial public offering (IPO) on the Main Market of Bursa Malaysia Securities Bhd.
In a statement today, EWI said the IPO will involve the issuance of up to 2.15 billion new shares of RM1 each in EWI representing up to 89.7% of its enlarged issued and paid-up share capital.
It said there will also be a bonus issue of up to 960 million free warrants in EWI on the basis of two warrants for every five shares held after the IPO.
EWI executive vice chairman Tan Sri Liew Kee Sin in a statement today said the approval of the SC was a significant milestone in EWI's journey to become a listed entity.
"We look forward to completing the whole exercise by mid-2016.
"Once we are listed we will be placed on a much stronger footing to grow our business internationally and take advantage of attractive new development opportunities which may be presented to us both in the United Kingdom and Australia" he said.
Liew said proceeds from the IPO will be utilised by EWI primarily to provide ongoing working capital for the Group's projects in the United Kingdom and Australia and to repay borrowings undertaken to part-finance amongst others, land and related acquisition costs and project development expenditures.
He said EWI's projects in London and Parramatta (West Sydney), Australia, have garnered cumulative sales of £712.5 million as at Jan 31, 2016.