This article first appeared in The Edge Malaysia Weekly, on July 22, 2019 - July 28, 2019.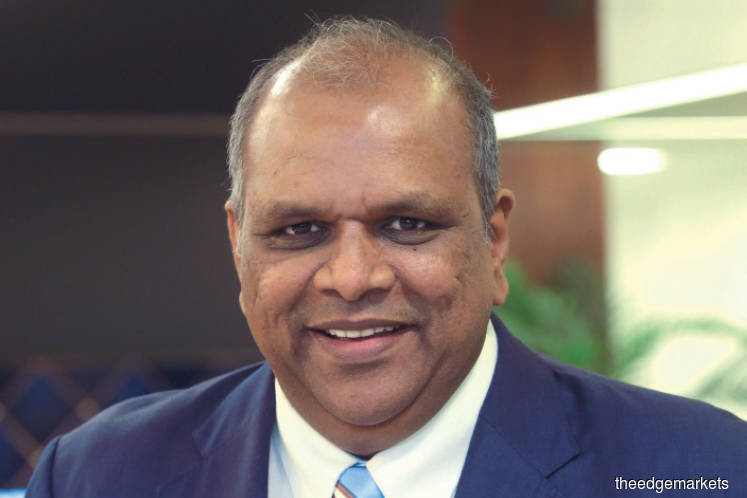 Mohd Redza is expected to leave the bank at the end of October. Photo by Sam Fong/The Edge
BANK Muamalat Malaysia Bhd CEO Datuk Mohd Redza Shah Abdul Wahid will be leaving the bank at the end of October after 11 years at the helm, sources say. His exit has many in the industry wondering about DRB-Hicom Bhd's long-term plan for the Islamic lender.
Bank Muamalat is 70%-owned by DRB-Hicom, a conglomerate controlled by prominent businessman Tan Sri Syed Mokhtar Albukhary. The remaining 30% is held by Khazanah Nasional Bhd.
"It's a friendly exit. He gave his notice to the bank board in January and is also helping with the succession plan," a source tells The Edge.
It is understood that former Bank Islam Malaysia Bhd CEO Khairul Kamarudin, who Bank Muamalat hired as deputy CEO in February, is the board's internal candidate to replace Mohd Redza. However, the board is also scouting around for external candidates with the help of a headhunter.
"In the next one month or so, they should be able to put up a name to Bank Negara Malaysia," the source says.
Mohd Reza confirms that he is stepping down but declines to comment on DRB-Hicom's plans for the bank. "I'm not renewing my contract. No, there's no pressure for me to leave — it's a personal decision. After 11 years, I feel it's a good time to let go and pass [the baton] to new blood. I'm open to any industry after this, not necessarily banking ... it's a tough industry. But I want to take a break first," he tells The Edge.
Mohd Redza was formerly the executive director and chief operating officer of DRB-Hicom. He was made CEO of Bank Muamalat after DRB-Hicom acquired its 70% stake in the lender from Bukhary Capital Sdn Bhd — also controlled by Syed Mokhtar — in a RM1.069 billion deal in November 2008.
Bank Negara approved the acquisition on condition that DRB-Hicom would eventually pare down its stake to at least 40%. Almost 11 years have passed — during which time Bank Negara has granted multiple deadline extensions — but this has yet to happen.
DRB-Hicom's past moves to sell a strategic stake or merge with another financial institution — including Malaysia Building Society Bhd (MBSB), Affin Holdings Bhd, Bank Islam and Bahrain-based Islamic lender Al Baraka — all failed. Bankers say it was difficult for DRB-Hicom to close a deal with any of the parties for two reasons — it does not want to cede control of the bank and its pricing expectations were too high.
Not long after aborting merger talks with MBSB in February 2016, Mohd Redza said Bank Muamalat would instead look to list the bank as a pare-down option. So far, however, there has been no development towards this end.
According to sources, Syed Mokhtar has no plan to exit the banking business despite it being an increasingly tough industry to be in. It is still DRB-Hicom's intention to trim its stake in Bank Muamalat through a listing, albeit only in "the next two years or so".
"If there are strategic investors who are keen [on Bank Muamalat], the board will look at them. But these are hard to come by. So, it's still a listing that the board is looking at, maybe in the next two years or so, and Bank Negara is aware of its intention. It needs time to build up the bank's earnings and an exciting growth story. At this point, the numbers aren't there yet," says a source.
According to news reports, the bank wants to harness digital technologies while garnering recognition for being socially responsible.
Sources say although Khazanah does not see its 30% stake in Bank Muamalat as a core holding, it is in no rush to let it go. "The bank's return on equity (on a pre-tax level) of about 8% to 10% isn't sexy but it isn't too bad either," one remarks.
Mohd Redza is leaving at a time when the bank's profit before zakat and tax stands at a record high of RM241.19 million for the year ended March 31, 2019 (FY2019), having grown 4.6% from the previous year. This was on the back of a 9.3% improvement in revenue to RM1.33 billion. Net profit, however, fell 1.2% to RM179.49 million, after three straight years of annual growth.
Its gross impairment financing ratio improved to 1.43% from 1.92%. The mid-sized lender had total assets of RM22.9 billion as at end-March.
According to its 2018 annual report, as at the end of FY2018, the bank's exposure to connected parties accounted for 5.5% of its total outstanding credit exposure of RM26 billion. The amount stood at 57% against its capital base of RM2.48 billion. Both measurements were well below thresholds set by Bank Negara, it said.
Earlier this month, Syed Mokhtar, who has automotive and property businesses through DRB-Hicom, among others, extended his reach into the media industry. The tycoon, via privately held Aurora Mulia Sdn Bhd, acquired 16.05% of Media Prima Bhd. He already owns a 14.76% stake in Utusan Melayu (M) Bhd and is believed to wholly own The Malaysian Reserve.