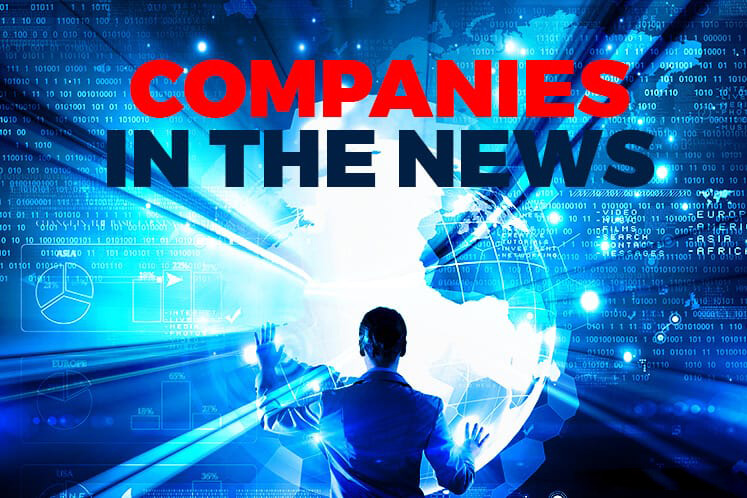 KUALA LUMPUR (Aug 1): Based on corporate announcements and news flow today, companies in focus on Thursday (Aug 2) may include: DRB-Hicom Bhd, Malakoff Corp Bhd, Borneo Aqua Harvest Bhd, Boustead Plantations Bhd, LKL International Bhd, Malaysia Marine and Heavy Engineering Holdings Bhd, Ann Joo Resources Bhd, Utusan Melayu (Malaysia) Bhd, Poly Glass Fibre (M) Bhd, Datasonic Group Bhd, Apex Equity Holdings Bhd and AirAsia Group Bhd.
DRB-Hicom Bhd is disposing its entire 97.37% shareholding in waste disposal management company Alam Flora Sdn Bhd to Malakoff Corp Bhd for RM944.61 million cash.
DRB-Hicom intends to use half of the proceeds from the sale to repay its Islamic medium term notes and borrowings. It intends to use the rest for investments in existing businesses and future investment opportunities to be identified.
As for Malakoff, it said the acquisition will enable it to expand its business and activities into environmental related services.
Borneo Aqua Harvest Bhd (Bahvest) said it has successfully commissioned its gold processing plant and gold production commercially, and will make the appropriate monthly production announcement in due course.
Last year, Bahvest managing director Datuk Lo Fui Ming told The Edge Financial Daily the group expected to see the full impact from the gold mining business in the financial year ending March 31, 2019 (FY19).
Boustead Plantations Bhd is acquiring 17 pieces of oil palm plantation land totalling 4,915.25ha in Sabah, together with a palm oil mill and buildings, machineries and vehicles for RM397 million cash, from 12 parties. It intends to fund the acquisition through internal funds and borrowings.
The move is to replace some of the group's plantation lands in Peninsular Malaysia, which were disposed of in recent years, with sizable plantation lands in Sabah at a lower cost.
Set to complete by first quarter of 2019, the proposed acquisition is expected to help the group form a large business unit in Sandakan, which allows the group to further expand its market presence in the state.
LKL International Bhd's unit, LKL Advance Metaltech Sdn Bhd, has bagged an RM6.19 million contract from Selgate Rawang Hospital Sdn Bhd, to supply beds and medical equipment for a hospital to be constructed in Rawang.
The contract shall start after completion of the construction of the private medical hospital, which is expected to be in the fourth quarter of 2019.
Malaysia Marine and Heavy Engineering Holdings Bhd (MHB) posted a net loss of RM49.48 million in its second quarter ended June 30, 2018 (2QFY18), its second consecutive quarter of losses.
Its heavy engineering segment registered additional cost provisions during the quarter, although a favourable judgment in arbitration claims for a project helped cushion the losses. Its marine segment also slipped into the red, as it incurred additional costs on conversion works.
For the first half of its financial year (1HFY18), MHB's net loss widened to RM74.75 million from RM30.31 million in the same period last year. Cumulative revenue was 16.6% lower to RM411.31 million from RM493.11 million in 1HFY17.
Ann Joo Resources Bhd's wholly-owned Ann Joo Integrated Steel Sdn Bhd (AJIS) has been ordered by the Arbitration Tribunal in China to pay a remaining sum of US$3.16 million under a contract with Tangshan Iron & Steel International Engineering Technology Co Ltd.
This follows a two-year legal battle involving claims and counter-claims by the two companies, in relation to a contract where Tangshan is tasked to "Design, Supply, Install, Construct, Supervise, Train, Test and Commission a Blast Furnace Complex comprising Blast Furnace and Auxiliaries, a Sinter Plant and a Raw Material Yard" for AJIS in Penang in 2008.
Ann Joo said the company is still seeking its solicitors' advice on the final award and legal options, and will make further announcements in due course.
Utusan Melayu (Malaysia) Bhd said the company's financial constraints have led to it defaulting on a loan repayment of some RM2.96 million.
Utusan said it intends to submit a proposal to restructure the term loan facilities to address the default to Affin Islamic Bank Bhd and will, in the meantime, work towards restructuring all its loan facilities, in line with its business transformation plan.
Poly Glass Fibre (M) Bhd said a fire broke out at its warehouse in Prai, Penang on Monday, which did not cause any uncontrolled emissions or harm to people.
The company said it is unable to ascertain the cause of the fire or estimate the full impact and consequences of the incident, but is working closely with its insurance adjuster.
Datasonic Group Bhd said the ongoing lawsuit between its wholly-owned unit Datasonic Technologies Sdn Bhd (DTSB) and Percetakan Keselamatan Nasional Sdn Bhd (PKN), a wholly-owned subsidiary of Fima Corp Bhd, will not affect its five-year contract with the government to supply Malaysian passport booklets.
It said this is because PKN was only its appointed subcontractor for an interim period of six months, that is from Dec 1, 2016 to May 31, 2017.
Datasonic said it will continue to pursue an amicable settlement with PKN, failing which, the group will leave it to the court to determine the fair price.
PKN had on July 30 launched a legal action against DTSB, claiming RM24.98 million in unpaid dues.
Apex Equity Holdings Bhd is seeking a validation order from the High Court, to regularise its share buy-back exercises done between the years of 2005 and 2017.
It said the validity of such share buy-back exercises is questionable as the company's Memorandum and Articles of Association does not provide the company with the requisite authority to undertake share buy-back exercises.
AirAsia Group Bhd group chief executive officer Tan Sri Tony Fernandes said he is confident the government will allow the set-up of three low-cost carrier terminals (LCCTs) in the country, in KL, Penang and Kota Kinabalu.
Fernandes said with the momentum garnered in Indonesia and the Philippines, the move is "huge for AirAsia".
This follows a meeting on July 27 among Fernandes, Finance Minister Lim Guan Eng, Transport Minister Anthony Loke and Malaysia Airports Holdings Bhd (MAHB) acting group CEO Raja Azmi Raja Nazuddin, which the AirAsia boss had described as "great".