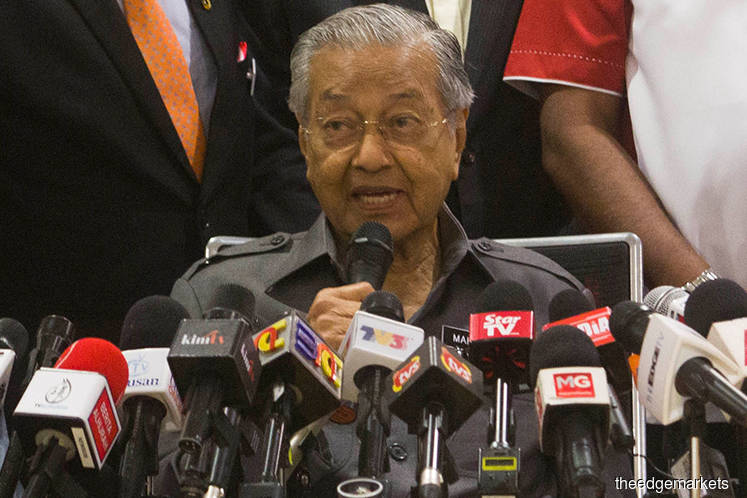 KLANG (Feb 25): Prime Minister Tun Dr Mahathir Mohamad today said the government is taking the initiative to fulfil its election promise to abolish toll collection in stages with the introduction of the 'congestion charge', to encourage people to use highways during non-peak hours.
Commenting on the criticism on the odd-hour charges, Dr Mahathir said: "We are offering cheaper rate [at normal travelling hours] as not many people are using, that would mean people will choose that time to travel to the benefit from the reduction of the rates."
"To cancel all the rates becomes too expensive. We need to buy the tolled road. When you buy, you need to raise money and service the loans that we raise. So we try to reduce the money [costs] we have to pay for acquiring highways, that will go stage by stage and step by step, [we decided] on not a fully toll-free road but partially all free at certain time," he added.
Putrajaya announced last Saturday (Feb 23) that it has begun talks with Gamuda Bhd to negotiate the acquisition of four highway concessions that the company has a majority stake in, with the aim of abolishing toll collection at these highways.
The four highways involved in Putrajaya's talks with Gamuda are: Lebuhraya Damansara Puchong (LDP), Sistem Penyuraian Trafik KL Barat (SPRINT), Lebuhraya Shah Alam (KESAS) and SMART Tunnel.
"Upon successful takeover of the highways, the government intends to abolish the existing toll mechanism. In its place, a 'congestion charge' will be introduced where commuters will only pay a 'congestion charge' equivalent to the existing toll for six hours of 'peak' period a day," the Prime Minister's office (PMO) said in a statement.
This means that during the "off-peak" period between 11pm and 5am, commuters will travel on the highway for free. At other "normal" travelling hours, commuters will enjoy discounted rates up to 30% compared to existing toll rates.