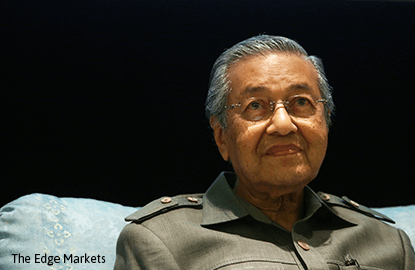 KUALA LUMPUR (Feb 29): Tun Dr Mahathir Mohamad has quit Umno over his opposition to Prime Minister Datuk Seri Najib Razak.
He announced this in Putrajaya today, saying the leading Malay ruling party was no longer what it used to be.
"The focus is how to keep Najib as prime minister.
"Umno no longer is performing the task it set for itself way back in 1946," he said.
This is the second time the former prime minister has quit Umno, the first time in May 2008, over unhappiness with Tun Abdullah Ahmad Badawi the then prime minister who had led Barisan Nasional to dismal results in the general election that year.
Dr Mahathir said Umno was also dedicated to upholding the "wrong things" Najib had done.
"I feel embarrassed to be associated with a party that supports corruption," he said, adding that Umno, like Najib, believed "cash is king".
"I am giving up on party Najib, there is no more Umno".
But he said he would consider returning to the party if Najib was successfully removed.
"I am still Umno at heart. I am trying to make sure Najib will not continue to be PM of this country.
"If Umno is revived, yes, but at the moment, there is no Umno."
Dr Mahathir, who was prime minister and Umno president for 22 years until his retirement in 2003, has been criticising Najib relentlessly over state-owned investment firm 1Malaysia Development Bhd (1MDB) and the RM2.6 billion donation.
His criticism of Najib began more than a year ago over the Finance Ministry-owned 1MDB of which Najib is advisory board chairman, and only grew more intense after The Wall Street Journal's report last July of the donation.
Dr Mahathir had also hit out at Attorney-General Tan Sri Mohamed Apandi Ali for not pressing charges against Najib after the Malaysian Anti-Corruption Commission's investigations into the donation and another Finance Ministry-owned firm SRC International Sdn Bhd, which had been implicated in the transfer of money to the prime minister's personal bank accounts.