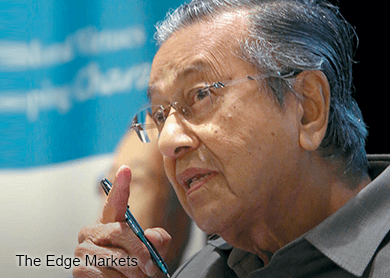 KUALA LUMPUR (Feb 15): Police are investigating former prime minister Tun Dr Mahathir Mohamad for criminal defamation over a recent blog posting on Attorney-General (A-G) Tan Sri Mohamed Apandi Ali.
Inspector-General of Police Tan Sri Khalid Abu Bakar said police reports have been lodged "one or two days ago" over the posting.
He said previously police would start investigations if there were reports lodged on the matter.
"I am not sure how many reports have been lodged but they were lodged one or two days ago.
"We have started investigation for defamation under Section 500 of the Penal Code."
Section 500 of the Penal Code touches on defamation and carries a two-year jail term, a fine, or both upon conviction.
In a posting on his blog on Feb 5, Dr Mahathir attacked Apandi over his decision not to charge the prime minister, saying the country's top prosecutor had no credibility.
He also said Prime Minister Datuk Seri Najib Razak should resign if Malaysia were to regain its reputation.
"To clear Malaysia's good name and his own, Najib must prove beyond a shadow of doubt that he is innocent of all the accusations against him. The A-G saying he is innocent means nothing.
"He, the A-G, has no credibility.
"Failing this, Najib should resign," Dr Mahathir said.
He has been criticising Apandi since the A-G's decision last month not to press charges against Najib over the RM2.6 billion donation and the Finance Ministry-owned SRC International Sdn Bhd, citing a lack of evidence.
Dr Mahathir said the A-G had acted as both judge and prosecutor in the matter, and accused him of being under Najib's control.
He also criticised Apandi for closing the case on Bank Negara Malaysia's findings on 1Malaysia Development Bhd's inaccurate declarations for overseas investments.
Before this, Dr Mahathir was also investigated for defamation after he made statements at the Bersih 4 rally last year.