This article first appeared in The Edge Financial Daily, on October 11, 2019.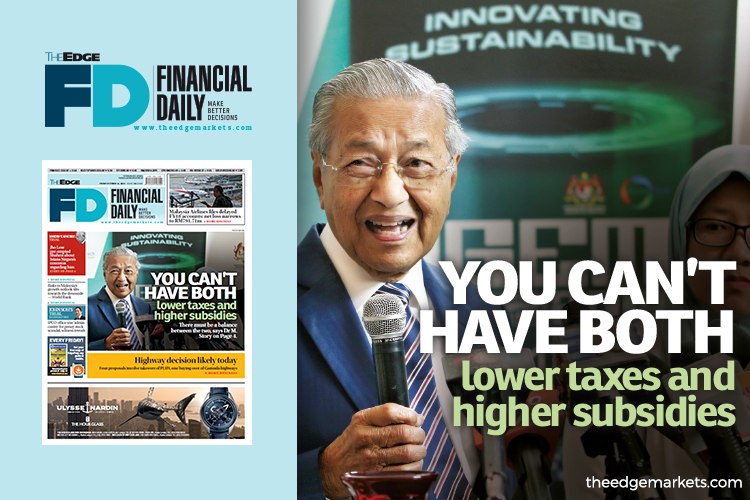 KUALA LUMPUR: A request for the government to lower the tax rates but increase subsidies at the same time is deemed not possible, said Prime Minister Tun Dr Mahathir Mohamad.
According to him, there must be a balance between taxes and subsidies in order for the government to generate income and give out subsidies.
"I read in the newspapers what the people want is lower taxes and an increase in subsidies — that is contrary. You can't have lower taxes and then increases in subsidies.
"There must be a balance between the two. We try to lower the taxes but the government must have money.
"If you're going to subsidise you must have money. If you lower too much, we have no money and you cannot subsidise," he told reporters yesterday when asked about what can be expected in Budget 2020, which will be tabled in Parliament today.
Dr Mahathir said this when referred to the pre-budget 2020 wish list conducted by the media that found respondents wanted lower taxes and higher subsidies, especially on essential items including rice, flour, cooking oil and others.
The prime minister explained that the government is trying to tax the rich more, which is the principle behind Malaysia's tax system, while subsidies would only be given to the deserving.
"Subsidies will be given just not outright to everybody, it must be given to deserving groups of people.
"Even among the B40 (bottom 40% income group), there are people who do not need subsidies. We are going into details on who should receive subsidies from the government," he said.
Meanwhile, on offers for the acquisition of tolled highway operator PLUS Malaysia Bhd, Dr Mahathir said the government has to evaluate all the proposals properly.
"There have been a lot of proposals to take over PLUS but we have to make sure the government's money is used wisely, not just because we want to protect the government or we are against certain bidders.
"It must be valued properly and if the private-sector bid is good, we will consider it," said the prime minister. — Bernama