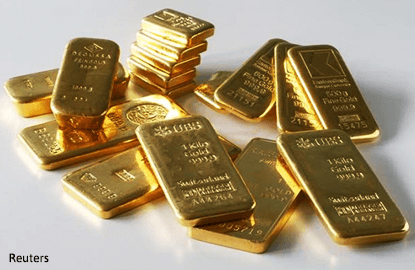 LONDON (March 16): Gold climbed to its highest level in over a week on Thursday after the US central bank signalled only gradual rate tightening and the US dollar slid to its lowest in a month.
Spot gold had gained 0.7% to US$1,227.04 per ounce at 1355 GMT after touching US$1,233.13, the highest since March 6. US gold futures for April delivery were up 2.2% at US$1,227.30 an ounce.
The Federal Reserve on Wednesday raised US interest rates for the second time in three months, as expected, but did not flag any plan to accelerate the pace of monetary tightening as some investors had anticipated.  
The dollar index hit a one-month low on the back of the Fed announcement and was down 0.24% at 100.50.       
"Real yields were pumped up ahead of the announcement in expectation of a hawkish hike, instead we got a dovish hike with no change in the forward guidance and that has led to some recovery in gold today," Ole Hansen, head of commodity strategy at Saxo Bank in Copenhagen, said.
Gold is highly sensitive to rising US interest rates, as these increase the opportunity cost of holding non-yielding bullion, while boosting the US dollar, in which it is priced.    
"At the same time we had the election in Holland, which didn't increase the political risk in Europe and is acting as a bit of a counter measure to the rally in gold," Hansen added.
Dutch centre-right Prime Minister Mark Rutte fought off the challenge of anti-Islam and anti-EU rival Geert Wilders to score an election victory that was hailed across Europe on Thursday by governments facing a rising wave of nationalism.              
"Gold's resilience could help strengthen positive yet still fragile gold sentiment," Joni Teves, strategist at UBS in London, said.
"In addition to a general friendliness towards gold for its diversification and hedging properties, lingering uncertainty has likely prevented from shorts becoming aggressive in spite of the challenges that gold has faced in recent weeks."
Meanwhile, holdings of SPDR Gold Trust, the world's largest gold-backed exchange-traded fund, rose 0.53% on Wednesday.          
Inflows into the fund so far this week have already nearly erased last week's outflows.
In other precious metals, spot silver rose 0.3% to US$17.35 per ounce, after hitting its highest in a week at US$17.56.
"It's getting a dual push from industrial metals going up and at the same time the recovery in precious metals, so silver has the potential for outperforming," Hansen added.
Platinum added 0.7% to US$956 per ounce, having touched US$971.60, its highest since March 7.
Palladium advanced 0.8% to US$769 per ounce after hitting a week high of US$774.70.