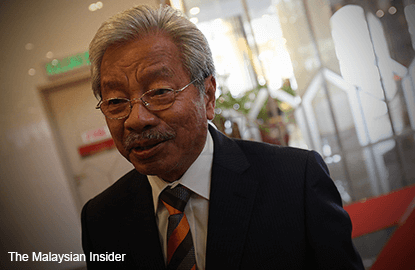 (Oct 19): Parti Rakyat Sarawak (PRS) today allayed fears among their Barisan Nasional (BN) coalition partners in the state that they have nothing to fear from the proposed merger between them and another Dayak-based rural party, the Sarawak Progressive Democratic Party (SPDP).
PRS last Saturday obtained the Supreme Council's nod to pursue the merger talk that was mooted back in 2006 and had stalled due to political crises that had hit both parties.
The second largest party in the four-party state BN coalition, PRD is also sending feelers to the Chinese-based Sarawak United People's Party (SUPP), which like SPDP, has been wrecked by mass defections, the end result of a bitter leadership feud, and possible loss of seats.
SUPP are also still smarting from the loss of confidence among the Chinese electorate.
The Sarawak BN comprises PRS, SUPP and SPDP, with Parti Pesaka Bumiputera Bersatu (PBB) is the largest and leading member of the state coalition.
PRS president Tan Sri Dr James Masing said whether SUPP would be included in the merger "depends on what happen after GE 2016 (the state election).
"At the moment PRS supreme council have not discussed a three-party merger."
The state polls are due early next year.
Allaying fears of some PBB leaders, Masing said the merger was not done "to gang up against anybody within BN".
"It is move to gang up against those who want to fight BN," the Sarawak Land Development Minister said.
"Whatever we do or are planning to do is for the benefit of the BN. Thus the proposed merger with SPDP is to strengthen the two rural based parties."
Masing also said the proposal was mooted by former chief minister Tun Abdul Taib Mahmud when he was still in office and as president of PBB.
He said those "who are forever suspicious of PRS move", to note that "this idea was not born yesterday".
Masing however said "due to time constraint", the merger would only be discussed in details after the state election.
While the physical merger has yet to take place, the three BN parties, would continue with their so-called "merger of minds" – an understanding to band together to thwart the two BN-friendly parties, United People's Party (UPP) and Parti Tenaga Rakyat Sarawak (Teras) from joining the BN and taking seats that were allocated to SUPP and SPDP. – The Malaysian Insider