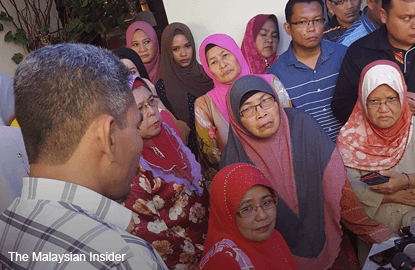 (Nov 27): Sacked Perak Umno leader Datuk Hamidah Osman today told Prime Minister Datuk Seri Najib Razak not to "burn the country" in a special message directed personally at the party president.
"Sir, please don't burn the country, if we burn, you burn with us too," she said, in her first address to the press in Ipoh after being dropped from the party.
The party's decision to sack her was announced by Najib on Tuesday after a Supreme Council meeting held in Parliament grounds.
Hamidah said that although she has yet to receive any formal notice on her sacking, she accepted the party's decision with an open heart and would make no attempt to appeal against it.
"However, I would like to know the reasons for my sacking and I will write a letter to get the explanation," she said.
The former Gopeng Umno Wanita chief said that since learning about her dismissal from news reports, she had been receiving an influx of calls and text messages from friends and party members, calling to express their shocked at what had transpired.
"Many have expressed disappointment at what is happening to the party.
"It doesn't look like its heading in a right direction, especially when there are even attempts to silence the party's annual general assembly," she said, referring to Umno secretary general Datuk Seri Tengku Adnan Tengku Mansor's initial plan for the five-day event next month to be a closed-door affair, without its usual live camera broadcast.
The unprecedented move was later overturned following feedback from state representatives who wanted live coverage of the convention.
Tengku Adnan was earlier reported as saying the restriction order was because online news portals had a habit of "spinning news".
Hamidah said the party assembly was a platform that members looked forward to, to hear the messages from party leaders as well as voice out their own concerns.
"This is the party tradition... Even that is at stake," she said.
She added that despite overwhelming support behind her, she had no plans to start her own party or join the opposition parties.
"If I was chasing for position, I won't have to go through all this now, I can remain.
"I will continue to fight for the people and the country, perhaps through a different platform that is non-political.
"I hope Umno members will continue to fight for the party," she said.
Hamidah also denied that her current plans were influenced by former prime minister Tun Dr Mahathir Mohamad or that both of them were in contact since she was sacked from the party. – The Malaysian Insider