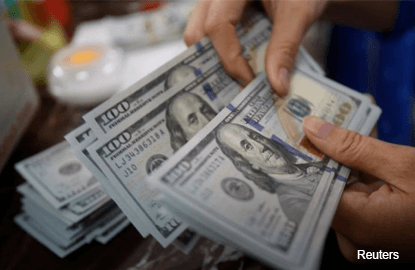 TOKYO (Jan 26): The dollar struggled near seven-week lows on Thursday on growing concerns over U.S. President Donald Trump's protectionist policies including an executive order to construct a U.S.-Mexican border wall.
The dollar index, which tracks the greenback against a basket of major currencies, was last down 0.2 percent at 99.839. It dipped to 99.835 on Wednesday, its lowest level since Dec. 8.
The dollar was generally weaker despite U.S. shares gaining and the Dow Jones Industrial Average closing atop the 20,000 mark for the first time.
Trump has made several business-friendly decisions since taking office on Friday, including signing executive orders to reduce regulatory burden on domestic manufacturers and clearing the way for the construction of two oil pipelines.
However, the president's broad but divisive plans to reshape U.S. immigration and national security policy rattled some investors partly as the U.S. needs foreign capital to finance its large current account deficit.
Trump on Wednesday ordered construction of a U.S.-Mexican border wall and punishment for cities shielding illegal immigrants while mulling restoring a CIA secret detention program.
"Amid concerns over Trump's protectionism, the correlation between U.S. Treasury yields and the dollar has gotten weaker," said Junya Tanase, chief currency strategist at JPMorgan Chase Bank.
The dollar last stood at 113.21 yen against the yen, near two-month low of 112.52 yen touched on Tuesday even as U.S. Treasuries yields stayed near four-week highs.
U.S. benchmark 10-year Treasury yields last stood at 2.510 percent, close to a 4-week high of 2.538 percent hit on Wednesday.
"It's similar to the U.S.-Japan trade conflicts in 1990s. Back then, the dollar was weak despite the high U.S. interest rates. Dollar would remain weak if Trump pushes his protectionist rhetoric," said JPMorgan Chase's Tanase.
Sterling was last down 0.1 percent at $1.2627 after hitting a six-week high of $1.2638 on Wednesday. The pound was helped by hopes for a trade deal between Britain and the United States, which Prime Minister Theresa May said on Wednesday would "put UK interests and UK values first."
The euro traded at $1.0755 against the dollar, slightly below Tuesday's seven-week high of $1.0775 and down 0.1 percent from late U.S. levels.  - Reuters