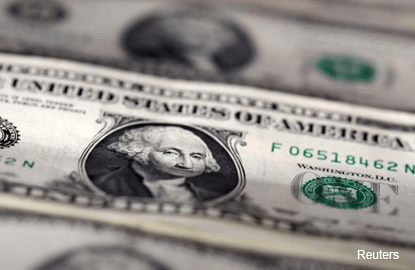 NEW YORK (Feb 27): The U.S. dollar was steady against a basket of currencies on Monday ahead of a busy week that will include a speech by U.S. President Donald Trump on the economy and numerous comments from Federal Reserve officials.
Treasury Secretary Steven Mnuchin said on Sunday that Trump, in an address to Congress on Tuesday, will preview some elements of his plans to cut taxes for the middle class, simplify the tax system and make U.S. companies more globally competitive.
Some investors are worried, however, that specific economic plans may be scarce and that any impact from reforms are unlikely to be seen anytime soon. Mnuchin said last week that he wanted to pass "significant" tax legislation by August, which is later than many investors had hoped.
Mnuchin "seemed to indicate the details of tax reform will be known probably closer to the latter half of the summer, and we can most likely expect 3% growth towards the latter end of 2018," said Bipan Rai, senior macro strategist at CIBC Capital Markets in Toronto.
"Both of those are somewhat at odds with what the market was hoping for in terms of near-term growth and more clarity around tax reform sooner rather than later," Rai said.
The greenback was last up 0.03% against a basket of six major currencies at 101.12, after earlier falling to 100.69.
The dollar dropped 0.27%against the euro to US$1.0588 and gained 0.51% against the yen to 112.75 yen.
With any impact from Trump's economic policies unlikely to be seen near-term, investors are focused on whether current growth is strong enough to lead the U.S. Fed to raise rates in the near-term.
The dollar reversed earlier weakness on Monday and the Japanese yen weakened as U.S. bond yields rose from more than one-month lows, indicating a perception that a rate hike is more likely in the coming months.
"I'd say the fundamental driver is interest rate differentials," said Marc Chandler, global head of currency strategy at Brown Brothers Harriman in New York.
Moves between the dollar and yen are the most correlated with the differential between Japan and the U.S.'s 10-year bond yields in over a decade, Chandler noted.
Dallas Fed President Robert Kaplan said on Monday that the Fed might need to raise interest rates in the near future, to avoid falling behind the curve on inflation.