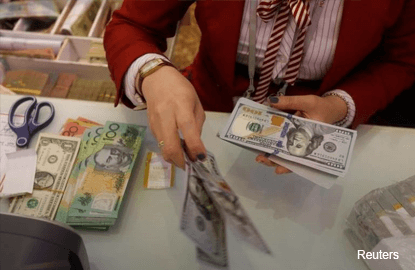 NEW YORK (March 3): The dollar weakened against a basket of major currencies on Friday ahead of a speech by Federal Reserve chief Janet Yellen that could affirm expectations for an interest rate hike on March 15.
The dollar is up about 0.74 percent this week, its fourth straight weekly gain, boosted by hawkish comments from a slew of Fed speakers that have led to a dramatic revising of rate hike expectations.
Speeches from Yellen and Fed Vice Chair Stanley Fischer on Friday are now widely expected to be the final clues to the timing of the next rate hike.
Futures traders now are pricing in an 80 percent chance of a Fed hike in March, up from 35 percent on Tuesday, according to the CME Group's FedWatch Tool.
"The markets are looking for validation for the increase in Fed rate hike expectations from comments from Fed Chair Yellen. That's the key issue for the market right now," said Shaun Osborne, chief FX strategist, at Scotiabank in Toronto.
The dollar was down 0.32 percent at 101.87 against a basket of six major currencies. On Thursday, the index hit a seven-week high of 102.26.
Against the Japanese yen the greenback was little changed.
The euro rose 0.48 percent against the dollar after a poll showed French far-right candidate Marine Le Pen's chances in the country's presidential election dimming.
While the French election news may be supportive for the euro at the margin, the political race has not necessarily been the main driver for the euro's recent weakness, Scotiabank's Osborne said.
"That's more about the shift in relative yields and monetary stance given the move in short-term rates in the U.S.," he said.
US two-year Treasury yields hit their highest in more than 7-1/2 years on Thursday.
Rate hike expectations also weighed on the Australian and New Zealand dollars, both of which fell against the greenback. The kiwi dollar was down 0.69 percent, while the Aussie was down 0.09 percent.
"People were not expecting the Fed to move in March so last month they were putting on more (interest rate) carry trades in these currencies," said Bank of Montreal head of European FX strategist Stephen Gallo. "That is clearly coming off."
Mexico's peso strengthened to its strongest level since the US presidential election in November, after US Secretary of Commerce Wilbur Ross said a sensible trade deal with Mexico will help the battered currency.