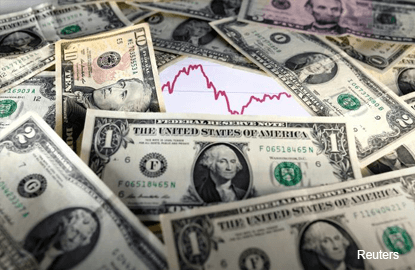 TOKYO (Feb 24): The dollar clawed back some ground on Friday after skidding to a two-week low against the yen, but was still on track for weekly losses after the Federal Reserve meeting minutes disappointed dollar bulls.
The greenback inched 0.1% higher to 112.76 yen, but was just off a two-week low of 112.55 plumbed overnight and down 0.2% for the week.
The dollar failed to shrug off pressure from the Fed minutes released on Wednesday, which were more dovish than some market participants had expected.
"Market participants were still digesting the FOMC minutes from the January meeting, and there seems to be two different camps in the reading of those minutes — whether they introduced a more hawkish tone, or a more dovish tone — and it appears the doves are winning that battle," said Bill Northey, chief investment officer for the private client group at U.S. Bank in Helena, Montana.
Also weighing on the dollar were new U.S. Treasury Secretary Steven Mnuchin's remarks in his first televised interviews since taking office last week. He told Fox Business Network that any policy steps the Trump administration takes would likely have a limited impact this year.
Mnuchin told CNBC that he wanted to see tax reform passed before Congress' August recess, a basic timeline that fit many investors' expectations but disappointed those hoping for more rapid reform and fuller details.
"It's been one month now since Trump became U.S. president, and we're still waiting to see what he can do, particularly on tax reform," said Kaneo Ogino, director at foreign exchange research firm Global-info Co in Tokyo.
"In the meantime, no one wants to bid up to buy dollars, and it all depends on U.S. interest rates, which are still soft-ish, so the dollar is still sagging," he added.
The yield on 10-year U.S. Treasuries fell to a two-week low of 2.372% overnight and was last at 2.375%, below Thursday's U.S. close of 2.388%.
The euro was off this week's lows but remained pressured by fears about anti-European Union rhetoric from French presidential candidate Marine Le Pen, ahead of the first round of French elections on April 23, with the second round to come in May.
The euro was on track to shed 0.2% for the week against its U.S. counterpart, but was steady on the day at US$1.0582, well off this week's trough of US$1.0494 hit on Wednesday, which was its lowest since Jan 11.
The euro's struggle gave sterling a tailwind. The pound stood at US$1.2550, up 1.1% for the week.
"We would not be surprised to see GBP/USD retrace to 1.25, but breakouts after long periods of consolidation tend to have continuation," wrote Kathy Lien, managing director at BK Asset Management.
The dollar index, which tracks the U.S. unit against a basket of six major peers, edged down 0.1% to 100.970, nearly flat for the week.