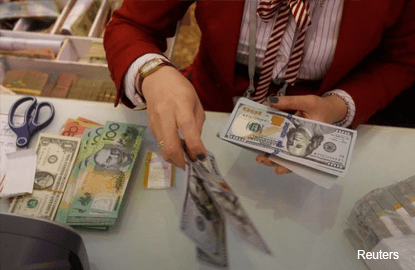 TOKYO (Jan 27): The dollar edged up on Friday, rebounding from a seven-week low on optimism over the U.S. economic outlook and corporate earnings, although U.S. President Donald Trump's protectionist policies raised uncertainties for global trade.
The dollar index, which measures the greenback against six major peers, last stood at 100.47. The index recovered overnight to hit 100.73, after dipping to a seven-week low of 99.793 on Thursday.
"The dollar was helped by rising U.S. Treasury yields and strong equities," said Minori Uchida, chief FX analyst at Bank of Tokyo Mitsubishi UFJ.
"Trump has signed several executive orders since his inauguration, showing continuity from his campaign days, so the markets expect him to go ahead with the fiscal stimulus as well," Uchida added.
While U.S. equities and Treasury yields have continued to rise in the past week, fuelled by a positive U.S. economic outlook and Trump's signals of new public spending, concerns over potentially new trade barriers have weighed on the dollar in the last two weeks.
The greenback is on track to lose 0.2 percent against the basket of currencies of its trade-weighted rivals for the week. It has weakened for two consecutive weeks since the beginning of this year.
Investors were also concerned about President Trump's plans to construct a U.S.-Mexican border wall to stem illegal immigration.
The White House said on Thursday that Trump proposed a new 20 percent tax on goods from Mexico to pay for the wall. The news widens a rift with Mexico which scrapped a planned summit between Mexican President Enrique Pena Nieto and Trump over the Republican's demands that Mexico pay for the border wall.
The Mexican peso fell more than 0.5 percent against the dollar in Asian trade following news of the border tax. It fell to 21.3300 per dollar, stepping back from Thursday's three-week high of 20.8645 to the dollar.
The dollar last slipped 0.1 percent against the yen to 114.40 yen. The U.S. currency rebounded overnight from a low of 113.045 to 114.860, gaining 1.1 percent on Thursday.
The yen showed limited response to a slightly better-than-expected reading in Japan's consumer price index (CPI) data. The core CPI fell 0.2 percent from a year earlier in December, less than economists' forecast of a 0.3 percent fall.
The euro last stood at $1.0681 against the greenback, not far from Thursday's low of $1.0658, after having slipped from the day's high of $1.0766, a level close to a seven-week high.
The dollar earlier trimmed gains against both the yen and euro after a weak set of U.S. economic data, including an increase in initial jobless claims and a fall in new home sales.
Investors' focus is now on U.S. fourth-quarter gross domestic product estimates due later in the day. GDP likely increased at a 2.2 percent annualised rate in the fourth quarter, according to a Reuters survey of economists, after growing at a 3.5 percent pace in the July-September quarter. - Reuters