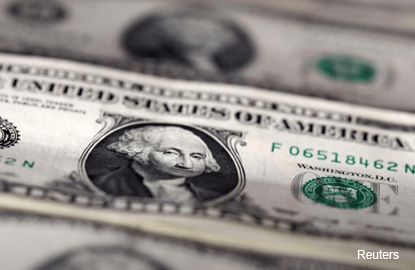 LONDON (Feb 16): The dollar headed for a second day of losses on Thursday, falling against the euro, yen and the basket of currencies that measures its broader strength, after hitting its highest in a month a day earlier.
Analysts pointed to a mixture of unexpected drops in U.S. industrial output on Wednesday and a retreat by U.S. treasury yields from recent highs as possible drivers of the dollar fall, while markets weigh the likelihood of an early rate increase.
A rise in January inflation numbers on Wednesday and testimony from U.S. Federal Reserve chief Janet Yellen that it would be unwise to let the U.S. economy "run too hot", heightened expectations U.S. interest rates will rise within months.
Societe Generale's Kit Juckes said he thought the Fed was moving too slowly to spur any change in market expectations on rates that would give a broader boost to the dollar.
"You would get a more explosive dollar move if you got a more explosive move in rate expectations," he said.
"It's a case of boiling frogs. The Fed is slow-moving and I don't know that we can keep on at this pace. Like the Fed, the dollar is two steps forward, one step back and today is a step back."
The dollar index was down 0.4%, falling to 100.81 from a peak of 101.76 on Wednesday, after the better-than-expected U.S. inflation numbers and retail sales data.
Traders price in a 31% chance of a rate increase at the Fed's March meeting, up from 13% on Monday, according to the CME Group's FedWatch Tool.
Yellen hinted on Tuesday that more rate increases were on the way, because the jobs market has improved and inflation has shown signs of nearing the Fed's two percent goal.
Meanwhile, New York Fed President William Dudley on Wednesday reinforced the central bank's cautious optimism that President Donald Trump and the Republican-controlled Congress would not derail plans for gradual rate hikes in the months and years ahead.
Vice Chair Stanley Fischer also gave a relatively moderate message on Thursday, saying policy remained accommodative and he expected a gradual rise in rates.
The dollar surged in the month after Trump's election on Nov 8, on expectations he would deliver tax reforms and increase infrastructure spending, reflating the U.S. economy and spurring the Fed to more dramatic action.
But it has struggled since, at least in part because of concern over Trump's protectionist views and signs he may favour a weaker currency.
"We don't have much choice but to wait and see what details on trade, tax and fiscal policy the new government will provide and to then try and evaluate the possible consequences and the Fed's reaction," Commerzbank analysts said in a note.
Markets will get another chance to check the U.S. economic pulse from the next batch of data, including housing starts, building permits and the Business Outlook Survey by Reserve Bank of Philadelphia.
The dollar came off a 2 1/2-week high of 114.95 on Wednesday against the yen, touching a low of 113.73. It was last down over half a percent at 113.50 yen.
The euro edged up almost 0.4% at US$1.0638, recovering from a five-week trough of US$1.052 touched on Wednesday.