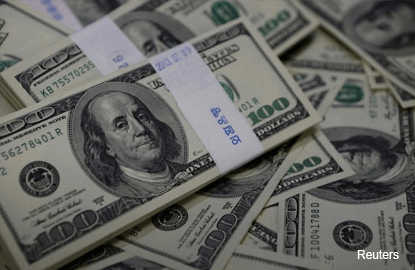 TOKYO (March 9): The dollar stood tall on higher U.S. Treasury yields on Thursday, after a surge in U.S. private-sector jobs in February cemented expectations the Federal Reserve will raise rates next week.
The dollar index, which measures the greenback against six major peers, was last up 0.1% at 102.13, not far from a March 2 peak of 102.26, which was a level not seen since Jan. 11.
The ADP National Employment Report showed on Wednesday that private payrolls grew by 298,000 jobs last month, the largest increase since December 2015. The gain was well above economists' expectations for a 190,000 increase.
The ADP figures come ahead of the U.S. Labor Department's more comprehensive non-farm payrolls report on Friday, which includes both public- and private-sector employment.
Traders have now priced in around a 90% possibility that the Fed will raise interest rates this month, up from around a 30% chance early last week, according to CME Group's FedWatch tool. Hawkish comments from a string of Fed officials, including Chair Janet Yellen, have boosted bets for a rate hike.
The strong gain in private-sector jobs pushed benchmark U.S. Treasury yields to their highest since December.
The 10-year U.S. Treasury note yield hit 2.583%, a level last seen on Dec 20. It last stood at 2.563%. Yields on two-year Treasury notes also climbed to 1.378% on Wednesday, the highest since August 2009.
The dollar was last up 0.1% at 114.41 yen. The greenback was helped by widening U.S.-Japan interest rate differentials. It had risen as high as 114.75 yen on Wednesday, not far from a two-week high of 114.955 touched on Feb. 15.
However, investors were cautious ahead of Friday's non-farm payrolls as the ADP figures have proven a poor indicator for the awaited jobs report by the government, which is favoured by the Fed.
"After a change in ADP's methodology in October, its figures have become closer to the government's data. So we could expect an upbeat figure on Friday," said Junya Tanase, chief currency strategist at JP Morgan Chase Bank.
"However, investors have already priced in February's strong job growth, so it is less likely that the U.S. Treasury yields jump once more and the dollar rallies unless the data is very strong," added Tanase.
The euro last stood at US$1.0537, wallowing near a one-week low of US$1.0533.
Investors are awaiting the outcome of the European Central Bank's March meeting later on Thursday. The ECB is expected to keep its ultra-loose monetary policy on hold despite rising inflationary pressures.
However, some analysts have warned the central bank may sound unexpectedly hawkish.
"As economic growth and inflation are picking up, our economists predict the ECB to be hawkish and start policy tightening preparation as early as April," said Osamu Takashima, chief FX strategist at Citigroup Global markets Japan.
"Markets have not priced in a hawkish ECB yet, so if this happens European bond yields would jump and prompt the euro to outperform," added Takashima.
The ECB has been casting a cautious eye towards upcoming elections in the Netherlands and France during an upsurge in populist, anti-establishment sentiment.
On Wednesday, growing worries that France's far-right leader Marine Le Pen may stage a surprise win pushed up the cost of hedging against volatility in the safe-haven Swiss franc versus the euro in the coming two months to its highest level since November.
Although polls suggest Le Pen could lose the May 7 second round elections to current favourite Emmanuel Macron or Francois Fillon, last year's unexpected votes for Brexit and Donald Trump have left investors wary of surprises.