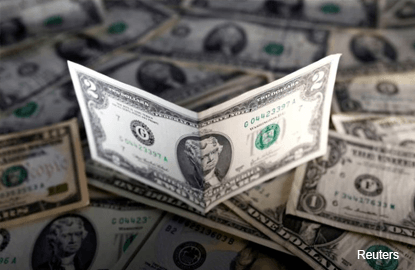 TOKYO (Jan 19): The dollar inched up against the yen and kept broad gains against other major peers early on Tuesday, after rebounding sharply overnight on comments by Federal Reserve Janet Yellen suggesting U.S interest rates could be raised quickly this year.
The dollar's rise, however, was tempered as traders were cautious ahead of U.S. President-elect Donald Trump's inauguration on Friday.
It added 0.1 percent to 114.760 yen. The U.S. currency rallied nearly 2 percent the previous day, when it pulled ahead from a seven-week low of 112.570 and snapped a seven-day losing streak.
The pound, which had jumped 3 percent on Tuesday to vault above $1.2400 following British Prime Minister Theresa May's Brexit speech, lost more than 1 percent overnight and last traded at $1.2265.
The euro was little changed at $1.0628 after falling 0.8 percent the previous day.
The dollar was given a lift as U.S. debt yields pulled away from seven-week troughs and rose after Yellen said Wednesday that "waiting too long to begin moving toward the neutral rate could risk a nasty surprise down the road - either too much inflation, financial instability, or both."
"Yellen's comments were not particularly new, but it helped participants buy back the dollar which had sunk low along with Treasury yields," said Shin Kadota, senior forex strategist at Barclays.
"But the dollar is making less headway from these levels with Trump's inauguration looming. The Fed is poised to hike rates successively, but monetary policy would also depend to a large degree on Trump's policy specifics."
The Australian dollar was up a fraction at $0.7512 after sliding 0.8 percent the previous day.
The dollar's broad bounce has knocked the Aussie away from a two-month peak of $0.7569 reached on Tuesday.
The New Zealand dollar was flat at $0.7126 after dropping 1.2 percent overnight. The kiwi had touched a one-month peak of $0.7219 on Tuesday. - Reuters