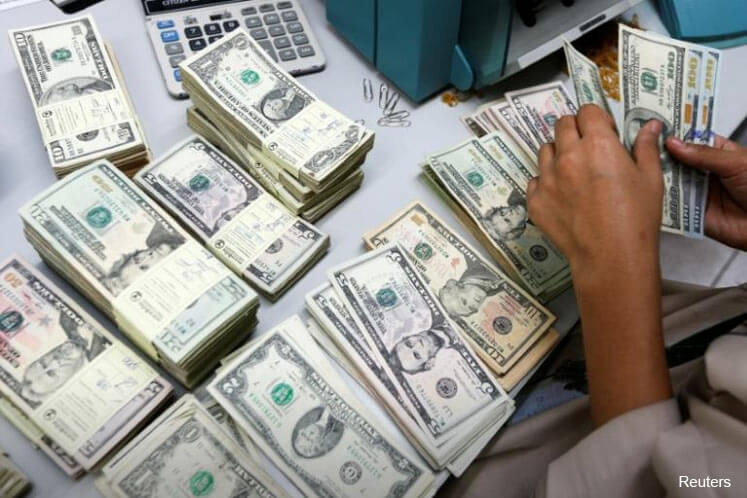 LONDON/TOKYO (March 22): The dollar hit a four-month low against the safe-haven yen on Wednesday, as a risk-off mood grew in markets rethinking the "Trumpflation trade" that had pushed the greenback to a 14-year peak and stocks to record highs.
Wall Street fell by the most since before Donald Trump's election on Tuesday as investors worried the U.S. president will struggle to deliver his promised tax cuts and infrastructure, and the cautious mood continued into Asian and European trading.
U.S. Treasury yields were also sharply lower, eroding the interest-rate allure of the dollar, which hit a seven-week low of 99.62 against a basket of major rivals.
Against the yen, which investors traditionally flock to during times of risk aversion, the dollar fell 0.4% to 111.25 yen, with nervousness deepening ahead of a key healthcare vote in U.S. Congress on Thursday.
Investors are also worried by an FBI investigation into possible ties between Trump's presidential campaign and Russia as Moscow sought to influence the 2016 U.S. election, which was confirmed on Monday.
"The mood is being driven by this realisation that Trump is not going to be able to deliver all his promises — perhaps not even most of them," said Societe Generale currency strategist Alvin Tan, in London, citing the healthcare vote and FBI investigation as key among investors' concerns.
"All in all that's adding to a picture that the much hoped-for and hyped fiscal stimulus package may not be coming as soon as markets would like it to come, if at all."
Dollar bulls were disappointed last week when the U.S. Federal Reserve hiked interest rates as expected, but did not signal a faster pace of future tightening, as many had anticipated.
And the U.S. currency has also felt pressure from a resurgent euro.
Growing expectations of a tightening in European Central Bank monetary policy this year, and the possibility of anti-euro candidate Marine Le Pen being defeated in the French presidential elections, have supported the common currency.
On Wednesday, the euro was 0.2% weaker at US$1.0790, after surging 0.6% on Tuesday to US$1.0819, its highest since Feb 2, after centrist French presidential candidate Emmanuel Macron's performance in a debate fueled expectations he would win.
Commerzbank strategists, however, wrote in a note to clients that they were "sceptical" about the euro's ability to rally any further. "I doubt that investors will price out political risks in Europe any further short term," they wrote.
"Polls and expert views as regards elections have fallen too notably into disrepute for that to happen. A