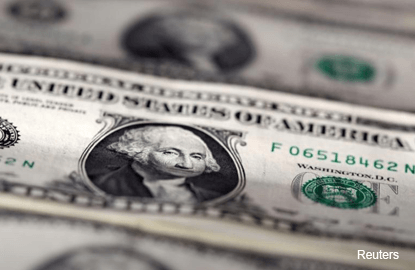 TOKYO (Feb 17): The dollar was stuck near a one-week low against a basket of currencies early on Friday, after upbeat U.S. economic data failed to lift Treasury yields.
The dollar index against a group of major currencies stood at 100.570 after hitting 100.410, its lowest since Feb. 9 plumbed overnight when it slid 0.7 percent.
The index had soared to a one-month high of 101.760 as recently as Wednesday, as U.S. Federal Reserve Chair Janet Yellen spoke in support of a near-term rate hike and the markets also saw robust U.S. inflation and retails sales data.
Indicators released on Thursday shed more positive light on the U.S. economy, with the Philadelphia manufacturing index on jumping to a 33-year high.
But the robust data was unable to sustain a rise in Treasury yields which had already climbed to three-week highs midweek, leaving the dollar to slide.
"The dollar did rally in spurts this week but the surge lacked strong conviction. For example dollar/yen failed to take out the 115.00 threshold," said Junichi Ishikawa, senior forex strategist at IG Securities in Tokyo.
"This shows that the market is still trying to work out the implication of President Trump's policies, of which his approach to trade may not be supportive for the dollar."
Furthermore, the troubles facing U.S. President Donald Trump's administration, highlighted by the resignation of National Security Adviser Michael Flynn earlier this week, were also a source of investor concern.
The dollar was little changed at 113.280 yen after losing 0.8 percent overnight. It had briefly risen to a two-week peak of 114.955 on Wednesday.
The euro was a touch lower at $1.0668 after climbing 0.7 percent the previous day. It was on track to eke out a 0.2 percent gain against the greenback this week.
Sterling was little changed at $1.2482 after gaining 0.3 percent overnight.
The Australian dollar, which has gained steadily this year thanks to the draw of the country's relatively high yields, stood flat at $0.7691. The Aussie was not far from a three-month peak of $0.7732 set on Thursday on strong employment data. - Reuters