This article first appeared in City & Country, The Edge Malaysia Weekly, on March 30, 2020 - April 05, 2020.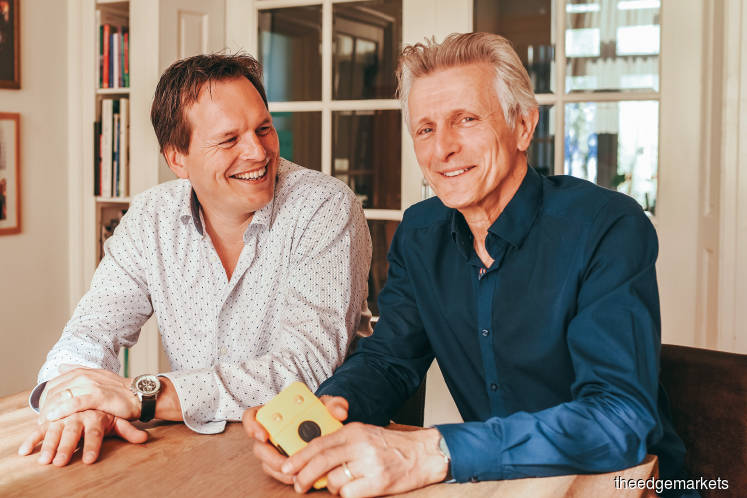 Groen (right) and van Gestel founded WakaWaka in 2012. Photo by WAKAWAKA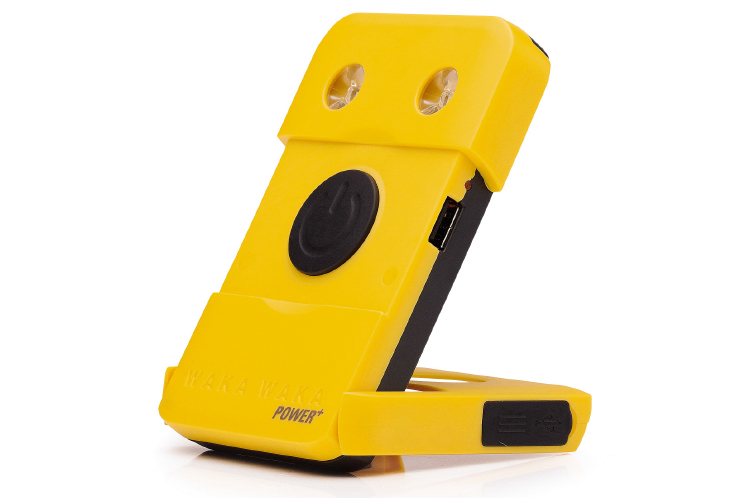 The WakaWaka Power+, which has a 3,000 mAh battery, can be used as a powerbank. Photo by WAKAWAKA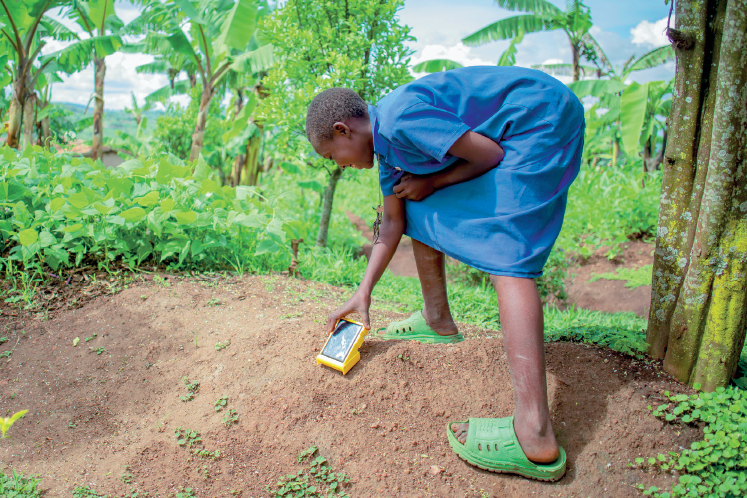 To charge the WakaWaka Light, it has to be positioned to face the sun directly. Photo by WAKAWAKA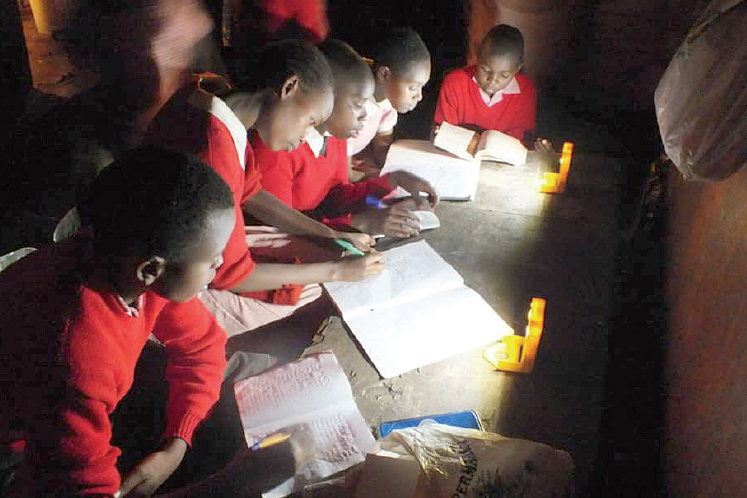 Students are able to study and complete their homework safely. Photo by WAKAWAKA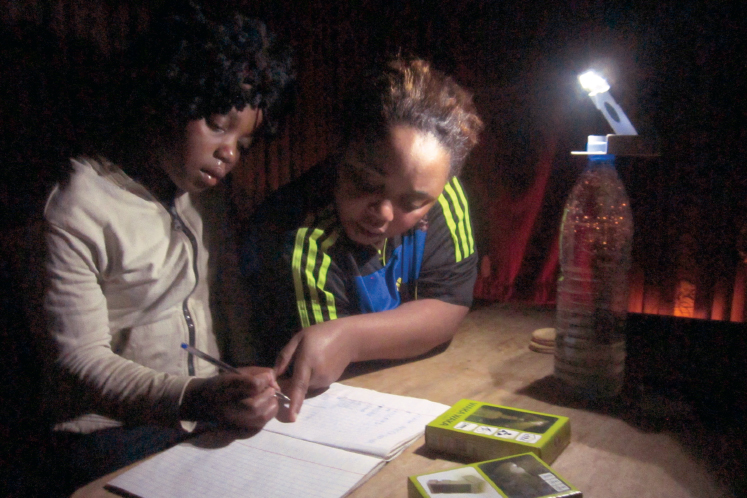 For an elevated setting, the device can be placed atop a bottle. Photo by WAKAWAKA
For those who live in undeveloped nations or those who have been hit by a natural disaster, the only lighting option could be an open flame from a kerosene lamp. But this could lead to an accidental fire or smoke inhalation.
One company looking to prevent such events is WakaWaka, founded by friends Camille van Gestel and Maurits Groen in the Netherlands in 2012. The social enterprise donates its solar lamps, called 
WakaWaka Light, to distressed citizens of the world and gets its funding from the sale of the solar lamps and other devices, such as powerbanks and standalone solar panels, in developed nations. The product was designed and engineered in the Netherlands and is manufactured in China.
The idea for the lamp came from their trip to the 2010 World Cup. "Maurits and I travelled through South Africa for a project to green all the World Cup soccer venues in 2010," says van Gestel. "I had proposed to the South African government to retrofit incandescent lights on a massive scale … with LED lights. We became an official FIFA Green Goal partner as a result. While driving through South Africa, we noticed that the townships were not officially connected to the electricity grid. We looked at each other and realised something had to change, but we didn't know what.
"Half a year later, I found myself on a rooftop terrace in Hong Kong, catching up with an old friend, Frans Biegstraaten. He co-founded a Dutch tech start-up making innovative software for small solar devices. During our conversation, while enjoying the view of Victoria Harbour, came the inspiration to build a highly efficient solar lamp that could provide light to more than a billion people."
"Right there and then, I called Maurits and asked him whether he would like to introduce this idea of a non-existent product to his good friend Al Gore. Maurits immediately said yes," says van Gestel. "In the following months, I brought together a number of people to help with design and electronic engineering. Nine months later, we presented the first WakaWaka prototype to the world."
The lamp and company were named after international pop star Shakira's 2010 World Cup anthem, Waka Waka (This time for Africa).
The bright yellow or black lamps — waka waka means "shine bright" in Swahili — have certainly lived up to their name since. Fifty thousand units were sent to Haiti after the 2010 earthquake while 100,000 units were given to survivors of Typhoon Haiyan in the Philippines. More than 60,000 were distributed to those fighting the Ebola virus in Liberia and Sierra Leone and 400,000 units were delivered to Syrian refugees.
'iPhone among solar lamps'
Designer Sietze Kalkwijk had the unenviable task of designing something new. "We briefed our designer to make the 'iPhone among solar lamps'. This is because we knew that people who live off-grid also want to have access to western technology. We wanted to make the best the west has to offer at an affordable price," says van Gestel.
"The first iterations did not meet our requirements, looked unattractive or were unpractical. Kalkwijk's design was disruptive. It had the rough dimensions of a smart phone, fit on top of a bottle — as per our request — and was so rugged it could withstand a fall onto a concrete floor.
"We wanted the lamp to fit on top of a bottle so we could save on making a foot holder, and save space during packing and distribution. Practically everyone has a bottle at home or can get one easily. An elevated light source can light up an entire table nicely."
Made by US-based SunPower, the solar panels used in the lamp are mono-crystalline with an efficiency of 22%. This means that 22% of the energy they absorb is converted into electricity and stored in a lithium polymer battery.
The basic WakaWaka Light has solar panels that charge an internal 500 mAh battery and two LED bulbs while the upgraded model, WakaWaka Power+, has a 3,000 mAh battery and is also a power bank.
The WakaWaka Light weighs 96g while WakaWaka Power+ is 200g. The former has LEDs that provide more than 25 lumens of light while the latter offers more than 70 lumens. Charging times differ — the further you are from the equator, the longer it takes to charge. The Waka-
Waka Light takes five to 10 hours to be fully charged while WakaWaka Power+ takes about 18 hours, but it can be plugged into a power source.
To power up the lamps, the solar panels should be positioned to face the sun. Charging through glass will reduce the charge efficiency.
How long one charge lasts depends on which light mode you use. The WakaWaka Light has three modes — bright (10 hours), medium (20 hours) and energy save (40 hours). The WakaWaka Power+ has four modes — super bright (13 hours), bright (45 hours), medium (100 hours) and energy save (200 hours). Both models are able to blink SOS in Morse code.
While the lamps are light and easy to use, there has been feedback that their battery life is too short. "Our batteries have 500 cycles. This means they can be charged and discharged completely 500 times before they reach 80% capacity and slowly become less effective," says van Gestel. "However, our battery capacity is over-specified, which means the capacity is much higher than what people need on a daily basis.
"This way, the battery hardly ever completes a cycle in one day, but is stretched over time. In short, this prolongs the lifetime of the lamps by several years. We have examples of units that only needed battery replacement after five or six years.
"We are looking at different technologies to upgrade the number of cycles to 2,000 but there are other requirements around high temperature resistance and safety that also need to be considered," he adds.
Meanwhile,the Covid-19 pandemic has interrupted production. "Production [in China] has been severely delayed by several months. It means some of our products are out of stock. Fortunately, we have sufficient stocks of our most popular products, but the coronavirus certainly does not help," he says.
While research continues on improving and enhancing their original product, says van Gestel, WakaWaka is planning a new initiative in Africa. "We will soon announce a historic project to provide light to an entire country. We call it 'Light Up A Nation'. What we do is donate WakaWaka devices to schools, which, in turn, lend them to students, just like books. This is called a 'solar library'," he says.
"At the end of the school year, the lights are returned to the school for the next cohort. The first country we will launch this project in is Lesotho, a beautiful kingdom where 360,000 children go to primary school and 70% of them live off-grid without access to electricity. We will provide each and every child with a WakaWaka solar light so they can do their homework at night.
Ten years on, WakaWaka's products are available for sale on waka-waka.com and van Gestel and the team continue to move forward, one light at a time.