This article first appeared in The Edge Malaysia Weekly, on December 28, 2020 - January 10, 2021.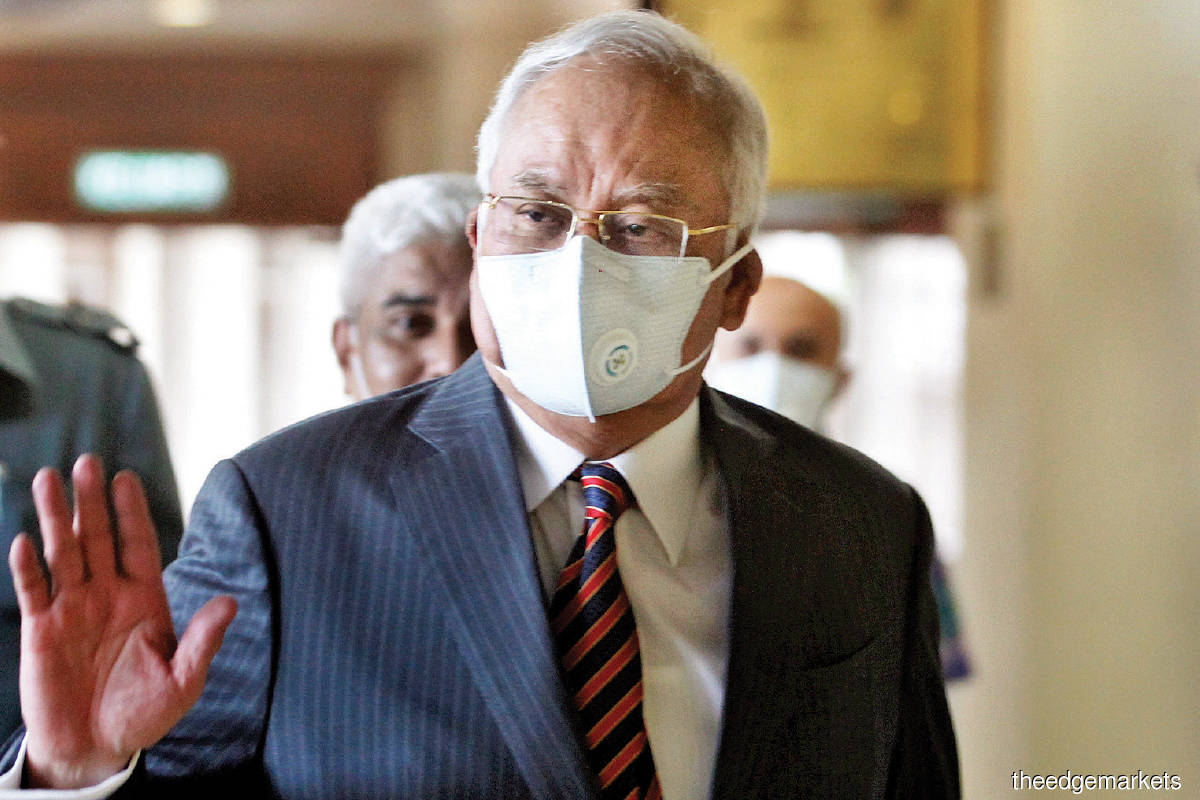 ON July 28, Malaysia's once highest ranking politician was found guilty of criminal charges — all seven counts of abuse of power, criminal breach of trust (CBT) and money laundering related to RM42 million belonging to state-owned SRC International Sdn Bhd.
High Court Justice Mohd Nazlan Mohd Ghazali did not mince his words when he declared former prime minister Datuk Seri Najib Razak guilty of what he described as the "worst case of abuse of position and betrayal of trust" in the country. It was also the first ever conviction of a former prime minister, marking a new low for Malaysia.
"What this court seeks to affirm is the sanctity of the rule of law and the supremacy of the Constitution. No one — not even one who was the most powerful political figure and the leader of the country — enjoys a cloak of invincibility from the force of the law. Any notion to such effect is the very antithesis of Article 8 of the Constitution that enshrines that rule that all persons are equal before the law," the judge said in delivering the judgment.
For this, Najib was sentenced to 12 years' jail and fined RM210 million, or another five years if he fails to pay the fine. Najib's lawyers have filed a total of 307 grounds to set aside his conviction and sentence. The Court of Appeal has fixed a total of 14 days, beginning Feb 15, 2021, to hear his case.
On the other hand, the prosecution, which had filed a notice of appeal to cross-appeal as it was initially dissatisfied with the fine imposed, has yet to file a petition of appeal. Thus, it would appear that the prosecution is not interested in appealing against Najib's present sentence come Feb 15.
Should the Court of Appeal make its ruling by the middle of next year, depending on what the appellate court decides, the prosecution or the defence is likely to push the matter up to the Federal Court by end-2021. The apex court is the final avenue for either side.
If a snap general election were to be called, Najib would not be able to defend his Pekan parliamentary seat unless the Court of Appeal or apex court sets aside his conviction.
Najib was found guilty of abuse of power in relation to the approval of a RM4 billion loan by Kumpulan Wang Persaraan (Diperbadankan) (KWAP) to SRC between 2011 and 2012, three counts of CBT of RM42 million in SRC funds between Dec 24, 2014, and Feb 10, 2015, and money laundering of the same amount.
Najib's conviction — five days after celebrating his 67th birthday — was the first outcome of his five trials. He has two ongoing cases in relation to 1Malaysia Development Bhd (1MDB) — the so-called Tanore case and an audit tampering case related to 1MDB, where he is jointly charged with former company president Arul Kanda Kandasamy, which will resume in January.
Two other trials have yet to commence, namely for six counts of CBT involving RM6.64 billion of government funds that were diverted to pay International Petroleum Investment Corp and for money laundering, involving RM27 million of SRC funds.
Najib a shadow director
In his grounds for judgment, Nazlan made several landmark rulings, including that Najib's position as SRC adviser emeritus was akin to that of a "shadow director" of the company.
In his 800-page judgment, he pointed to specific clauses of SRC's articles of association and the fact that Minister of Finance (Incorporated) (MoF Inc) was the sole shareholder of SRC. This led him to reach the conclusion that SRC's decisions were in fact Najib's decisions.
"The accused was held to be a director under Section 4 of the Companies Act and Section 409A of the Penal Code. He was also a fiduciary and trustee of the assets, so he had to act in the best interests of the company."
Nazlan further referred to SRC's memorandum and articles of association, specifically Article 67, which conferred on Najib the power to appoint and remove board members of SRC, and Article 117 — a newly amended article introduced by MoF Inc — which allows the sole shareholder to provide for a post of adviser emeritus, allowing Najib to determine all major investment and strategic decisions of SRC.
Nazlan held that Najib was construed to be "a shadow director" as defined under the Companies Act and Penal Code, and that although he had been entrusted with the company's assets, he had breached its trust. As the then prime minister and finance minister, Najib was able to endorse the establishment of SRC, whose original purpose was to function as a strategic natural resources development company for Malaysia, he said.
However, the court found that for all intents and purposes, Najib had utilised the funds for his own private advantage and, importantly, had managed to secure the RM4 billion in financing from KWAP plus the government guarantees for the entire financing. This was all made possible by his "overarching authority" in SRC as the prime minister.
"In other words, the accused helped to establish SRC, which he then used for his private interest. In my view, the factual matrix concerning Najib's involvement in SRC demonstrates the existence of an interest of a kind which is caught under Section 23(2) of the MACC Act. Perhaps most importantly, it involved the person who at the material time was the highest-ranking authority in the government," said Nazlan.
"In respect of the offence under Section 23 of the MACC Act, and its precursor [the Prevention of Corruption Act 1961], this is the first time a person was charged for acts done when he was the serving PM, and is undoubtedly without precedent in the sense that previous convictions of [other] high-ranking politicians could not be considered in the same league as the PM of the country."
Money-laundering charges
In his judgment, Nazlan took note of the 15 cheques amounting to more than RM10.7 million that had been issued from Najib's accounts and signed by him.
The beneficiaries, the court said, included bloggers, orphanages, Chinese media news analysts, and payments were made for the promotion of Facebook persona "Ah Jib Gor", renovation works for his Kuala Lumpur and Pekan homes and the funding of political parties, especially Umno.
Despite claims that the money was spent for corporate social responsibility purposes, the fact was that it was for Najib's personal benefit, Nazlan observed.
From the testimony of former AmBank customer relationship manager Joanna Yu Ging Ping, the court found contemporaneous evidence that Najib had tasked Low Taek Jho, or Jho Low, with managing his bank accounts to ensure there were sufficient funds to issue cheques to pay for his credit card purchases and other expenses.
"There is quite simply no virtue in donating what one does not own. SRC was established to spearhead the promotion of alternative energy for Malaysia. The recipients of Najib's are many and various, but unmistakably for his own purposes and benefits," said Nazlan.
Not an Arab donation
Despite Najib's claims that he thought the funds that went into his accounts were donated by Saudi royalty, the court found that there was strong and irresistible inference that he had actual knowledge of his accounts' status because of the 15 transactions that occurred in late 2014 and early 2015, as stipulated in the charges.
Nazlan pointed out that Najib himself had said a massive US$620 million was purportedly returned to the Arab donors in 2013, but he accepted a further RM49 million from alleged Arab sources barely a year later.
"Bank statements have shown that by October 2014, the alleged donations received in 2011 to 2013 had been used up. The RM49 million that arrived later in 2014 could not have been the reason why Najib thought the SRC's RM42 million was part of the Arab donation monies since during that period in late December 2014 and February 2015, he spent almost RM136 million," said Nazlan.
"It is too far-fetched and wholly unsubstantiated for a PM and finance minister of the country to have continued to spend more and more money than he knew he had, but claim that he had no knowledge of the excess funds he had spent," he said, in finding that the defence had not raised reasonable doubt against the prosecution's case.
The judge also quizzed the veracity of Najib's assertion that the money in his accounts were Arab donations as this was told to him by Jho Low and not relayed directly by the late King Abdullah himself. "In my view, even at this juncture — when Najib was in the middle of 2010 informed by Jho Low that donations from King Abdullah were imminent — he should, given the facts and circumstances, have taken steps to verify the truth of the information."
Nazlan further pointed to the inconsistencies in former minister Datuk Seri Jamil Khir Baharom's testimony that he was in Saudi Arabia with Najib on Jan 10, 2010, where they had a meeting with King Abdullah, when evidence produced by a Malaysian Anti-Corruption Commission officer showed that Jamil was in fact attending a function in Kuala Lumpur on that day.