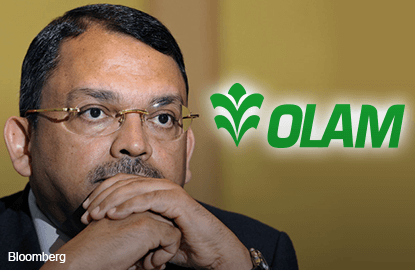 SINGAPORE (Dec 19): Olam International has become the latest target of environmental group Mighty Earth, accusing it of cutting down forests in Gabon and buying unsustainably produced palm oil from third-party suppliers.
According to Mighty Earth's report, 20,000ha of forest have been cleared across Olam's four legal concessions since 2012.
Sunny Verghese, CEO of Olam, addressed the allegations in a press conference on Dec 12, indicating that the company develops its plantations "only in ecologically degraded secondary forests".
He also added that the firm has committed to conserving and protecting 55,000ha of land, which is more than the 44,000ha of oil palm plantations that have been developed in Gabon so far.
The group went so far as to release a list of its 14 supplier firms, reiterating that any supplier in breach of its supplier code would be dropped immediately.
(See also: Olam reveals full list of palm suppliers ahead of critical NGO report)
And yet, shares in Olam closed unchanged at S$2.07 the day the report was released.
Apparently, the market prefers to focus on earnings over the environment. So why should measures like corporate social responsibility (CSR) and environmental, social and governance (ESG) come into play?
For one, environmental groups have been successful in limiting new plantation land available to companies in countries like Indonesia.
Sean Gardiner, equity strategist at Morgan Stanley also adds that environmental, social and governance factors are becoming more important in investing. "You can get a sense when you talk to investors that they do prefer to speak to firms that have a higher level of ESG. It can be reflective of multiples over time."
In fact, while most of the investors who pay attention to these factors are based in Europe and the US, Gardiner points out that these investors have "global mandates and apply a sustainability lens to investing across all regions, including Asean".
To find out which Asean companies score high in ESG, read it in this week's copy of The Edge Singapore (Issue 759, Dec 19), available at major bookstores, 7-11 stores, and selected petrol stations.