This article first appeared in The Edge Malaysia Weekly, on September 5, 2022 - September 11, 2022.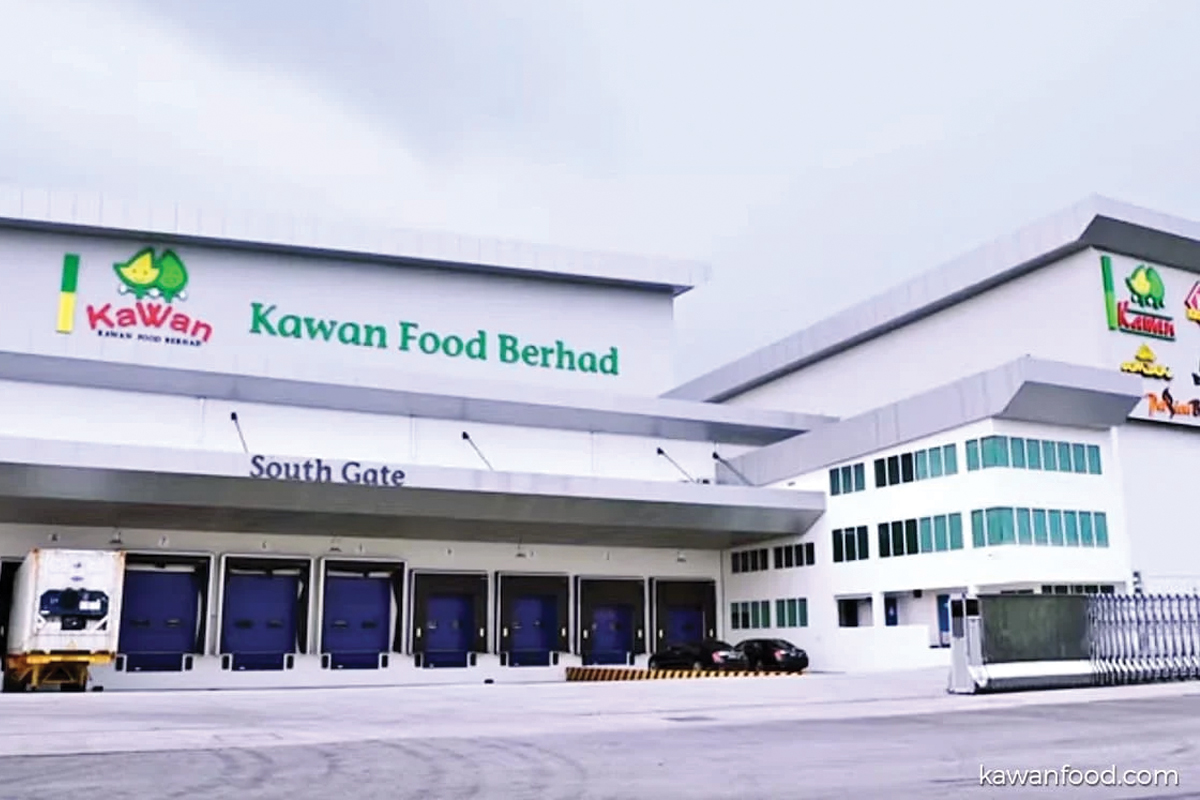 KAWAN Food Bhd has diversification on its mind. The company, known for its frozen flat bread, is looking at diversification beyond the manufacturing of frozen food to add value to its existing business.
"We recognise that if we were to just depend on our existing and new products in the frozen food space, there is only so much we can do and the value from those is not high enough.
"[Frozen flat bread] is a good business, but being just a manufacturer, growing by looking to add more customers, developing markets and launching new products — this is not growth that is fast enough," group CEO Ng Hooi Khai explains in an interview.
Any form of diversification, however, will be based on Kawan Food's fundamentals of being a pioneer in the frozen food space, he stresses, adding that the diversification could be upstream, downstream or even a lateral one.
Early this year, Kawan Food embarked on the diversification route by taking up a 32.5% stake in Kejap Food, a drive-thru outlet serving local food. Ng says the partnership is great for Kawan Food's understanding of the business dynamics and how it can further improve its supply chain.
Currently, Kejap Food has four outlets in the Klang Valley and is looking to add four more kiosks in the near future.
"The goal of diversifying is so that we can grow our revenue aggressively as a result of being higher on the value chain and also command better profit margins," says Ng, adding that details of the company's potential plans for diversification will be revealed in November. "We can expect more specific projects to be announced after the third-quarter earnings."
Concurrently, Kawan Food is also focusing its attention on export markets, particularly in Europe and countries such as the US.
"We have set more specific targets in these two years for our export markets and made it clear to managers [regarding] what we want. We are focusing on the Western markets because they are still untapped; unlike in Malaysia, where we are already everywhere.
"We have presence in Europe, the US and South America but have not been strategic with our efforts to grow there. Instead, we have relied on referrals or the door-to-door approach. We have bigger expectations now [for our export markets] and are better prepared," explains Ng.
Based on its 2021 annual report, exports accounted for 52% of Kawan Food's revenue while the local market contributed 48%. The US was its biggest export market with a revenue of RM53.9 million, followed by the UK contributing RM11.3 million and the UAE, RM7.7 million.
What is exciting for the group on the exports front is that it has made progress in its bid to penetrate several mainstream wholesalers in the US, with first deliveries targeted to reach US shores at the end of September.
"We have always been in the traditional space in the US, being the mom-and-pop stores, so this is a big step for us to enter the mainstream market there," says Ng.
The group will continue to serve its traditional Asian grocers in the US — or the company's "rice bowl", as Ng refers to them — while the move to mainstream is meant to augment growth for Kawan Food.
Ng adds that besides the West, the group is focused on developing the Southeast Asia and Middle East markets too. He attributes the group's success in breaking into the US mainstream market to its Roundtable on Sustainable Palm Oil (RSPO) membership, which it obtained last year.
"Since we are dealing with palm oil derivatives, we figured that it would be good for us to be RSPO members. It is one of the prerequisites to convince customers, especially in the West. If you don't have visibility on this, you won't be able to tap the market," Ng highlights.
Kawan Food is in the midst of preparations to undergo a social compliance audit by a third-party auditor to meet its potential customers' requirements on social compliance.
It believes that its environmental, social and corporate governance (ESG) initiatives would help the company in its ambition to expand its business especially in the West.
"As a company, we always believed in ESG initiatives and have been strongly committed to such initiatives for the betterment of the environment and society as a whole. For us, it is a matter of putting all the pieces together. Higher ESG scores would also give us better visibility among institutional investors.
"They will also affect consumer sentiment, especially in the West. Consumers nowadays bear all these ESG efforts in mind," he explains.
Export momentum has been strong this year, given the recovery in export shipments. For the second quarter ended June 30, 2022, the group saw a 46% increase in revenue on the back of a recovery in export sales. Net profit improved 72.8% to RM10.8 million in 2QFY2022.
A report by CGS-CIMB Research says Kawan Food expects a stronger momentum in export orders moving into 2HFY2022, in addition to continuous strong demand from existing customers, which it is confident will sustain over the next six to nine months.
However, the local market, which has grown substantially in the previous year, is expected to be flat in terms of growth this year.
"I think we will see exports hitting about 60% of total revenue and 40% from local sales this year," says Ng.
China in cooling-off period
For 2QFY2022, all reportable segments of Kawan Food showed revenue growth, except for China. The China market contracted 28.6% in revenue to RM1.941 million from the previous year.
Ng readily admits that China (where the company also has a manufacturing facility in Nantong) has been hit by many issues, from Covid-19 to electricity conservation efforts, and was even impacted by the trade dispute with the US.
"What we are doing there now is the rationalisation and conservation of operating costs to ensure that it can continue to sustain. At the same time, we are also looking at this entity and location to see how it could play a different role from simply [being] a manufacturer.
"I can't tell you what we are going to do there just yet because I need to be present and have a feel of the local market before we make any decisions," Ng says, adding that the pandemic has prevented him and his team from travelling to China in the past two years. They are scheduled for a visit there soon.
Holding off on price increases
Kawan Food has also decided to hold back on further price increases this year. Instead, Ng says the group is able to use the savings from its efficiencies to serve as a buffer to maintain prices, despite facing high raw material costs. But margins will be affected.
"We should have even better margins but we decided as a board that we would also have to sacrifice as well as local sentiment is weak and the B60 group — now, people are talking about B60 instead of B40 — is struggling," he says.
"For now, there is no saying when material costs will normalise. The crux of the matter is that we have to constantly monitor the situation and can't take our eyes off it," he says.
Year to date, Kawan Food's share price has increased 31.7% from RM1.64 to RM2.16 at the close of last Thursday, valuing the company at RM777.13 million.
Currently, there are four "buy" calls on the stock, with a target price of RM2.49.