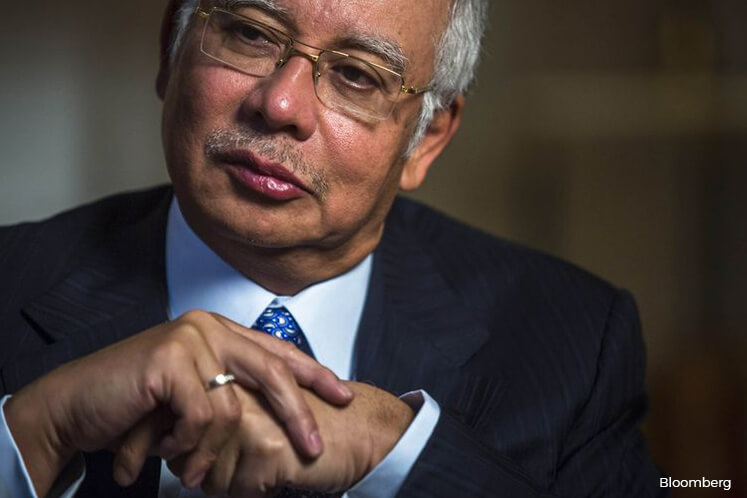 KUALA LUMPUR (Aug 7): In Malaysia's capital, a banana fritter seller fastens helmets on his two children and helps them onto his motorcycle. A third child stays with a school bag on the footpath outside their flat. He'll need to wait for his father to come back.
Mohd Ezam Mohd Said, 55, makes two trips to send his children to school each morning, and another two trips at noon to pick them up. "I can't afford a car. I can't even afford to eat chicken more than once a week," Ezam said at his stall in Kuala Lumpur, where he earns 20 ringgit ($4.65) a day.
In the distance, the windows of the 452-meter high Petronas Twin Towers -- with its brand-name shops and restaurants -- glitter in the midday sun. Ezam lives in a low-cost, high-density flat the government rents out to households on less than 2,500 ringgit a month.
This is the most unequal region in Malaysia.
How well Prime Minister Najib Razak addresses bread-and-butter issues will help determine an election that may come this year. At stake is the unbroken rule for 60 years of Najib's United Malays National Organisation and the coalition it leads. While it secured strong wins in state races last year and has benefited from opposition infighting, rising living costs could chip away at Najib's support.
Read more: world's longest-running coalition faces a test
Since 2010, the government has spent more than 1.9 billion ringgit on low-income households. The poor and very poor -- earning less than 460 ringgit a month in some places -- fell from 3.8 percent of the population in 2009 to 0.6 percent in 2014, according to the most recent data. The income gap between urban and rural households has narrowed.
Still, many Malaysians feel less secure. There remains resentment over a goods and services tax introduced two years ago. Consumer sentiment is well below the level deemed to show confidence.
For Najib, the question is how much that might translate into a voter backlash. His UMNO-led Barisan Nasional coalition is already increasing handouts to the poor, and the budget in October may contain more money for them.
Ezam, a leader at one of UMNO's 22,000 branches nationwide, is a beneficiary of such policies and said he's thankful to the government.
Such strategies have worked for UMNO in the past, said Wan Saiful Wan Jan, chief executive officer of the Institute for Democracy and Economic Affairs. "Many people who are dependent on government allocation either feel grateful to Barisan Nasional or they would be fearful of losing the handouts if they make a change in the administration," he said.
'Better Job'
But not everyone feels the government is doing all it can. Taxi driver Isa Ismail, 61, said he and his friends would not support Najib again. He has seen his earnings drop 70 percent as ride-hailing companies offer cheaper fares. Working ten-hour days, he takes home about 70 ringgit, or $16.
"Barisan Nasional is not walking the talk," Isa said. "I think the opposition will do a better job of taking care of us."
For Siti, who sells coconut juice in the capital and who asked to be identified only by her first name, the money is never enough. With nine people living in her flat rented from the government, she sleeps on the floor with her grandchildren.
"Of course I don't want living costs to rise. But it's the government that increases it, so what can I do?" she said as she sliced open a coconut.
Still, the 52-year-old said she would vote for Barisan Nasional. "I'm grateful enough to be able to survive. It hasn't come to a point where I would need to knock on my neighbor's house for money."
Kuala Lumpur's Gini coefficient -- a measure of inequality -- was at 0.407 and above the national average in 2014, even though the gap had narrowed from 2012.
Read more: World's longest running coalition faces test
The government aims to ensure no one is left behind as Malaysia's wealth grows, according to Minister in the Prime Minister's Department Abdul Rahman Dahlan. This is done through education, jobs and "universal access to basic needs," he said in response to questions.
The Pakatan Harapan opposition coalition is compiling a manifesto on bread-and-butter issues, according to lawmaker Rafizi Ramli, whose district is in Kuala Lumpur. Rafizi, who is vice president of the People's Justice Party, said the promises would probably be similar to the prior election, as well as replacing the GST with a more progressive tax system and resuming subsidies.
Urban voters see Najib's promises of cheaper housing and better transport as "sweeteners that take ages to reach them," Rafizi said. He's proposing a wages council that would set a mandatory annual minimum wage increase for all workers.
Kamzailan Kamal, 53, said the problem lay not with Barisan Nasional itself but the "people at the top."
"We need to change the government. Bring down Najib," said Kamzailan, who sleeps during the week in the taxi he drives 12 hours a day around the capital. "Mark my words: In the 14th general election, we taxi drivers are not going to support Barisan Nasional."