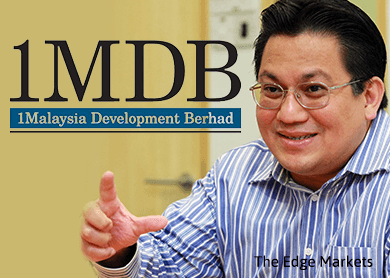 (June 16): The Finance Ministry (MoF) should direct immediately international auditor Deloitte to look through 1Malaysia Development Berhad's (1MDB) books for the financial year ending March 31, 2015, the Public Accounts Committee (PAC) said today.
PAC chairman Datuk Nur Jazlan Mohamed said the troubled state investment arm should be audited "as promptly as possible", even as Putrajaya yesterday said it would not do so because the Auditor-General (A-G) was currently going through 1MDB's accounts.
"When we asked Deloitte, they said they haven't received the letter of appointment. So we assume they haven't been appointed.
"If the letter is not out yet, make it so. And by the way, 1MDB should follow even stricter standards than other companies listed on Bursa Malaysia," Nur Jazlan told a press conference at the Parliament today.
He said other companies had to submit their accounts about three or four months after their financial year-ended, while 1MDB's audit had yet to begin despite its financial year-end having lapsed three months ago.
He added that the audited accounts for the year ending March 2015 would help the bipartisan committee in its ongoing investigation into 1MDB.
"If the accounts had been prepared, up to March 31, 2015, it would help us in our inquiry, to ask many questions about what happened last year," said Nur Jazlan.
Last night, Second Finance Minister Datuk Seri Ahmad Husni Hanadzlah told the Dewan Rakyat that Deloitte was currently preoccupied with auditing 1MDB's subsidiary Edra Global Energy Bhd.
He said Deloitte would only begin looking through the holding company's book after it completed its audit of 1MDB's subsidiaries.
But PAC deputy chairman Tan Seng Giaw said today that such practice was not according to procedure.
"Whenever you audit a company's accounts you should start from the holding company, then the subsidiaries. It should be from the biggest to the smallest," the DAP lawmaker told reporters.
"This involves public funds, no one wants to delay this. But it's just not following procedure."
Petaling Jaya Utara MP Tony Pua, a vocal critic of 1MDB, also said it was not normal to begin the audit process with the subsidiary company.
"When you audit, you should audit it as a whole, not start with one subsidiary company.
"Maybe they are doing this to prevent the audit now so they can buy time to solve problems, maybe cover up the suspicious transactions," said Pua.
The Auditor-General's preliminary report is expected to be submitted to Parliament this month, while PAC started its investigation into the company last month. – The Malaysian Insider