This article first appeared in Enterprise, The Edge Malaysia Weekly, on April 8, 2019 - April 14, 2019.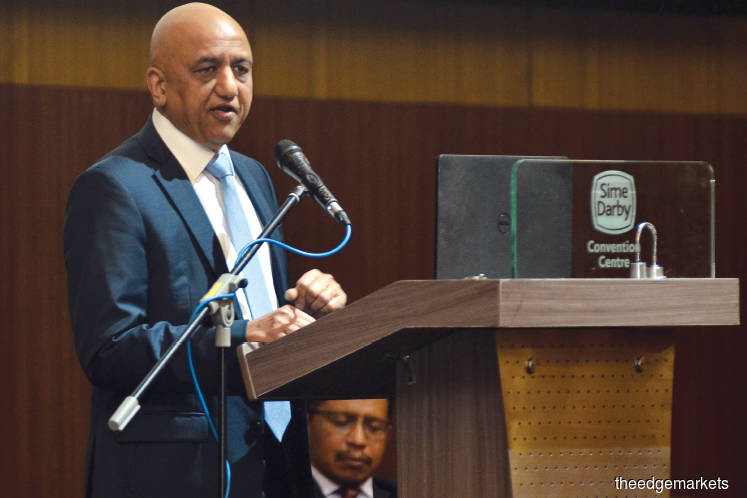 Companies without a digital strategy are akin to planes flying with just one engine — if they do not do something fast, they will crash and burn. This is one of Professor Sunil Gupta's favourite analogies.
"Imagine you are flying a plane and a huge bird hits one of the engines. If you do nothing, it will definitely go down. You need to find a way to change your engine while it is still flying. But it will go down faster before it goes up again," says Harvard Business School's expert in digital strategies.
Gupta, the author of Driving Digital Strategy: A Guide to Reimagining Your Business, says the path of business transformation will be bumpy, if not downright dangerous.
The strategy adopted by Adobe Inc, the US-based multinational computer software corporation, is a good example. Instead of selling its software packages using compact discs (CDs), the company migrated its products to the cloud in 2013 and users were required to pay a monthly subscription fee to access these solutions.
This helped the company retain its customers and enjoy a more stable and recurring income. However, the company had to bear with the short-term pain that came with such a shift in its business model.
"Imagine the last time you felt excited about the new Adobe product, the kind of excitement that made you want to buy [their CDs]? If customers do not get excited they may not buy it. But now, you are a subscriber and you have no choice. They automatically update the software for you," says Gupta.
"However, instead of paying Adobe, say, US$500 up front for the CDs, they now pay, say, US$50 a month over the long term. It is only over time that [the money flows in and] the plane flies back up."
He says this illustration of a plane flying with one engine is especially true of large corporates as changing their business model and operations would be a huge undertaking. However, doing business the old way would put them in a precarious position.
Gupta once cited an example of a good digital strategy in an interview with Forbes magazine. Best Buy Co Inc CEO Hubert Joly had taken over the Minnesota-based consumer electronics retailer in 2012 and was faced with an immediate headache — the emergence of online retailers such as Amazon which were taking business away from traditional retailers.
Best Buy's physical stores still received high footfall, but consumers were increasingly treating it like a showroom for them to touch and feel various electronic products before purchasing them online at a lower price.
Joly noticed that the value of physical stores was to serve as a venue for consumers to touch and feel the products, something they could not do online. So, he created the concept of a store-within-a-store.
The company set up Apple, Samsung and LG corners, among others, within its physical stores and received a portion of the vendors' revenue for showcasing their products. The additional revenue was then reinvested to enhance customer experience and the company was able to match Amazon's prices.
"Its business model has changed because the way it creates and captures value has shifted as a result of technology," says Gupta.
Great time for start-ups
Drastic technological changes are opening up huge opportunities for start-ups and small and medium enterprises (SMEs) to scale up and thrive, says Gupta.
That is because technology helps lower the cost of doing business. Marketing services are a good example. Smaller companies were not able to advertise on air during the television era. But now, they can reach out to their audience via social media platforms at a significantly lower cost.
The key to success is their ability to solve pain points in the market and leverage their strength to grow, says Gupta, who visited India to study how start-ups experienced explosive growth and disrupted the businesses of existing market players.
One example is OYO Rooms, a platform that allows users to book budget hotel rooms that adhere to a certain standard of quality. The start-up, which was founded in 2013, claims to have the most extensive hotel network in India.
OYO Rooms founder Ritesh Agarwal launched a start-up that copied the Airbnb model seven years ago, which lets users list and rent out rooms online. But he soon realised that the model would not work in India as the people there would not feel comfortable staying in a stranger's house. They would prefer to stay at a hotel.
After doing some research, Agarwal discovered that the budget hotel segment was fragmented and came up with a way to solve that market pain point. "So, imagine you are a salesperson with a small budget. You travel all the time and stay in different places using the allowance you get from your company. You mostly travel by train and stop at various stations looking for a budget hotel to stay the night. These hotels, situated next to the stations, are plentiful but they all look equally bad with broken signboards," he says.
"The problem is you cannot tell which hotels are better and which are really bad. There are reviews online, but the operators often ask their friends to give them good comments and there could be five good reviews. So, you can only randomly pick one to stay in. How do you solve this problem?"
Agarwal changed his business model. He approached the budget hotel operators to let them offer him some rooms to help fill. If successful, he would be given a cut of the room rates. The operators welcomed his idea as their hotels were half empty most of the time.
 He told the operators that the rooms offered to him had to meet minimum standard requirements such as air conditioning and internet so they could be filled quickly. Then, he put up an OYO sign in front of these budget hotels so that people knew they could rent these rooms using the company's mobile app.
"It is a sign of quality. It is like going to Starbucks or McDonald's — I know what I am going to get no matter where it is. That is exactly what OYO is trying to do," says Gupta.
He says it was a smart strategy as large hotel players were not entering the budget market and smaller operators did not have the capital or scale to build a chain that guarantees a certain standard of quality. "And he did not need to have a huge amount of investment to launch the platform. It is about solving problems. Start-ups can go big," he adds.
SMEs need to rethink their strategy
The same goes for SMEs. About 98.5% of local businesses are in this segment and many of them operate retail outlets and shops. Just like Best Buy, these businesses will be disrupted by online stores and e-commerce platforms if they continue to do business the traditional way.
Gupta says the principle that applies to large corporates is also useful for SMEs to adopt. "They have to know where their strengths are and leverage them."
One of the strengths of these mom-and-pop shops is their relationships with the people living in the community. "The owners know who their customers are or where they live and even which schools their children go to. They have been dealing with the customers for a long time," says Gupta.
The mom-and-pop shops also operate in remote areas that big companies would find difficult to penetrate or would not consider moving to.
While there is no simple answer to the question, these SMEs could think along the lines of establishing a partnership with e-commerce platforms to become part of their distribution system, says Gupta. "Big players such as Amazon, which enter India in a big way, need a distribution system. They have warehouses in many locations but do not have the capability for last-mile fulfilment. So, they are using small retailers to take their stuff and keep them in their stores. They become like Amazon's extended arm.
"These shops will not have inventory. The customers order the items and they deliver them. Then, Amazon collects cash from them and they collect the commissions. They become a postbox in a way, a large one. This is an example of how they can change their business model."
Businesses should think of partnerships rather than focus on competition, he adds. "This world is not just about competition but cooperation as well."