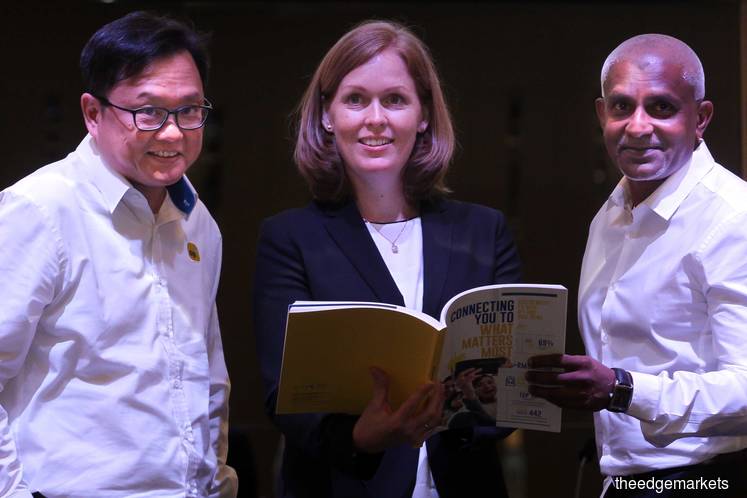 KUALA LUMPUR (May 14): Digi.Com Bhd is expecting a flat growth in its service revenue for the financial year ending Dec 31, 2019 (FY19), amid the challenging market environment.
The mobile telecommunication network provider explained that despite anticipating service revenue figures to stay around the 2018 levels, given the lower termination rates of 33% year-on-year, this would mean that Digi would still have to see its service revenue grow stronger to compensate for this loss.
Termination rates are the rates charged from a telco service provider when customers receive calls from different service providers. For instance, when a Digi customer receives a call from another service provider, that service provider will have to pay Digi an interconnect rate of 1.96 sen per minute, instead of 2.92 sen per minute.
"We will be driving the service revenue growth through the prepaid to postpaid conversion," its chief financial officer Inger Gløersen Folkeson told reporters after the annual general meeting here today, adding that its postpaid subscribers makes up 25% of the total subscribers.
As of March 31, 2019, Digi has 11.3 million subscribers.
Folkeson also guided that Digi is expecting a low single-digit growth in earnings before interest, taxes, depreciation and amortisation (ebitda) due to higher efficiency in sales and distribution channels and digitalisation.
"On operational efficiencies to drive down our costs, we are continuously improving our processes as well as revamping the technology operating model, sales marketing processes and others," she added.
For its capital expenditure (capex) in 2019, Folkeson noted that Digi has allocated around 11% to 12% of its capex-to-service revenue, which will be used for network capacity and improvement, coverage improvement and modernisation in terms of network function virtualisation, IT infrastructure to support MyDigi app capabilities and others.
The guidance for capex figures is excluding any spectrum payments, said Folkeson.
Last year, RM685 million was set aside for capex, which stood at about 11.6%
For the first quarter ended March 31, 2019 (1QFY19), Digi.Com Bhd's net profit fell 11.6% to RM341.5 million, from RM386.11 million a year earlier, as prepaid service revenue and number of subscribers in the segment dropped.
Its total group revenue slipped to RM1.51 billion from RM1.63 billion in 1QFY18. Prepaid service revenue fell to RM769 million from RM891 million a year ago while the number of subscribers in the segment was lower at 8.4 million versus 9.19 million.
Despite lower group net profit and revenue, Digi declared a dividend of 4.3 sen per share for 1QFY19, payable on June 28.
At noon break today, Digi shares were up eight sen or 1.77% at RM4.61, with 4.09 million shares exchanging hands, giving it a market capitalisation of RM35.69 billion