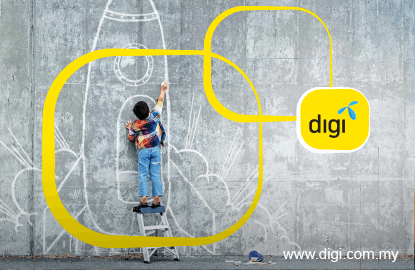 KUALA LUMPUR (Oct 23): Digi Telecommunications Sdn Bhd (Digi) has started field tests on Voice-over-LTE (Long Term Evolution) technology on its 4G LTE network.
Digi had recently announced that its 4G LTE network is now the widest in the country and covers 1 in 2 Malaysians to high-speed internet.
In a statement today, the company said that the addition of Voice-over-LTE, or VoLTE, capability will further enhance the subscriber experience.
It said VoLTE is a technology that brings voice calls over a 4G LTE network.
DiGi said Cellular voice calls in Malaysia were currently over 2G and 3g networks.
It said the higher bandwidth of 4G LTE networks make it ideal to transmit higher fidelity voice calls than over the 2G and 3G networks.
"Along with that, VoLTE also brings with it noise cancellation capability. Both features are dependent on the mobile devices used for calls.
"Another advantage of VoLTE is it allows customers to simultaneously surf the web, download or stream content from the internet at 4G LTE speeds while engaged on a voice call," it said.
DiGi said that currently, the need to use 3G or 2G infrastructure to connect voice calls meant that internet activity will drop to slower speeds.
"The VoLTE test implementation in Digi is already underway and subscribers can expect to enjoy the improved call experience on compatible 4G LTE smartphones in 2016. 2G and 3G voice calls will still be available at the launch of the VoLTE services to maintain service for subscribers without VoLTE capable devices," it said.