This article first appeared in The Edge Malaysia Weekly, on April 8, 2019 - April 14, 2019.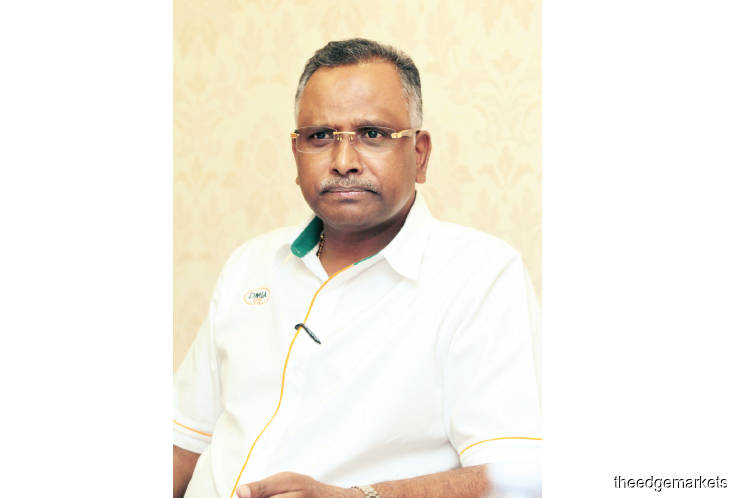 Subramaniam: We have given our proposal to the government, taking into account the present situation. Photo by Suhaimi Yusuf/the edge
DHAYA Maju LTAT Sdn Bhd, a joint venture between privately held Dhaya Maju Infrastructure (Asia) Sdn Bhd (DMIA) and Lembaga Tabung Angkatan Tentera (LTAT), has submitted a new proposal to the government in a bid to win back the Klang Valley Double Track Phase 2 (KVDT2) contract.
Dhaya Maju LTAT director Datuk Seri Subramaniam Pillai says the company recently returned to the negotiation table with the government to work out a new agreement.
"We have held discussions with various parties involved in the KVDT2 project, including the Ministry of Transport (MoT). We have given our proposal to the government, taking into account the present situation," he tells The Edge in an interview.
The proposal provides two options, but Subramaniam, who is also executive director of DMIA, declines to elaborate. "We leave it to the government to make a decision on our latest submission," he says.
The KVDT2 entails the rehabilitation of two KTM Bhd railway tracks — one from Salak South to Seremban and the other track from a point between Kuala Lumpur Sentral and Angkasa Puri to Port Klang — measuring a total of 211km.
The previous Barisan Nasional (BN) government had awarded the contract to Dhaya Maju LTAT on April 4 last year, valued at RM5.265 billion. However, the contract was terminated by the new Pakatan Harapan government in September due to its high cost and the manner in which it was awarded via direct negotiation. Transport Minister Anthony Loke was also reported to have said that the seven-year completion period given to the company was too long.
Subramaniam clarifies that under the earlier proposal put forth to the BN government, Dhaya Maju LTAT had offered to complete the project within five years.
However, due to budgetary constraints, the BN government had opted for seven years and in recent negotiations, the company had informed the current government that it can complete the job in five years, provided it gets stakeholders' support.
A letter dated Feb 21, signed by KTMB CEO Mohd Rani Hisham Samsudin and addressed to Finance Minister Lim Guan Eng, expresses the national railway company's unhappiness with DMIA's performance in undertaking Phase 1 of the KVDT project (KVDT1) worth RM1.41 billion. It claims that it had resulted in the disruption of its train operations and a decline in passenger volume. Loke is copied on the letter.
The KVDT1 project involves the rehabilitation of a 40km stretch from Rawang to Salak South. DMIA is undertaking this project, which is 75% completed, on its own.
The letter, sighted by The Edge, highlights KTMB's dissatisfaction with DMIA's lack of competent staff, weakness in the scheduling of its work plans and insufficient construction equipment such as earth poles while certain materials such as rail and point machines had failed to meet the standards specified in the contract.
KTMB went on to say that due to these factors, it would be improper for the government to consider Dhaya Maju LTAT's participation in the KDVT2. The letter then named India's IRCON International Ltd, MMC Gamuda JV Sdn Bhd, IJM Construction Sdn Bhd and Emrail Sdn Bhd for consideration when appointing the contractor for KVDT2.
To this, DMIA chief operating officer Datuk Mohamed Razeek Md Hussain Maricar acknowledges that KVDT1's original 2019 completion date was moved to July 2020 because of restrictions in accessing the work sites, which delayed its work.
"One of the misperceptions is that Phase 1 is facing delays. But the fact that we have been given an extension of time by our client (MoT) testifies that the delays were beyond our control. We will try to complete the job by July 2020," he says.
Asked whether DMIA has resolved its differences with KTMB, Mohamed Razeek says, "We regard ourselves as a collaborative partner of KTMB. We cannot do this on our own without KTMB's support and we need its support. Where and when we work has to be in compliance with KTMB's [train] operations. We believe that misperception has been clarified and resolved."
Subramaniam also says unlike previous electrified double-track rail projects like those of Ipoh-Padang Besar and Gemas-Johor Baru, which are greenfield projects, the KVDT2 is a brownfield project and costs more.
"The Klang Valley rail tracks are 25 years old. You need to replace the entire track with new higher grade rails and ballast, carry out soil treatment and improve the drainage to ensure a safe and smooth train ride. To say that you only need to treat the problem areas and that the reduced-to-necessity scope will result in savings is completely misleading," he adds.
Subramaniam also points out that Dhaya Maju LTAT's RM5.265 billion cost for KVDT2 is based on the 2007 price benchmark of the Ipoh-Padang Besar double-track project.
"We firmly believe, based on current rates, the cost would be above RM7 billion if the government calls for a fresh tender," he says.
He adds that RM280 million has been spent on equipment, including an S2PV track laying system — the only one in Southeast Asia — which has only partially been impaired.
Companies Commission of Malaysia data shows that Subramaniam holds a 30% stake in DMIA; director Siti Saffur Mansor, 35.83%; director Nazreen Ahmad, 26.67%; and Abdullah Abdul Rahman, 7.5%.