This article first appeared in The Edge Malaysia Weekly, on January 28, 2019 - February 03, 2019.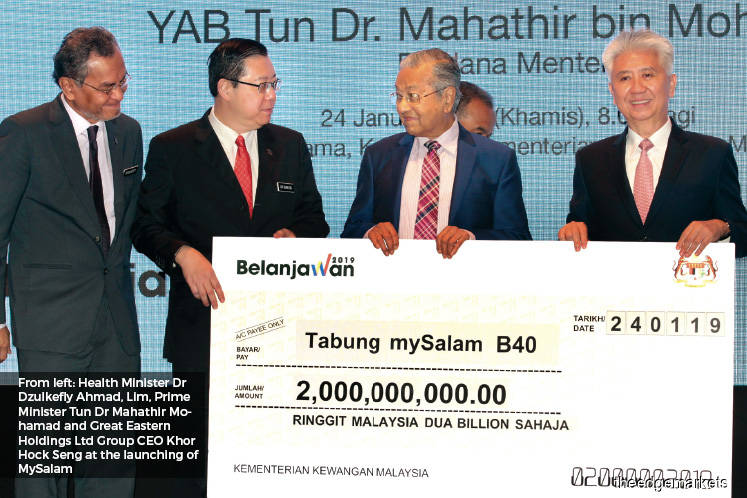 MYSALAM, the newly launched insurance scheme for B40 households, is a divisive matter. Some support it, others criticise it and many doubt if it will work as intended.
But probably not so for the lower-income Malaysians that the scheme is targeting. Overnight, those eligible now have a partial safety net in case of unexpected healthcare issues.
According to the Department of Statistics, a B40 household earns RM3,000 monthly or less. The scheme covers some 3.69 million Malaysians between the ages of 18 and 55 from this income group.
The coverage began on Jan 1 and eligible Malaysians can start making their claims from March 1.
In a nutshell, those suffering from any of the 36 critical illnesses covered under the scheme — including heart disease, cancer and Alzheimer's — will get a one-off contribution of RM8,000.
Eligible patients receiving treatment at government hospitals will also get RM50 a day in income replacement, capped at RM700 per year.
It may not sound like much financially, particularly for those in the top 20 of the pyramid. However, it makes a big difference to the B40 households, for whom healthcare emergencies often equal financial disaster.
According to the State of Households 2018 report by Khazanah Research Institute (KRI), households earning RM2,000 monthly exhaust 95% of their income on essentials that do not include healthcare expenses.
"This means that they have almost no capacity to save and build wealth ... leaving them vulnerable with little savings against economic shocks or emergencies," KRI said last October.
With the MySalam coverage, the B40 households immediately gain an avenue of partial financial relief in the event of serious healthcare issues that they would otherwise not have.
Note that insurance penetration in Malaysia stood at about 56%, with only 32% of Malaysians having more than one policy, the Life Insurance Association of Malaysia had said last July.
Among the B40, only 30.3% are covered by insurance or takaful.
Think-tank Galen Centre for Health and Social Policy has lauded the scheme as a "critical step" towards an eventual national health insurance scheme for all Malaysians.
"This pilot scheme will help plug the existing protection gap in ensuring that a higher proportion of the population is financially insured against the event of a health need or serious medical condition such as cancer," Galen CEO Azrul Mohd Khalib said in a statement.
 
No cost to taxpayers
Considering its financial impact on the B40 households, what is interesting about the MySalam scheme is that it is set up at no cost to the public purse.
The scheme is entirely funded with a RM2 billion contribution from Great Eastern Life Malaysia. This fund is used to pay the overall premium of the scheme, which was estimated at RM112 per individual annually, for five years, said Finance Minister Lim Guan Eng.
The RM2 billion from Great Eastern Life Malaysia will start the ball rolling for the MySalam Scheme. Meanwhile, Great Eastern Takaful Bhd will be the insurer for the scheme. It is understood that Great Eastern Life will absorb any shortfall, while any profit will be ploughed back into the scheme.
"This premium is set at cost rate and without profit for [the] insurance company," Lim confirmed at the launch of MySalam on Jan 24.
In exchange for the contribution, Great Eastern was given a permanent exemption from a government requirement that 30% of its stake must be owned by local entities.
As an aside, the RM2 billion is understood to come from Great Eastern's RM10 billion estate fund, which represents its accumulated profits over the years from its pooled funds, including from former policyholders who forfeited previous payments when they dropped out.
Its policyholders are entitled to at least 90% of the estate fund while shareholders are entitled to the rest. Bank Negara Malaysia has pushed insurers to explore utilisation avenues for such funds since 2015. But the share of estate funds is debatable; the 90:10 ratio is not carved in stone.
The arrangement however has prompted criticism. Among others, there were murmurs on whether exchanging a policy exemption for financial contribution is appropriate.
Galen Centre questioned whether the RM2 billion would be better spent on strengthening the public health system instead of creating the MySalam scheme and called for rigorous consultation to provide more clarity on the scheme.
Parti Sosialis Malaysia raised concerns over the involvement of a private insurer.
 
Prioritising B40
These concerns are understandable. However, on balance, it is clear that the government consciously chose a path that directly improves the lives of the lower-income Malaysians.
The alternative was forcing a stake divestment that does nothing for the B40 individuals, most of whom have little to no interaction with the capital markets.
An industry official points out that divestment proceeds would likely be repatriated almost fully to the controlling owners' country of origin with almost no flow-through impact on the average Malaysian.
Note that Great Eastern is one of the two largest foreign-owned insurers in Malaysia and is ultimately owned by Singapore's OCBC Bank. The other is AIA Bhd, whose parent is Hong Kong-listed AIA Group Ltd.
It is also worth noting that the RM2 billion is essentially free money that does not take away from Putrajaya's budget allocation for the public health system.
In fact, the government had increased its allocation for health in Budget 2019 by 7.8% to RM29 billion, or nearly 10% of the overall budget.
 
Testing opportunity
One key criticism against the scheme is that the money is only expected to last five years, prompting questions on how it would be sustained beyond that period.
While fair, it is worth noting that the question is moot to the B40 individuals who are covered by the scheme.
Even if it is only for five years, it would be five years' worth of coverage that they would otherwise not have had. An added plus is that much of the fund would likely flow back into the public coffers via public hospitals.
That said, the government has called for more insurers to contribute to the scheme. If that happens, the additional funds would prolong the lifespan of the scheme.
In any case, the limited life span of the scheme offers an opportunity to test a conceptual national healthcare coverage programme.
Within five years, the government would gain real feedback on what works, what does not, where the loopholes are and what could be improved — all while benefiting less fortunate Malaysians at no cost to the taxpayers.
This process would, in turn, address many smaller questions on how the scheme would work that are more nitpicky technicalities rather than larger underlying issues.
All things considered, the pilot project could very well be the forerunner of a more comprehensive national healthcare insurance scheme in the far future. 
An interesting trade-off for foreign insurers
For foreign insurers in Malaysia, the MySalam insurance scheme offers an interesting alternative to selling at least 30% of their local units to local entities. This requirement dates back to liberalisation measures announced by Bank Negara Malaysia in April 2009. Among others, the measures limited foreign ownership of Malaysian insurers to 70%, with higher levels accorded on a case-by-case basis.
Singaporean-owned Great Eastern Life Malaysia has paved the way by contributing RM2 billion to the scheme in exchange for a permanent exemption from the shareholding limit.
To be fair, some questioned the propriety of what is seen as a corporate entity paying its way out of complying with a policy requirement. However, it cannot be denied that the trade-off brings direct and immediate benefits to the least well-off Malaysians in the B40 income range by way of insurance coverage. And the central bank had signalled last November that other foreign insurers are welcome to follow in Great Eastern's footsteps.
Bank Negara governor Datuk Nor Shamsiah Mohd Yunus said on Nov 16 that all foreign insurers are allowed to choose that route in lieu of a stake divestment.
"Each (foreign) insurance company now has been given the option, and they are supposed to revert back to Bank Negara with their plans," said Nor Shamsiah. "Based on their plans, we will look at what would be a reasonable timeline for them to comply with the plans they have submitted."
The broad objective of promoting long-term benefits to Malaysia remains intact, even as foreign insurers are now able to gain exemption from the divestment requirement by contributing to the B40 health insurance scheme, she added.
At the moment, there are 11 insurers in Malaysia that are wholly owned by foreign firms.
Prior to the November announcement, Bank Negara had said on May 17 last year, that five foreign insurers were at a "significant stage" of negotiations with local investors over the divestment process.
Nor Shamsiah's predecessor, Tan Sri Muhammad Ibrahim, had previously set a June 30, 2018, deadline for compliance with the shareholding cap. When they were announced in 2009, the liberalisation measures also included new licence issuances and the relaxation of rules for foreign banks.
"The liberalisation plan aims to pursue opportunities that would bring net benefits and contribute to the development of the Malaysian financial sector and the economy as a whole, while ensuring that overall financial stability and soundness is preserved," the central bank had said then. 
Save by subscribing to us for your print and/or digital copy.
P/S: The Edge is also available on Apple's AppStore and Androids' Google Play.