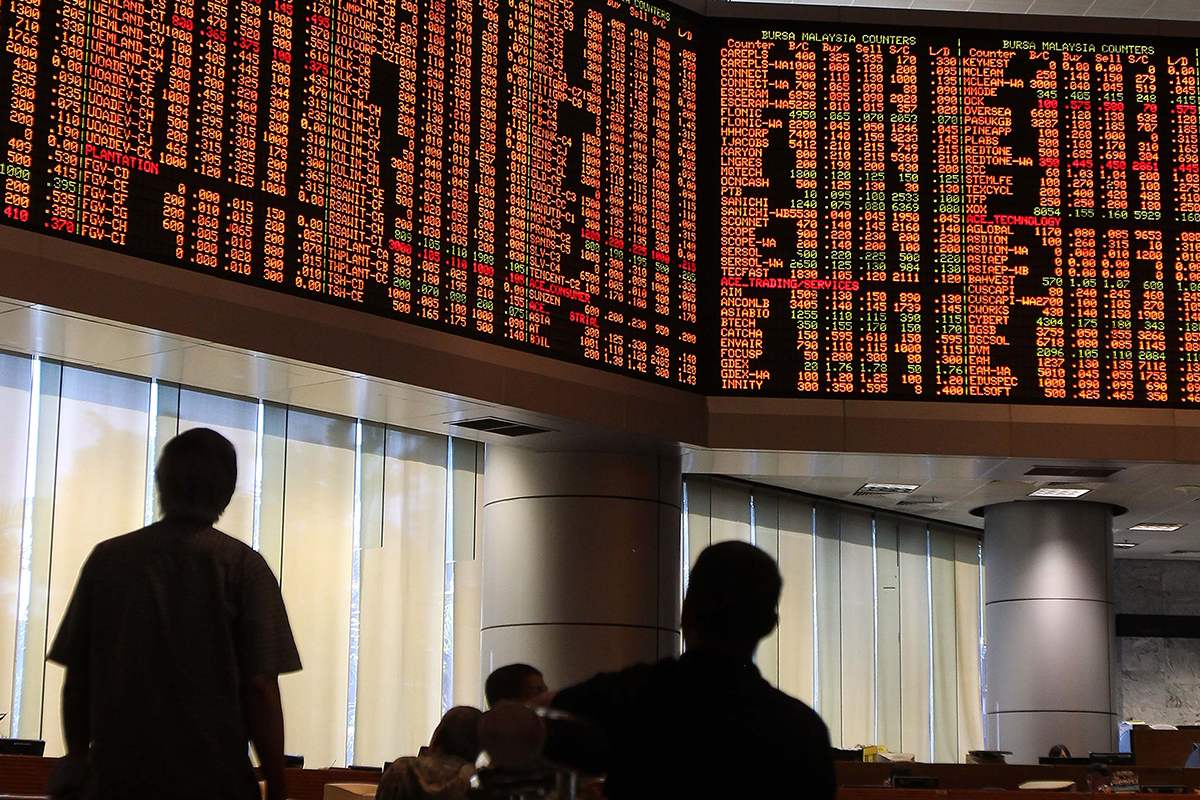 KUALA LUMPUR (Nov 21): AT Systematization Bhd continued to top the weekly most actively traded list this week, although its trading volume shrank to 6.08 billion shares compared with 10.85 billion shares the week before. 
The top 11 stocks, whose trading volume exceeded the one billion mark this week, are penny stocks with share prices of below 25 sen. 
mTouche Technology Bhd, in which AirAsia group co-founder Datuk Kamarudin Meranun holds a minor 4.69% stake, was the second most active stock this week with 2.51 billion shares changing hands, followed by Metronic Global Bhd, whose trading volume was 2.4 billion shares. 
The number of shares that changed hands this week is double the two companies' respective issued share capital. mTouche's issued share capital is 1.164 billion while Metronic's is 1.245 billion. 
Metronic's share price has had a nerve-wracking roller coaster ride this month. From a low of five sen, the penny stock shot up to 19 sen. Soon it then declined to 10.5 sen yesterday. 
Metronic, whose share price slid 38% week-on-week, is the biggest percentage loser this week, followed by AT Systematization (down 27%), M3 Technologies Asia Bhd (down 26%), Lambo Group Bhd (down 22%) and Key Alliance Group Bhd (down 21%).
CITA Realiti Sdn Bhd is Metronic's largest shareholder, holding a 12.07% stake in the loss-making company. Datuk Seri Pang Chow Huat, better known as Jacky Pang, owns an 11.23% stake and public-listed Sanichi Technology Bhd holds a 10.21% stake. 
Sanichi bought into Metronic in September when the latter unveiled its plan to venture into medical-related business, including distribution of Covid-19 vaccine — a bandwagon that many are rushing to jump onto besides manufacturing of personal protection equipment like rubber gloves and face masks.  
However, Country Heights Holdings Bhd founder Tan Sri Lee Kim Yew sold 123.5 million Metronic shares, or a 9.91% stake, in September. He is left with a minor stake of 2.01% currently.  
Interestingly, Metronic is a shareholder of Sanichi, holding a 3.43% stake. Meanwhile, Pang and CITA Realiti also hold 8.07% and 5.49% stakes respectively in Sanichi. 
Furthermore, mTouche too is a minority shareholder of Metronic, holding a 0.76% stake. 
Big gainers of the week
Among the percentage gainers, Samaiden Group Bhd led the way with an 81% increase over the week to close at RM1.50. Bursa Malaysia issued an unusual market activity query to the company on Friday in view of the sharp rise.
Samaiden, which was listed on ACE Market last month, later responded that it is currently in the final stage of negotiation for an award of engineering, procurement, construction and commissioning works for a 10MW biomass project.
The company also pointed out that it is one of the successful bidders for a biogas project according to a list on SEDA Malaysia's website. However, the company is still awaiting the official feed-in tariff approval certificate from SEDA.
The company's share price has tripled against its initial public offer price of 48 sen. 
EITA Resources Bhd's share price jumped 40% over the week after the announcement of a one-for-one bonus issue, which will be followed by a one-for-three free warrants issue. It hit a high of RM1.98 on Friday before it retreated to end the trading week at RM1.75. The elevator maker declared a second interim dividend of three sen per share after the release of its fourth financial quarter result. 
Its net profit dropped to RM4.23 million for the fourth quarter ended Sept 30 from RM5.84 million a year ago. Its annual profit declined to RM17.29 million for the financial year ended Sept 30, 2020, down 16.8% against RM20.8 million the year before. 
The company's share price has increased nearly 46% since Nov 2. 
Euro Holdings Bhd, which also announced a bonus issue, continued its climb this week. The loss-making office furniture maker's share price shot up nearly 30%, or 89 sen, to RM3.50. Since Nov 2, the stock has rocketed 89% from RM1.85. 
The company's single largest shareholder controls a 71.12% stake. Meanwhile, Ong Kah Hon, who held a 14.13% stake in early July, pared down his shareholding and ceased to be a substantial shareholder in late September. 
Bargain hunting on banking stocks
Notably, banking stocks are among the value gainers this week. Hong Leong Financial Group Bhd, whose share price went up 66 sen, led the pack, followed by Hong Leong Bank Bhd (up 56 sen) and Public Bank Bhd (up 54 sen).
Banking stocks have regained some lost ground over the past two weeks as investors were adding cyclical stocks to their portfolios to hedge investment risks. 
CIMB Group Holdings Bhd has risen the most since the start of the month; it has climbed 23.4%. Public Bank went up 21.35%, while Malayan Banking Bhd gained 16.6%, RHB Bank Bhd rose 18.4% and Hong Leong Bank was up 15.7%. 
The banks' quarterly earnings will be closely watched amid concern on asset quality.
Selldown on rubber glove counters
Rubber glove counters were among the top losers this week, amid news of potential roll-out of vaccines next year, which had somewhat dampened the optimism on these manufacturers' earnings prospects.
Looking at the list of top losers by value, Hartalega Holdings Bhd, down by 98 sen or 6.3% to end the week at RM14.40, was the biggest decliner among its peers, followed by Supermax Corp Bhd (down 70 sen), Top Glove Corp Bhd (down 49 sen) and Kossan Rubber Industries Bhd (down 43 sen).
It was reported that China-based Sinovac Biotech could have the results of its experimental Covid-19 vaccine late-stage clinical trials as soon as December this year, while Pfizer and BioNTech said they could secure emergency US and European authorisation for their vaccine next month, after final trial results showed 95% success rate with no serious side effects.
Moreover, Moderna had released preliminary data for its vaccine which showed 94.5% effectiveness.
Top Glove was also hit by the announcement that a 14-day Enhanced Movement Control Order (EMCO) was placed on its foreign workers' dormitories in Meru, Klang. Nonetheless, the group assured that the measure only affects about 5,700 of its workers — about 27% of its total workforce.
The EMCO was enforced after 215 Covid-19 cases were reported there, with the dormitory to be under restriction until Nov 30.
The smaller rubber glove players were also among the decliners, with Careplus Group Bhd, Comfort Glove Bhd and Rubberex Corp (M) Bhd falling 20 sen, 19 sen and 18 sen respectively.