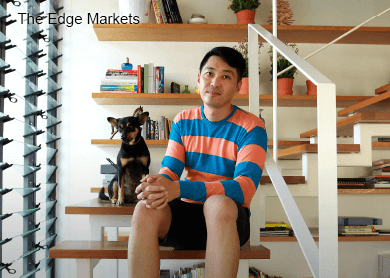 With the help of DESIGNation.co, we identify seven Malaysia-based brands that are making waves with their design-driven products and furniture, from the craft-influenced to the nostalgia-inspired. Will any of the creative minds behind them be our design stars of the future? 
Lim Hwa Hong
HWA
Who: A trained architect, Lim Hwa Hong has always been an idealistic soul looking for a way to make an impact through his work. A four-year stint in Melbourne with an architectural firm made him realise that the opportunity to do so would be back home in Malaysia, and funnily enough, not as an architect. 
For him, it was the time factor that put him off — a little impatient perhaps to see his design manifest into real, tangible products, and the construction of any building is a long process riddled with "a lot of red tape". 
"I was looking for something more time efficient, in which I could see results a lot faster," explains Lim, who currently teaches architecture part-time at Taylor's University and consults as an interior designer while running HWA. "From architecture I moved to interiors, where I was just dealing with the homeowners. Even then, it was a consultancy, with a lot of negotiation and marketing involved. So that's when I thought, why not just design, create and produce, then sell. If they like it, they'll buy it. If they don't like it, that's fine." 
One of Lim's main idea motivators is necessity. It often begins with him needing something. For instance, when he needed furniture for his home-office, a quaint little house in USJ, Subang, the design of which earned him a The Edge-haven My Dream Home silver award in the terraced category last year, he built a dining table using the wooden slats and aluminium frames from the house's old roof which he salvaged. He also shaped and upholstered chairs for the living and dining area, and designed the shelves for his books. 
"When I start on a project, the inspiration can come from anywhere, from an object, type of space or geometry. And I have, since my school days, drawn on yellow trace paper — it's part of my process," he explains. 
"My design always hinges on play. It needs to be playful. It needs to create a 'Hwa!' moment. It leaves an impression."
What: HWA debuted with a chair collection named Institution, referring to the fact that the frames used once served in landmark establishments such as financial institutions and homes of prominent figures. The frames were either prototypes or overruns, found in the factory of the carpenter and fabricator Lim works very closely with. 
The X-factor of HWA's chairs is in the finish — unexpected colour choices matched with interesting fabrics. 
When DESIGNation.co approached him to join the platform, Lim had not yet expanded on his chair collection and decided to go with his next favourite thing — soft furnishings, mainly pillows. Shapes and textures drive a fun and colourful collection of cushions, made with fabric the designer had sourced locally and from his travels abroad. 
He subsequently added a select range of chairs with a touch of English sensibilities that any big fan of Downton Abbey will be able to recognise. They have elegant names such as The Lady Chair — a feminine number with an oval spine upholstered with a delicate tapestry-like fabric — or The Emperor's Chair (Masterpiece) — an armchair with a frame that curves and hugs the sitter — from the HWA Post Malaya Collection.
Most of HWA's furniture pieces are one-offs or a pair, and it's the same with pillows, which come in sets of four to six maximum. 
"Moving forward this year, I hope to create my own complete range of furniture that is a bit more contemporary. I also intend to go into homewares made from the off-cuts of stone used in interior décor. I'd really like to try and salvage wastage from offcuts and turn them into beautiful, elegant homewares. I'm also considering fashion," says Lim.
"I don't have a particular style, but I suppose not having one particular style is a style of its own. People constantly ask me who's my favourite designer or architect, but I can't really tell you. I can tell you what is good, what design has merit — I have a broad opinion on design. That's why I don't put myself in a box." 
Where: HWA is available at DESIGNation.co. 
This article first appeared in The Edge haven, on Issue #72 April + May 2015.