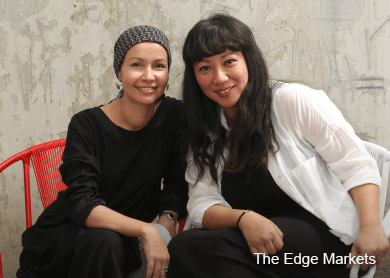 With the help of DESIGNation.co, we identify seven Malaysia-based brands that are making waves with their design-driven products and furniture, from the craft-influenced to the nostalgia-inspired. Will any of the creative minds behind them be our design stars of the future?
Farah Azizan and Adela Iskandar
Studio Bikin
Who: Studio Bikin was founded in 2012 by two architects who wanted to gain more control over their creative output. Farah Azizan, who has a landscape architecture background and Adela Iskandar, who is trained in interior décor, provide a multidisciplinary design service that creates a seamless indoor-outdoor experience. Their most recent endeavour is in furniture design, which aims to combine a localised take on style and design while fulfilling the demands of the context it is placed in.
The duo have worked on several commercial and residential projects already, and the recurring trend is a sensitive and feminine approach to architecture —something that also applies to their growing collection of furniture. 
What: When Studio Bikin first opened a pop-up store in Publika Shopping Gallery to showcase its furniture, the tagline read "Why fake it when you can make it". 
Shares Farah, "That tagline came from us, as architects and designers, being very well aware of copies of Scandinavian and American furniture that exist in Malaysia. We don't buy into that, because there is a lot to gain from looking at our immediate surroundings. With a little bit of thought, we can contemporise what we already have and generate our own ideas. We don't believe in looking to the West for inspiration, except to see how they have used available materials to work for them. We have a responsibility to develop a localised industry based on local needs." 
Rather than adopt a singular design style or identifiable aesthetic, Farah and Adela prefer to respond to the context that's given to them. "We just try to reinterpret our local content in a contemporary way," Farah muses. "We have local inspirations, like the pasar malam furniture, rattan chairs — very familiar things that get a twist, that are expanded to be more than what they are."
Studio Bikin has two main furniture lines — bespoke pieces that are an extension of their architecture and ID services and a mass line that includes a clever adaptation of the utilitarian plastic string chairs that many of us remember from our childhood by upgrading the specifications and the finishing. It's a piece that's quite popular — the Granddaddy Lounger is a powder-coated steel armchair with stringed support. 
Through all of their research, Farah and Adela haven't been able to trace the original designer of this stringed chair, and their interpretations of it are meant to honour the uncle or aunty who came up with it. It's exquisitely well designed, all things considered — it's easy to clean, light and is adequately ventilated to work well in our warm weather. 
"In the course of some of our ID projects, we have created a collection of chairs and tables. We've also chanced upon some reclaimed materials on our site visits, so that will eventually be made into something functional. But for the bespoke pieces, we adopt a very holistic philosophy focused on more than just a piece of furniture or one room, but the big picture. We have a sense of style, but what we seek to address first and foremost are key issues, which are practicality and usability. The style part is aesthetics," Farah adds.
Featuring clean lines and a slightly rustic appeal, Studio Bikin prides itself on delving into the craft of architecture as well as the craft of furniture making, with a continuous emphasis on all things local and available to them.
Where: Check out Studio Bikin's furniture at 8A, Jalan Kemuja, Bangsar, 59100 KL or visit www.studiobikin.com. Call (03) 2201 8803 for an appointment. 
This article first appeared in The Edge haven, on Issue #72 April + May 2015.